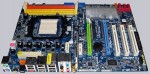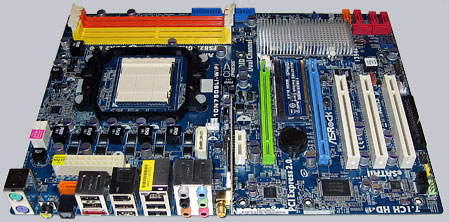 Result and general impression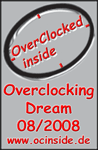 ++++ The ASRock K10N750SLI-WiFi motherboard has a price of approx. 100 Euro (08/2008) and is thus in the middle to upper price segment of the Socket AM2/AM2+ motherboards.
ASRock left the low-budget market and have entered the high-end market with the K10N750SLI-WiFi Socket AM2+ motherboard. The price of this board is noticeably higher than their usual prices. Of course, not without a reason, because this new ASRock board offers the fast nForce 750a SLI chipset, extensive overclocking settings and excellent equipment in a newly designed cardboard box. The packing is, of course, not the most important thing, but ASRock likes to deviate a little bit from their green color and shows that there is something completely new contained inside this box. Let us overclock some AMD CPUs with this motherboard and see if the higher price is justified.
Here is a picture of the new packing themed "black is beautiful":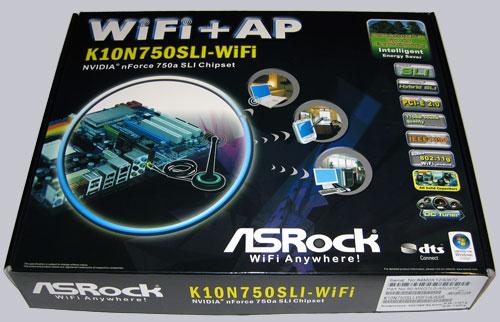 Equipment and other features …
With the first view into the new cardboard box it becomes clear why this new creation from ASRock is with approx. 100 Euro (about 149 USD) more expensive than their previous boards. ASRock attached their ASRock WiFi Socket wireless module to the K10N750SLI-WiFi and delivers this board with an external W-LAN antenna among some other accessories.
Here is a first view to the accessories: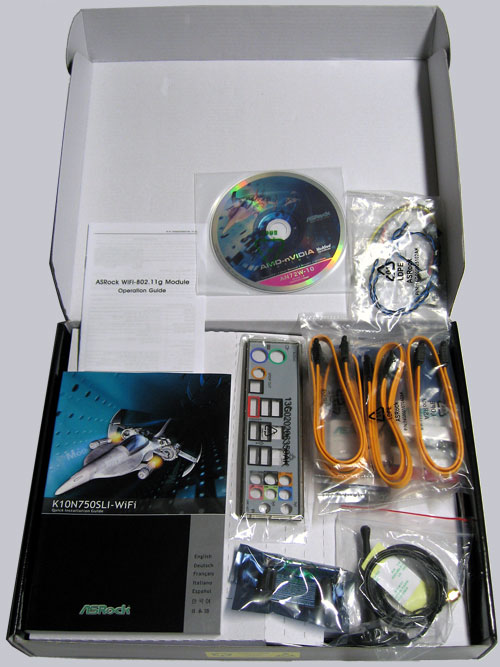 Let us now begin with the equipment of the new AMD SLI motherboard.
Expansion cards …
As already mentioned in the recent PCIe SLI (2 PCIe graphics card slots) reviews, most of the SLI motherboards offers just 2 PCI slots, due to the standardized ATX form factor. ASRock managed it with a good board layout to place all the 3 PCI slots in spite of both PCIe 8x SLI slots for the video cards, one PCIe 1x expansion slot and a WiFi slot.
When using only one graphic card on the K10N750SLI-WiFi, one should insert the pre-mounted SLI mode PCB with the correct side, in order to operate this single PCI Express Slot with a higher bandwith in 16x mode.
Memory …
The ASRock K10N750SLI-WiFi board can be equipped with up to four DDR2 memory modules and is upgradeable up to 8 GB memory. The total amount depends on the operating system used. With a Socket AM2+ K10 (AMD Phenom) CPU it supports DDR2-1066 modules thanks to the new memory controller and with a Socket AM2 K8 (AMD Athlon 64) CPU it supports DDR2-800. And of course it's also possible to increase the memory speed by increasing the reference clock.
Hard disk drive connectors …
The motherboard offers one IDE connector for maximally two conventional ATA 133 drives and six SATA II ports (3 Gb/s) with RAID support and 1x eSATA-II port for external harddisks, which have to be installed at one of the six internal SATA-II ports. The S-ATA II ports supports Hot Plug and Hot Swap functions in AHCI mode (AHCI stands for Advanced Host Controller Interface).
The manual contains all basic informations to manage a new installation of Windows XP or Windows Vista with S-ATA hard disks and how to make a RAID installation. Drivers for Windows XP and Windows Vista are provided on the CD and can be downloaded on the ASRock support page.
USB and Firewire …
The board has six USB 2.0 connectors at the ATX-panel, two internal USB 2.0 plugs for up to four optional USB ports and two IEEE1394 Firewire ports. The internal Firewire port is optional and can be e.g. used for a PC chassis front panel connector.
Network …
The ASRock K10N750SLI-WiFi motherboard uses the RTL 8211B chip, which makes a 10/100/1000 network connector available at the ATX panel.
Besides, the motherboard has a WIFI/E header with a WiFi-802.11g module, which is already installed on the WiFi board. The necessary drivers for Windows XP, Windows Vista 32 bit and 64 bit are contained on the CD and offers all conventional protection mothods like WPA (WiFi Protected Access) or WPA2. An English quick reference guide is contained in the package and explains the installation.
Here is a picture of the provided WiFi antenna, which has to be screwed to the WiFi module: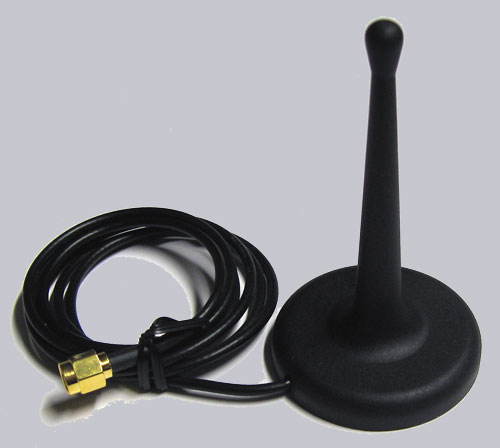 BTW.: Who like to get this ASRock K10N750SLI-WiFi board without the ASRock WiFi module, can buy the ASRock K10N750SLI-110dB, which is available for approx. 10 Euro less.
A look under the K10N750SLI-WiFi label shows the K10N750SLI-110dB description: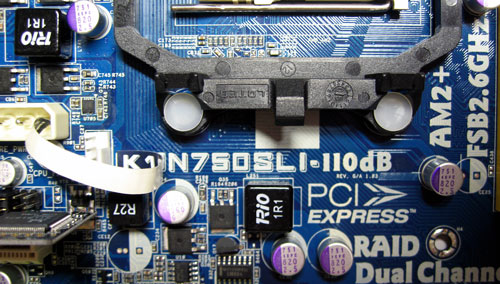 Who is well versed in electronics, will recognize another thing on the picture. Because this ASRock board is equipped with solid caps for higher stability and better durability. So far, that wasn't the case on inexpensive motherboards.
Serial and parallel port …
Unfortunately this board does not provide a parallel port and the serial port is only optionally available as internal connector.
Sound …
Another highlight of the ASRock K10N750SLI motherboards is the ALC 890 sound chip, which supports 7.1 surround sound for example analog over 6x 3.5mm connectors at the ATX panel (an internal connector for analog sound is also available). Furthermore the ALC 890 chip supports Microsoft Windows Vista Premium Level HD Audio with CP (Content Protection) and DTS (Digital Theatre System) for digital surround enjoyment.
For the digital output there's one internal HDMI SPDIF out connector to connect it for example with the contained SPDIF cable to a HDMI suited video card, in order to get the digital audio and video signal to a HDMI equipment like a HD-Ready LCD television. Additionally there is also an optical and a coaxial digital SPDIF output, which is usually only seen on motherboards far beyond 100 Euro. This makes it needless for most users to buy an additional sound card with digital outputs.
Here is a picture of the ATX panel connectors:

From left to right one see the two PS/2 ports for keyboard and mouse, Coaxial SPDIF out, optical SPDIF out, 2x USB and eSATA, Firewire and 2x USB, RJ45 Gigabit LAN and 2x USB, 6x 3.5mm sound and on the right of the picture is the connector for the provided W-LAN antenna.
BIOS and Overclocking …
Let us go on with the BIOS options and with the BIOS overclocking. By pressing the F2 key, you get access to the AMI BIOS with all important hardware settings.
The BIOS offers a lot of DDR2 memory settings like e.g. the memory frequency setting from 200 MHz over 266 MHz and 333 MHz on up to 400 MHz (DDR2 400/533/667/800) and of course also the ASRock AM2 Boost option. When using an AMD Phenom CPU (K10), it supports additionally DDR2-1066 modules. The host clock is adjustable from 150 MHz up to 500 MHz and the HT (hypertransport) frequency is adjustable from 1x to 5x (200-1000 MHz). The PCIe frequency is adjustable from 75 MHz up to 200 MHz and with the asynchronous or synchronous setting of the CPU/PCIe bus, it is possible to increase the host frequence independent of the PCI and PCIe clock.
With asynchronous clock setting, it was possible to reach a reference clock of 290 MHz. The expectations were higher because of so many overclocking options, but 290 MHz is a magical barrier on many motherboards. It would be necessary to increase for example the voltages or divisors to achieve higher results, but for the motherboard comparison, the frequency were tested with default settings. An AMD Athlon64 3000+ Socket AM2 test processor reached with 9x multiplier for example a CPU frequency of about 2600MHz instead of the default 1800MHz.
The boot failure guard was checked in this review as well and it was possible to start the PC (on standard values) with too high overclocking settings without using the Clear CMOS Jumper.
The BIOS offers several other features to make the overclockers life somewhat easier. For example this board offers a chipset voltage (NB) from 1.10 Volt to 1.25 Volt and the HT voltage can be adjusted in 0.05 Volt steps between 1.20 Volt and 1.35 Volt. The Vcore was with the test CPU adjustable between 0.8000 Volt and 1.7125 Volt and the most interesting voltage setting is the memory voltage adjustment. Because the DDR2 memory voltage setting can be set between 1.80 Volt and up to enormous high 2.70 Volt in 0.05 Volt steps! These are voltages for overclockers and should give very high overclocking results with well OC modules and particularly with well cooled memory modules.
But also energy saving options are available on this ASRock motherboard, because the new K10N750SLI-WiFi board offers the Away Mode, which is particularly very important when using Microsoft Windows MCE (Media Center Edition) to e.g. record TV shows when the PC system is nearly powered off. And IES (Intelligent Energy Saver) reduces the power consumption by lowering voltages on less load. The features can be e.g. adjusted with the included OC Tuner Software.
And last but not least, the BIOS of the passive cooled K10N750SLI-WiFi motherboard supports a CPU Quiet Fan (fan control) option for 4-pin CPU fans and another special feature are a few changeable BIOS Boot logos (three different logos are integrated).
Result …
The ASRock K10N750SLI-WiFi nForce 750a SLI AM2+ motherboard offers high-end quality, excellent equipment and very good overclocking options at a reasonable price.
With the K10N750SLI-WiFi ASRock shows that they are not only able to to offer mainboards for the low-budget market, but are also able to enthuse customers of the mid and high-end market.
ASRock offers the K10N750SLI-WiFi (or K10N750SLI-110dB without WiFi) motherboard for a fair price with an extensive basic equipment: Gigabit LAN, 7.1 sound with six connectors for analog output, optical, coaxial and internal SPDIF digitally sound output, ten possible USB ports, up to two Firewire ports, six SATA II connectors with one eSATA connector and integrated W-LAN card are only some equipment characteristics.
Above all, the overclocking features satisfy, because it offers extensive frequency settings and a lot of useful voltage settings, up to the so far highest DDR2 RAM voltage of maximally 2.70 Volt.
All in all this ASRock K10N750SLI-WiFi motherboard got the Redaktion ocinside.de OverClocking Dream Award 08/2008 – really nice! We're looking forward to more of these ASRock high-end boards for such a good price!
Special thanks to ASRock for their support.
Picture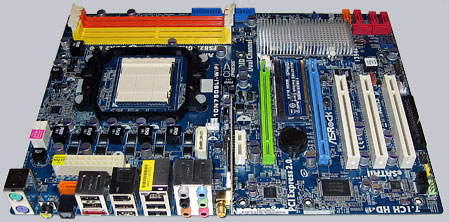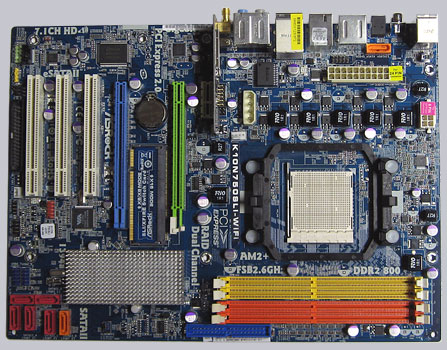 **** All Socket 939 motherboard reviews since 01.11.2006 are based on an AMD Athlon 64 3000+ Orleans CPU, 1x (or SLI systems with 2x) Gigabyte GV-NX66T128VP Nvidia 6600 GT PCI Express video cards, 2x512MB Crucial Ballistix DDR2-800/PC2-6400 memory modules and the following software configuration: Microsoft Windows XP SP2, DirectX 9.0c, Forceware 81.85 video driver and 3DMark 2003. All benchmark results should only offer a comparison among themselves for a comparison.
Back to the AMD Athlon 64 and AMD Phenom Mainboard comparison !