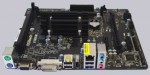 Result and general impression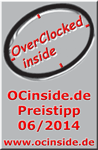 ++ The ASRock Q1900M/M/ASRK motherboard has a price of approx. 60 Euro (06/2014) and is thus in the lower price segment of the Bay Trail-D motherboards.
Today, we test another awesome power saving motherboard in the low-budget price segment here at OCinside.de, which could find a place in a small media player PC, NAS or office PC. Let us see how fast the approx. 60 EUR inexpensive ASRock Q1900M Bay Trail-D Micro-ATX motherboard with integrated Intel Celeron J1900 APU is and if it is as good as an AMD Socket AM1 Kabini or some other PC systems.
The ASRock Q1900M Bay Trail-D mATX mainboard was supplied in this small box. The cardboard box points directly to the support of long DDR3 modules and the new ASRock full spike protection feature: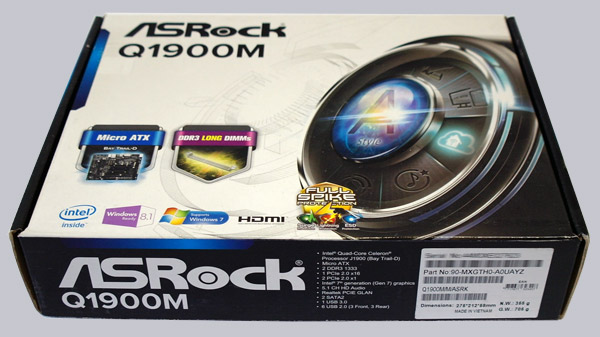 Here is a first look into the box with the delivered accessories: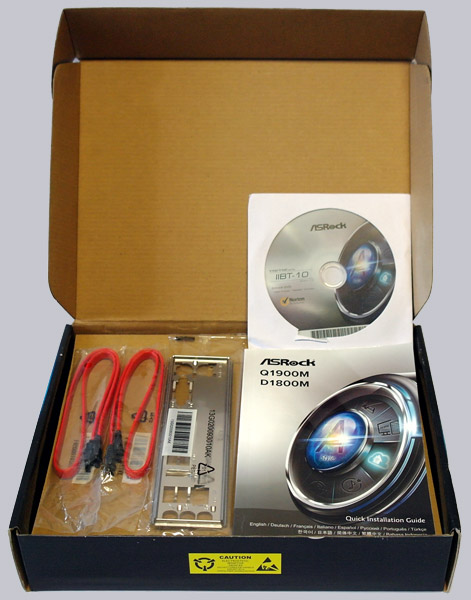 The ASRock Q1900M is very well-finished, is equipped with high quality solid caps capacitors, has a soldered (FCBGA1170) 2 GHz J1900 quad core processor with Silvermont architecture assembled, where on core can clock up to 2.41 GHz Turbo / burst frequency.
Here you can see the small MicroATX Intel Bay Trail-D motherboard that measures just 22.5×18.5 cm and is thus only slightly larger than a mini-ITX motherboard (17×17 cm):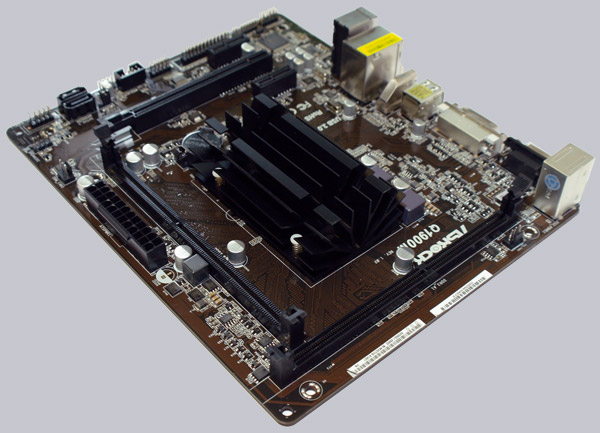 Owners of a GLCD or LCD display will be pleased especially about one interface, because the Q1900M motherboard has once again the good old parallel port LPT1 in addition to the TPM header and the serial interface COM1. Additionally, the board has a total of three PCI Express slots:

Here you can see the soldered Intel Quad Core Celeron J1900 Silvermont processor: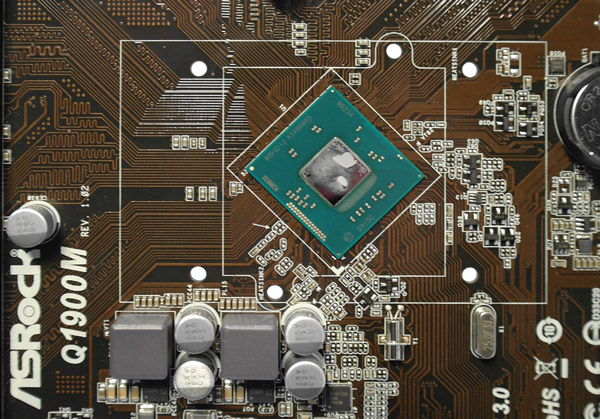 This motherboard has not the 19V power supply connector for an external universal power supply like the previously tested AMD AM1 ITX board, but one can connect a fanless PSU with 24-pin ATX power connector.
Here you can see the 24-pin ATX power connector:

Equipment and other features …
The Q1900M motherboard from ASRock came with a manual, one DVD, two SATA data cables and an I/O shield.
Expansion cards …
The Q1900M mainboard provides one PCI Express 2.0 graphics slot and two PCI Express 2.0 x1 slots, but no PCI slot.
Memory …
The ASRock Q1900M can be equipped with up to two DDR3 modules and is expandable depending upon operating system used (see list) up to maximally 16GB RAM. The Bay Trail-D motherboard supports DDR3L-1333 memory modules.
Here you can see both DDR3 sockets which are designed around the processor: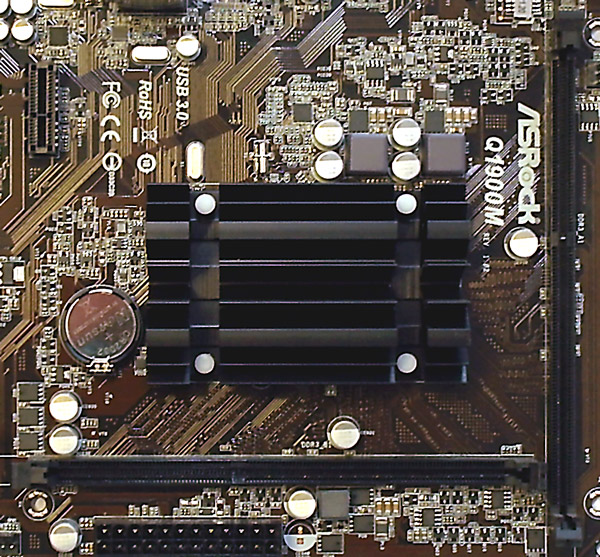 Hard disk drive connectors …
The Q1900M board offers only two SATA2 connectors (3 Gb/s),but these Serial ATA II ports supports NCQ, AHCI and the Hot Plug function in AHCI mode (AHCI stands for Advanced Host Controller Interface and can be selected in the UEFI BIOS). Who want to use more than e.g. one optical drive and one hard disk or SSD, could insert an additional PCI Express SATA card. The UEFI BIOS support drives with more than 2TB for a Windows 8, Windows 7 x64 or Vista x64 installation.
Here you can see both SATA2 ports: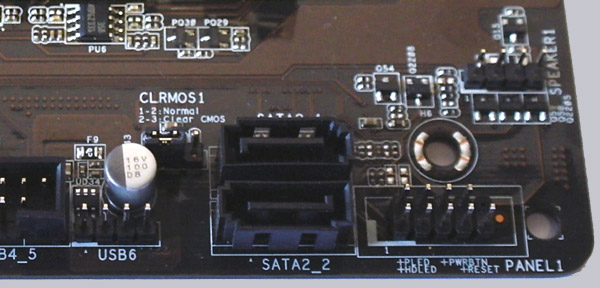 USB and Firewire …
The motherboard has one USB 3.0 (Intel SoC APU) connector on the ATX-panel, three USB 2.0 connectors on the I/O panel and 1 1/2 internal USB 2.0 plugs for up to three optional USB ports.
Network …
The ASRock Q1900M motherboard is provided with the Realtek RTL 8111GR chip which offers a 10/100/1000 network connector on the I/O panel. The LAN connection is Wow and WoL capable, offers LAN cable detection, supports PXE, energy efficient 802.3az ethernet and Full Spike Protection.
Serial and parallel port …
The parallel port (as shown above) available as internal onboard connector. A serial port is available as internal onboard connector.
Sound …
The ASRock Q1900M motherboard is equipped with the ALC662 audio codec with Full Spike Protection, which supports 5.1 surround sound for example analog over 3x 3.5mm connectors on the ATX panel or over an internal audio connector. Unfortunately, there is no internal SPDIF or optical SPDIF digital output available.
Graphics …
Intel Bay Trail-D is based on the Silvermont architecture and offers an integrated DX11 graphics solution. The Intel Celeron J1900 Quad-Core APU is equipped with an Intel HD Graphics graphics unit, which is clocked with 688 to 854 MHz. Bay Trail GPU overclocking is unfortunately not provided and without overclocking, the performance of the Intel HD Graphics GPU is at the bottom. So the graphics unit of Intel Celeron J1900 APU reached with Windows 7 in 3DMark 18236 Ice Storm points and with 3DMark06 2452 3DMarks.
In contrast, here are a few more 3DMark06 are benchmark results: AMD Athlon 5350 AM1 APU (Radeon R3) auf ASRock AM1H-ITX 3250 3DMarks AMD A10-7850K FM2+ APU (Radeon R7) on ASRock FM2A88X+ Killer Fatal1ty 7976 3DMarks AMD A10-6800K FM2 APU (HD8670D) on ASRock FM2A88X+ Killer Fatal1ty 7833 3DMarks AMD A10-5800K FM2 APU (HD7660D) on ASRock FM2A88X+ Killer Fatal1ty 7695 3DMarks AMD A8-3870K FM1 APU (HD6550D) on ASRock A75 Pro4 6181 3DMarks Intel Core i5-4670K APU (Intel HD Graphics 4600) on ASRock Z87 Extreme4 7892 3DMarks Intel Core i5-2500K APU (Intel HD Graphics 3000) on ASRock H77 Pro4/MVP 4310 3DMarks AMD E350 Dual Core CPU (AMD HD6310) on Sapphire IPC-E350M1 2299 3DMarks AMD Phenom II 710 X3 CPU on ASRock 890GX Extreme4 (ATI HD4290 IGP) 2204 3DMarks. Intel Atom 330 CPU on ASRock AMCP7AION-HT (nVidia ION DX10) 1694 3DMarks
The integrated video processor supports DirectX 11.0, HDCP, Full HD 1080p and offers thanks to its onBoard HDMI connector and the enormously low power consumption best conditions for a HTPC, but read on at the bottom in the energy consumption comparison.
ATX backpanel connectors …

From left to right one can see 2x PS/2 connectors for PS/2 keyboard and PS/2 mouse, 15-pol Sub-D VGA, DVI-D VGA, HDMI, 2x USB 2.0, RJ45 Gigabit LAN and 1x USB 3.0 and 1x USB 2.0, 3x 3.5mm jacks for analog sound.
BIOS and Overclocking …
Let us continue with BIOS / UEFI options and UEFI overclocking. By pressing F2 or Del, you get access to the UEFI with all important hardware settings.
The ASRock UEFI BIOS of the Q1900M offers a graphical surface for an intuitive operation with a mouse or with a keyboard, depending upon desire. User with an USB mouse and USB keyboard should not deactivate the Legacy USB support in the BIOS with the USB Configuration, because otherwise they can not access the UEFI Setup. In Auto mode, the board decides if the USB device need to operate in Legacy mode. Keyboard and Mouse should be still connected to the USB 2.0 ports.
Here you can see the graphical UEFI surface: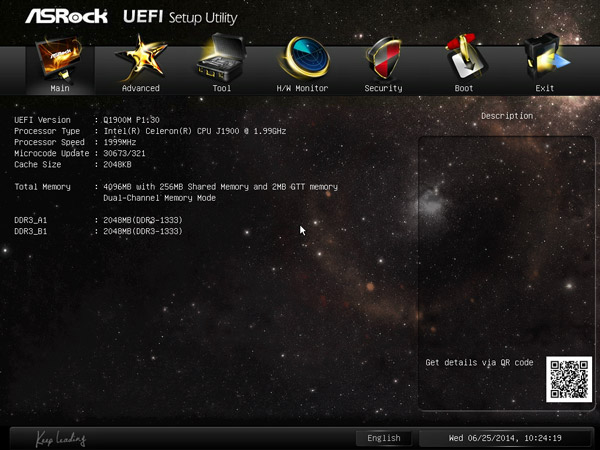 UEFI BIOS Update …
ASRock offers several ways to flash BIOS updates, like e.g. the very comfortable ASRock Instant Flash or the latest ASRock Internet Flash with a direct internet connection: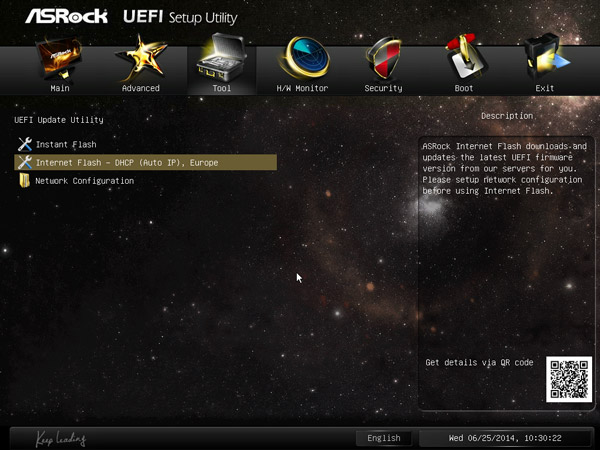 One can enter the ASRock Instant Flash utility in the Advanced Screen or by pressing F6 during the PC start. Hereby one can upgrade a downloaded ASRock BIOS without further boot CD, USB boot stick, etc. very easily. Just start the ASRock Instant Flash utility and select a BIOS Flash ROM from the device like an USB Stick to flash the BIOS without an additional boot medium. If you need technical help about the UEFI, you can contact the ASRock over the UEFI Setup and LAN connection.
The board came with BIOS P1.30. At review date, this was the latest UEFI BIOS version for download.
Here you can see a now rare setting for the parallel port. Who wants to build a Mediaplayer with 20×4 LCD Display, is pleased about this: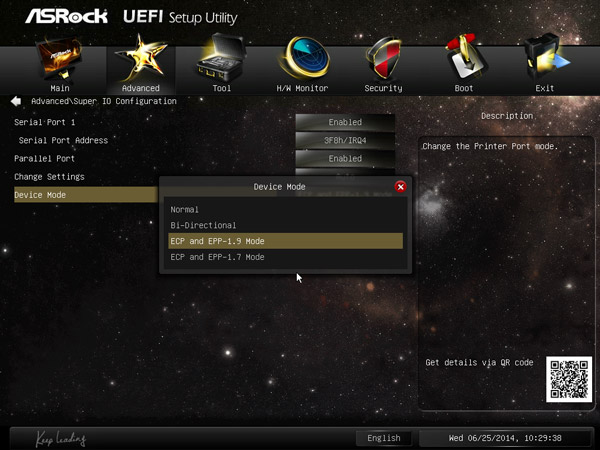 ASRock Q1900M Overclocking …
The BIOS has unfortunately no DDR3 memory settings and also no OC settings.
The BIOS offers only a DDR3 memory voltage setting between 1.35V up to 1.65V in steps of 0.10 Volt, which should be enough power for most common DDR3 modules.
Here you can see the DRAM voltage settings:
BIOS Undervolting …
The downclocking or underclocking was also tested in this review. Unfortunately, it was not possible to lower the Intel Celeron J1900 CPU multiplier over the BIOS, so it was not possible to underclock / downclock it.
However, the BIOS of the completely passive cooled Q1900M motherboard offers an extensive temperature fan control for an optional CPU fan or Chassis fan.
The passively cooled motherboard provides a fan control for optional CPU/chassis fans: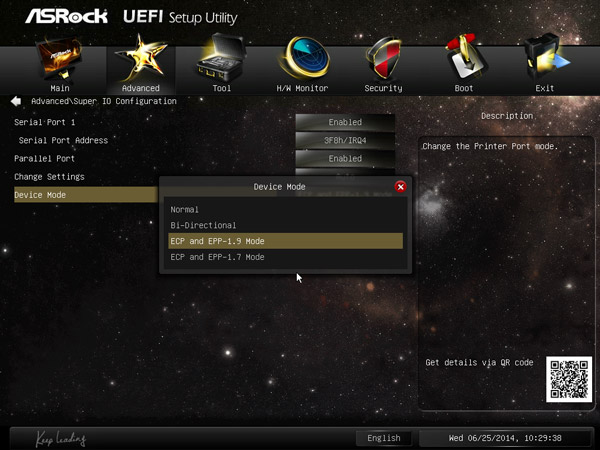 Power consumption …
Power consumption will vary depending upon the hardware and upon the PC load. The current consumption of the test PC with Intel Celeron J1900 APU, 4GB DDR3-1333 memory, hard disk drive and Cooler Master Silent Pro M 600W test PSU was depending upon load: – With Sapphire HD6870 the power consumption was between 37.1W and 158.8 Watt. – With internal Intel HD Graphics GPU the power consumption was between 22.3W idle and 42.2W load.
In contrast an ASRock AM1H-ITX AMD Socket AM1 motherboard with an AMD Athlon 5350 Kabini APU had the following PC power consumption values: – With Sapphire HD6870 between 43.1W idle and 179.5 Watt full load. – With internal AMD Radeon R3 GPU between 23.2W idle and 57.2 Watt full load.
An ASRock Fatal1ty FM2A88X+ Killer AMD Socket FM2+ motherboard with an AMD A10-7850K Kaveri APU had the following PC energy consumption: – With Sapphire HD6870 between 56.3W idle and 233.5 Watt full load. – With internal AMD Radeon R7 GPU between 30.2W idle and 118.8 Watt full load.
An ASRock FM2A85X-ITX AMD Socket FM2 motherboard with an AMD A10-5800K Trinity APU had the following power consumption: – With Sapphire HD6870 graphics card from 52.9W to 221.0 Watts. – With internal AMD Radeon HD7660D GPU 29.4W idle and 120.4 Watt full load.
The power consumption is enormously low with the integrated GPU as well as with a PCI Express graphics card and thus enables e.g. a very economical HTPC, a small office PC, or a NAS system. The energy requirement is even well below the recently tested AMD Kabini system, however the CPU and GPU performance is also significantly lower.
Result …
This small ASRock Q1900M Intel Bay Trail-D DDR3 motherboard is equipped with an Intel J1900 Celeron quad core processor, which required an absolutely low power consumption and thus enables you to build a very energy-efficient and extremely inexpensive media player PC, NAS, or Office PC.
The Q1900M offers only two SATA2 ports, but one USB 3.0 ports, up to six possible USB 2.0 ports, one Gigabit LAN connector, 5.1 sound with analog sound output over three jacks and video output over D-Sub, DVI-D or HDMI.
System-on-chip or short SoC describes the combination of CPU, GPU, and chipset in one processor, where the processor of this mainboard is firmly soldered and thus can not be exchanged or let us better say it would be extremely difficulty. Regarding this point, you should know the required performance before buying, because the Intel Celeron processor change or overclocking is not intended.
The performance of the Intel Celeron J1900 Bay Trail-D system is in our tests clearly lower than the recently tested AMD Athlon 5350 AM1 Kabini APU, but at least a little bit higher than an AMD E350 CPU and significantly higher than an Intel Atom 330 Dual Core CPU.
With the ASRock Q1900M Bay Trail-D motherboard one get a very inexpensive motherboard for a micro-ATX media player PC, NAS or an Office PC with extremely low power consumption. At the time of review, the Bay trail-D uATX motherboard with Intel Celeron J1900 APU costs only approx. 60 Euros and this is definitely awesome. Who needs a little less power, can save even further almost 10 Euros and order the ASRock D1800M
pendant with Intel Celeron J1800 dual-core processor. For more performance at nearly equal low power consumption, we recommend the recently reviewed ASRock AM1H-ITX motherboard with an AMD socket AM1 5350 Kabini processor.
All in all is the ASRock Q1900M Bay Trail-D motherboard with an integrated Intel Celeron J1900 processor an extremely inexpensive motherboard for thrifty and earned the OCinside.de price tip award 06/2014 !
Here you can buy the ASRock Q1900M motherboard.
Special thanks to ASRock for their support.
Picture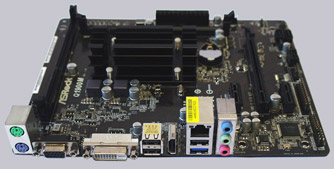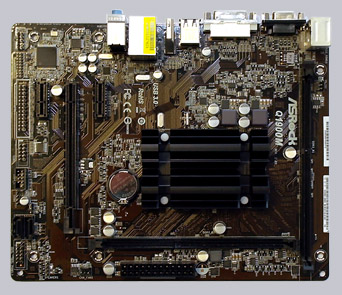 * All Bay Trail-D PCIe motherboard reviews since 01.06.2014 are based on anSapphire HD6870 1024MB ATI Radeon HD6870 PCI Express 2.0 video card, 2x 2048MB Crucial DDR3-1333/PC3-10600 memory modules, Cooler Master Silent Pro M 600W power supply unit and the following software configuration: Microsoft Windows 7 Ultimate, SiSoftware Sandra 2013, Futuremark 3DMark and Futuremark 3DMark06 (the OC software is available in the Links & Downloads section). All benchmark results only offer a comparison among themselves for a rough motherboard performance comparison.