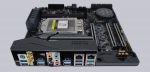 BIOS and overclocking …
Let us continue with the BIOS / UEFI Setup options and the UEFI overclocking. By pressing F2 or Del during PC boot, you get access to the UEFI Setup.
The ASRock X399M Taichi UEFI has a graphical interface that allows intuitive operation with the mouse, or can be operated still as usual with a keyboard.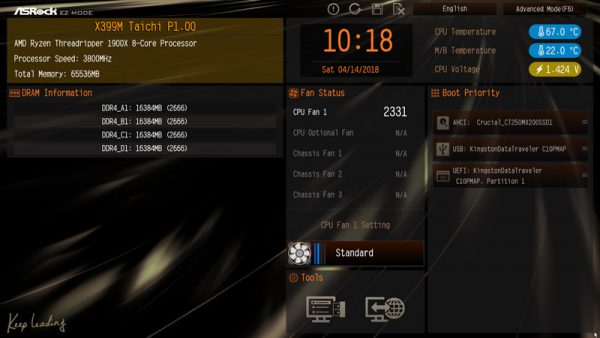 This time we published a slightly longer video tutorial for UEFI setup on our OCinside YouTube Channel and describe all important BIOS settings, show how to perform BIOS update, Fan Tastic Tuning and the RGB functions of the new ASRock X399M Taichi motherboard.
Here is the ASRock X399M Taichi UEFI Setup Video Tutorial.
Note: Please allow our cookies first to see this external content!
ASRock X399M Taichi overclocking …
Let's go back to the AMD Ryzen Threadripper overclocking on the ASRock X399M Taichi motherboard. How easy overclocking is, we have tried with the AMD Ryzen Threadripper 1900X CPU and have reached approx. 4205 MHz with strongly increased VCore. Not prime stable, but you can see how high the TR4 CPUs can be overclocked. Here you can see the confirmed CPU-Z tool with 4143.9 MHz at 1.504 Volt.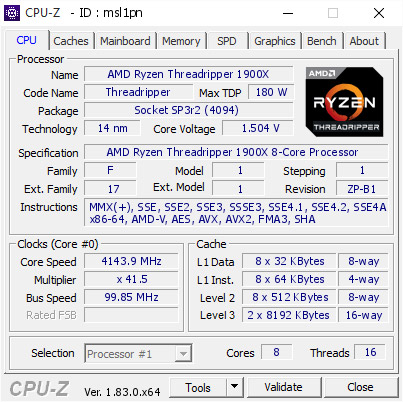 ASRock X399M Taichi easy overclocking …
Who rather would like to overclock in Windows, can make many of the above voltage and frequency settings even with the ASRock A-Tuning tool or as shown in the soon published AMD Ryzen Threadripper OC guide you can also overclock with the AMD Ryzen Master Threadripper Tool.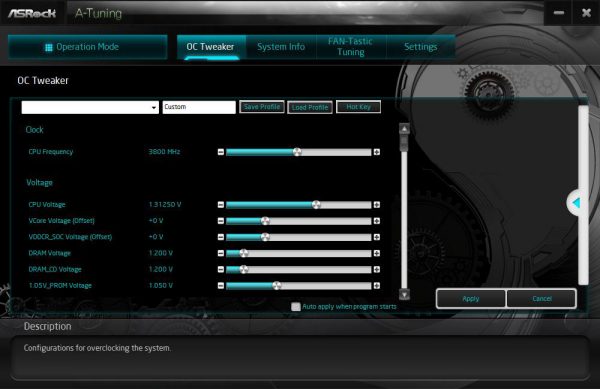 BIOS Undervolting …
Underclocking was also checked again in this test. For this the AMD Ryzen Threadripper 1900X CPU was set to the lowest value via the BIOS and could therefore be underclocked to approx. 2400 MHz. Underclocking is like overclocking of course outside of manufacturers specification, so it is necessary to have some luck. ASRock gives several options for easy PC underclocking / downclocking.
Fan control …
As explained in the tutorial video, the UEFI setup of the passively cooled X399M Taichi motherboard has an extensive, temperature-controlled fan control. The integrated fan controller can be found in the H/W Monitor directly below the display of the temperature and voltage values. Since the fans with this fan controller are even controlled depending on the CPU or mainboard temperature, you can safely do without additional Fan Controller. If you prefer to set the values in Windows, you can of course also use the ASRock A-Tuning Tool.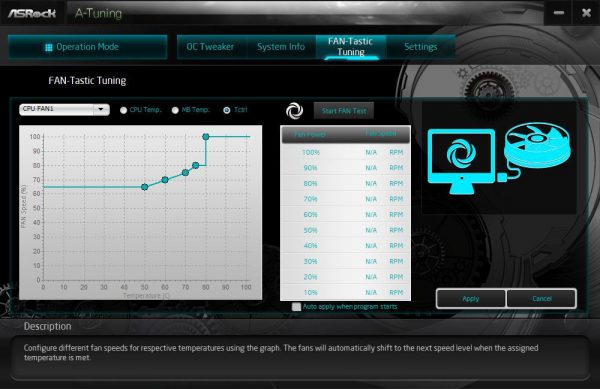 ASRock X399M Taichi energy consumption …