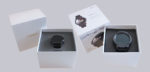 Practical testing …
After the full charge, which takes just over 1 hour, it can finally start!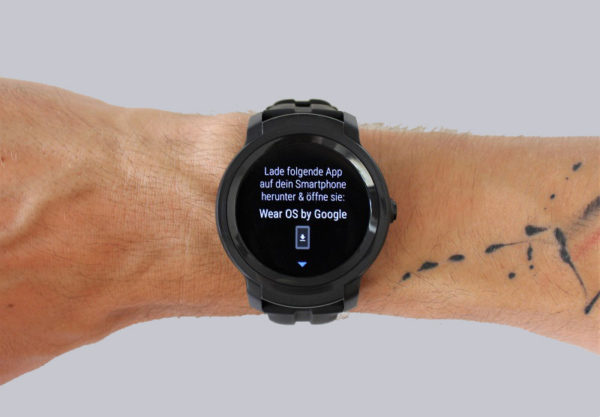 Setup …
The setup of the two smartwatches is the same as in the previous Mobvoi TicWatch Pro review. In summary, follow the instructions on the display of the Smartwatch, load "Wear OS" on the smartphone and connect both devices via Blootooth.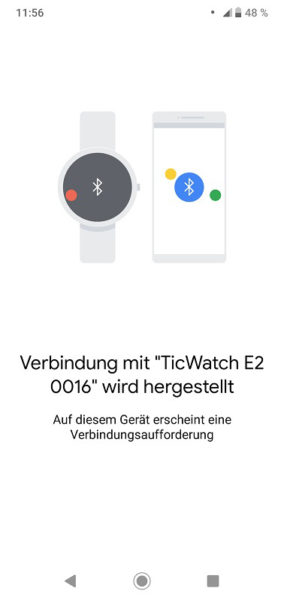 The whole thing went really smoothly and self-explanatory.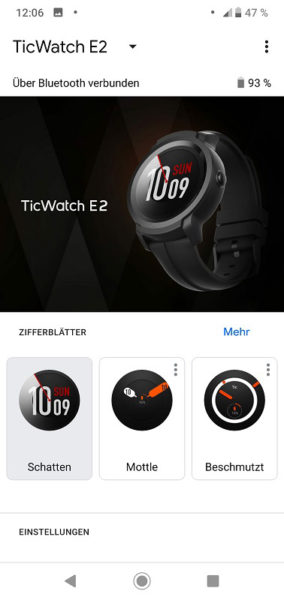 wearing comfort and connection …
The Smartwatches nestle well on the wrist. However, they are not lightweights and especially the larger Ticwatch E2 is certainly not for petite wrists. There fits rather the Ticwatch C2. The communication via WiFi and Bluetooth work very well.
Wear OS apps …
The great thing about a Smartwatch is that you have everything from an office to a personal fitness trainer. Fitness trackers, pay with NFC via Google Pay, check Deutsche Bahn or tram or bus timetables, telegram, retrieve recipes, listen to podcasts, work through shopping lists, retrieve football results, locate golf holes via GPS, retrieve weather, compass and location, navigate, operate Smarthome, play, stream audio or listen to music and much more can now be done with Smartwatch.
For installation you can simply start the integrated Google Play Store. Other Wear Apps must first be installed on the smartphone via the Play Store and then installed in the Wear Playstore for Wear OS. For example the Feedly for Wear RSS Reader for Wear OS. And OCinside.de readers are always well informed: With RSS Feed Reader you can regularly be informed about the OCinside RSS Feed and the daily Hardwarespot RSS Feed in Gear RSS. Alternatively, you can also install the Internet Web Browser for Wear OS, which is subject to a fee, and conveniently access our web pages via it.
Smartwatch battery runtime …
The given 48 hours are quite realistic if the display is well thought out. But if you, as we, play around with it all day it will be much less 😉
Display and operability …
Pressing the side button (C2 marked upper red) always returns us directly to the main menu. The displays are very easy to read and touch operation was intuitive and smooth.
Here also a compliment to Mobvoi: All menus are very well adapted to the small displays and it never came in the test that something would have been too fizzy. Speaking of small display: The display of C2 is indeed slightly smaller than that of the E2, but this was not negative in the test or not at all.
Sports features …
The heart rate sensor and pedometer provide plausible results. Positive at step sensor we noticed that it does not recognize any movement as steps. Incidentally, the additional button of the TicWatch C2 brings us directly to the daily data of the "sports sensors".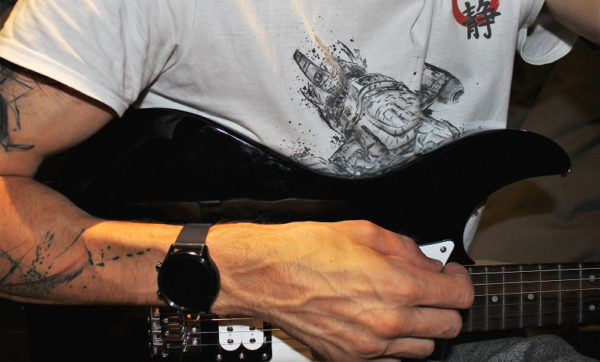 Testvideo …
For our review, we have also created a short video on the OCinside YouTube Channel, and hope you enjoy it 🙂
Note: Please allow our cookies first to see this external content!
Mobvoi TicWatch E2 und C2 result and general impression …