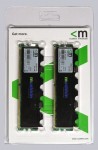 Mushkin shows with their current XP2-8500 DDR2-1066 memory modules that it's possible to get high performance for low cost. Because ocinside.de was able to overclock an AMD Athlon 64 3000+ Socket AM2 CPU to approx. 3000 MHz and the enormously high memory overclocking up to 600 MHz (DDR2-1200) was an important factor for these results. If you're using a DDR2 motherboard with some overclocking options, you shouldn't miss this Mushkin XP2-8500 Review.
Thanks for the support …
Many thanks for the support with the XP2-8500 (1×996535 or 2×991535) 2GB PC2 8500 / DDR2 1066 CL5 kit by Mushkin.
The 2 GB kit contains 2x 1024 MB 240-pin DIMM DDR2-1066 (PC2-8500) memory modules and has a price of approx. 240 Euro (04/2007). They're available in the Mushkin Web Store and at our sponsors.
The supply of the two 1024MB PC2-8500 memory modules …
The two very well protected memory modules are delivered in this packing: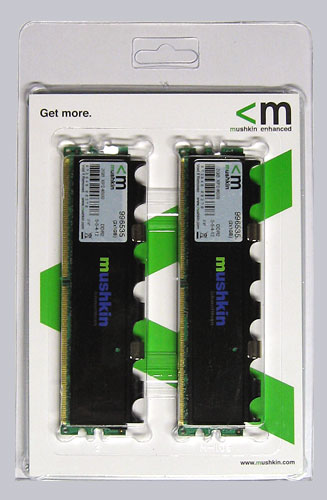 That is contained in the scope of delivery …
Mushkin supplies the two memory modules as well as an English installation and troubleshooting guide on the backside of the packing, which should make it possible for less experienced users to install them easily.
Here is a picture of the two contained XP2-8500 memory modules: