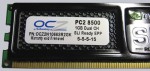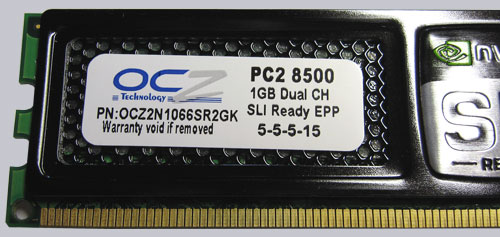 OCZ offers optimized memory modules for different application ranges for years. It does not only concern the memory module overclocking with sophisticated RAM heatsinks, but also an optimal adjustment of the RAM to the respective system. For example the reviewed OCZ PC2-8500 nVidia SLI-Ready Edition 2GB kit is optimized for current nVidia motherboards. This SLI ready PC2-8500 memory was tested on a motherboard with ULi M1697 chipset and also on a motherboard with nVidia nForce 590 SLI chipset (SLI-Ready support). Of course the memory was overclocked up to the limit.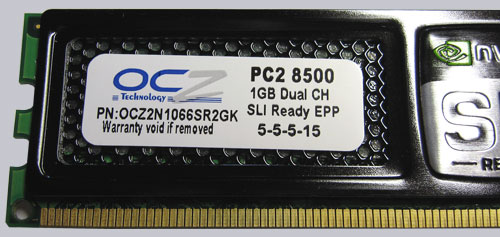 Thanks for the support …
Many thanks for the support with the PC2 8500 CL5 nVidia SLI-Ready Edition 2GB kit OCZ2N1066SR2GK by OCZ.
The 2 GB kit contains 2x 1024 MB 240-pin DIMM DDR2 1066 (PC2-8500) memory modules and has currently a price of approx. 110 Euro (01/2008). They're available e.g. at our sponsors.
The supply of the two 1024MB PC2-8500 memory modules …
The two memory modules are delivered in this packing: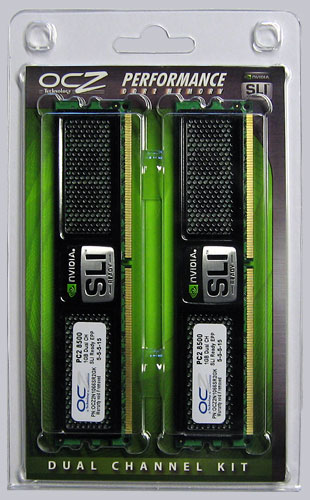 That is contained in the scope of delivery …
OCZ supplies the two memory modules as well as an installation guide on the inlay of the packing, which should make it possible for less experienced users to install them easily.
Here is a picture of the two contained PC2-8500 memory modules: