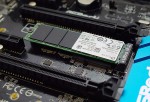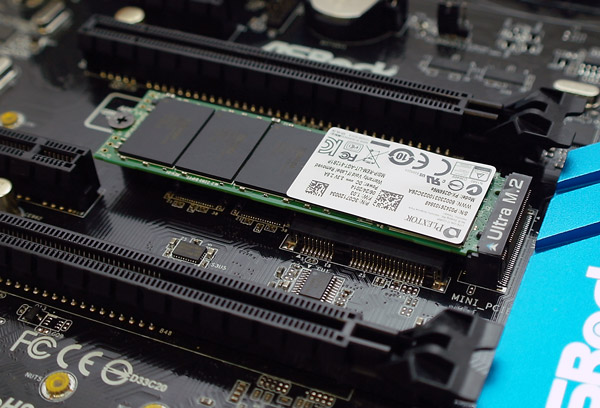 The Plextor M6e 256GB M.2 SSD PX-G256M6E reached fantastic transfer rates and can be used even for an operating system installation without any problems, thanks to its boot capabilities.
The Plextor PX-256M6e 256 GB M.2 PCI Express Solid State Drive with Marvell 88SS9183 controller is automatically addressed in AHCI mode and is even in the M.2 motherboard socket bootable.
With the current Plextor firmware FW1.04, the small Plextor M6e 256 GB M.2 PCB reached amazing high transfer rates and can be used in an Ultrabook, laptop, Tablet, or on classic motherboards with M.2 port (check our Intel Z97 motherboard reviews in the hardware test area) or can be installed in conventional PCIe slots with a PCI Express card. Who takes the higher costs in purchase, contrary to conventional SSDs, will be happy with this really fast M.2 PCIe SSD. Only the firmware update could be created more customer-friendly by Plextor and an option for hiding the bootscreen would be great as well. All in all this PCIe SSD with specially developed firmware from Plextor impressed us definitely.
With this fantastic performance the Plextor M6e 256GB M.2 SSD earned the desirable Redaktion ocinside.de Overclocking Dream Award 09/2014.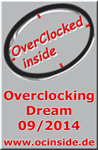 Discuss in our forum and exchange experiences …
Here you can buy the Plextor SSD …
Read on in the hardware test area with several hardware reviews …