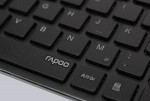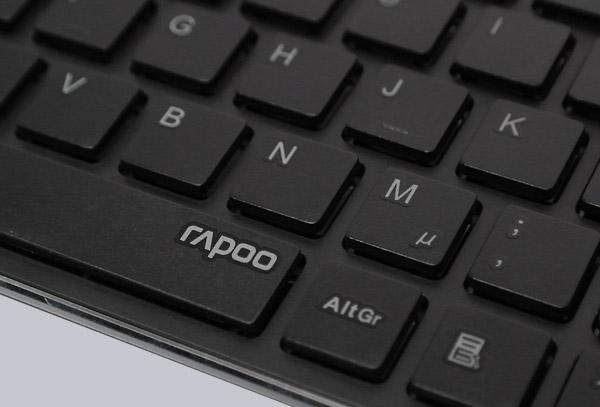 Rapoo E6700 Review
Layout, Design and Features of the Rapoo E6700 Bluetooth Keyboard …
Let us now come to the stylish, small Rapoo E6700 Bluetooth keyboard, which as already mentioned on the first page is availabe in different color variations. We`ve tested the black version with black buttons, black touchpad …

… and black bottom – well, not really black, but let's call it dark.

On the bottom in the rear section there is a Micro USB port, two LEDs for battery and connection status, a button for Bluetooth connectivity and a slide switch turning the Bluetooth Keyboard on and off.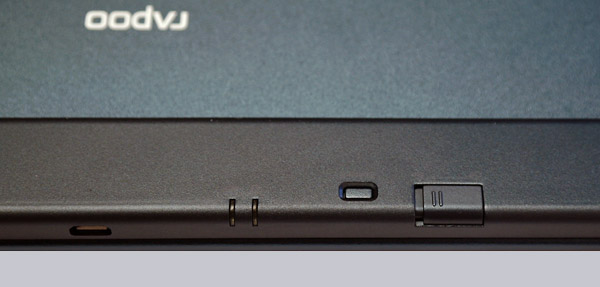 The building quality of this handy keyboard makes a very good impression, is not only stable but also extremely flat and the entire multi-touch keyboard weight is just 260 grams.

Here we see very good the ergonomic shape. The height is on the flat side about 6-7 mm and at the highest point about 15 mm.

The buttons have a high quality and the pressure point is well in our opinion. The German keyboard layout has been applied durable on top of the keys and the F and J keys are provided for easy orientation with little bumps. The arrangement of the keys is as always a matter of opinion, but we find them relatively well resolved. Even if you initially push the wrong key sometimes you`ll get used to the layout. Except of the missing num pad and the larger/smaller/Pipe Key the layout corresponds to a ordinary keyboard.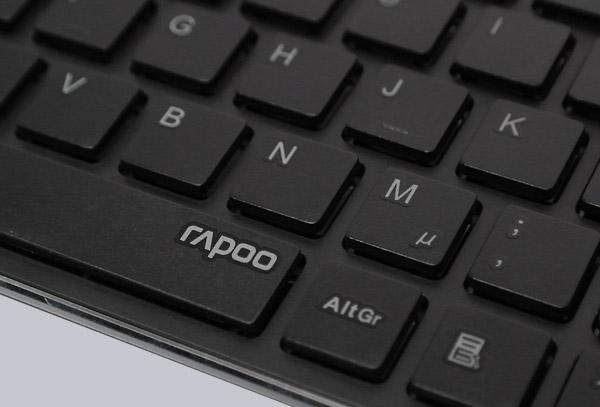 The touchpad is located next to the buttons and provides two virtual left and right "click" areas in the lower section. Due to its compact design, the inexperienced user, however, might touch the touchpad while writing unintentionally and thus operate the PC, tablet, smartphone or smart TV unintentionally. Here a pullout touch field would have been certainly be the best solution.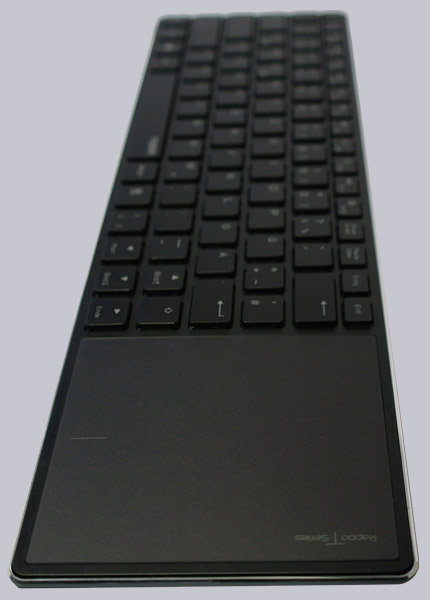 The touchpad is multitouch capable and can thus with different gestures such as scroll down with the wipe of two fingers served. A total of 15 different gestures not only useful with windows 8.1, but also when browsing on smart tv or mainly the operation of the Android Tablets, Android smartphones or tablets and other Windows Phone devices. We dont want to talk about the Apple iOS devices at this point, because we focus on that in the practical test.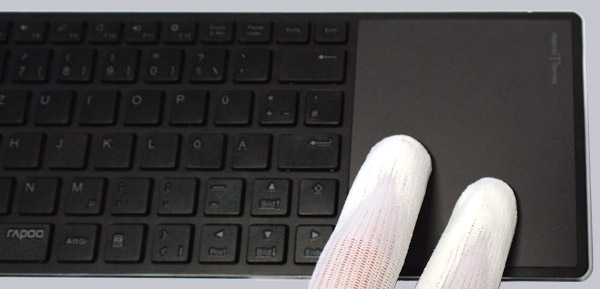 We now come to the actual practice test of mobile Rapoo Bluetooth keyboard.Rapoo E6700 Bluetooth Keyboard Operation and Results …