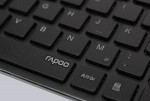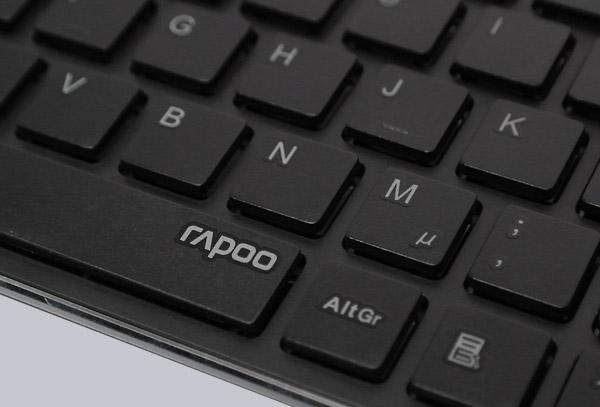 Rapoo E6700 ReviewIf you followed OCinside.de from the beginning, you surely know about our numerous USB Infrared Receiver guides and kits to remotely control a HTPC and turn it on and off. So you can operate the PC in the living room with a commercial remote control from the sofa. However, you might want to write something or make system settings and that is more difficult with a universal remote control. For this purpose, a Bluetooth wireless keyboard with touchpad, or better with a multi-touch pad is good choice and is tested at OCinside.de today! We have tested the Rapoo E6700 Bluetooth keyboard with a HTPC, LG and Samsung smart TV, Android smartphone, Apple iPad, iPad Mini, up to the new Apple iPhone 6 and also created Bluetooth setup guide.

Thanks for the support …
Many thanks for the support with the E6700 Bluetooth keyboard by the manufacturer rapoo.
The Rapoo E6700 Bluetooth keyboard is available in black, white and blue, white and green, white and red and has a price of about of approx. 59 Euro.
Here you can buy the Rapoo E6700 Bluetooth Keyboard.
The delivery of the Rapoo E6700 Bluetooth keyboard …
The Rapoo E6700 Keyboard is distributed in this package. The presentation of the box is very good, but the packaging must be torn cumbersome after removal of the additional protection foil on the side – that could be certainly solved better.

The back of the box already shows the possible use by means of some images.

Rapoo E6700 Accessories …
Included is, besides the E6700 keyboard, only a 1 meter long USB A to Micro USB cable and a multilingual leaflet. The leaflet contains warranty information and a few tips in dealing with the gesture control. Specifications, details on charging time and a slightly more detailed instructions for Bluetooth connection with a small FAQ would be desirable. A Bluetooth adapter is not incidentally included.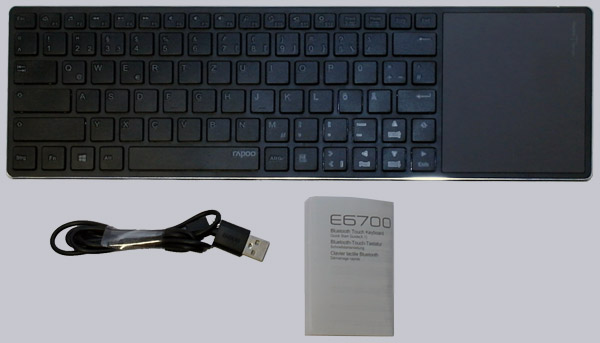 Now we come to the technical data of the small multi-touch Bluetooth keyboard.The technical data of the Rapoo E6700 Bluetooth Keyboard …