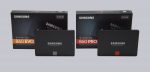 Result and general impression …

The Samsung SSD 860 Pro and the 860 Evo 2.5″ SATA3 SSD MZ-76P512BW / MZ-76E500B show overall very good performance results, whereas the difference between the PRO and EVO version of the Samsung SSD 860 series only becomes clear in detail: The Samsung SSD 860 PRO has 2 bit MLC V-NAND and the Samsung SSD 860 EVO has 3 bit MLC V-NAND.
The difference is barely noticeable at first glance, since, for example, almost all benchmark tools deliver similar high results. Only in practice or with special benchmark tests, with which all memory cells are completely written, the write speed drops by about half after several gigabytes of data transfer. This is due to the fact that the EVO's slower 3-bit MLC V-NAND has a faster SLC buffer than TurboWrite, which varies from 250 GB to 4 TB between 12GB, 22GB, 42GB and 78GB depending on the SSD capacity, and this TurboWrite buffer is subdivided once again as a fixed and intelligent extension depending on the available storage capacity.
In addition, the Samsung SSD 860 Pro is specified with a twice as high TBW for the limited 5-year warranty, which varies depending on overall capacity. For example, the 512 GB Samsung SSD 860 Pro is given with 600 TB TBW (total bytes written) and the 500 GB Samsung SSD 860 Evo only with 300 TB TBW, which corresponds to approx. 165 GB per day over a period of 5 years. This information is not only important for the warranty, but also indicates a very high durability of the NAND cells. If you would like to know more about TBW, you can find numerous data and formulas at Micron and in the JEDEC SSD specifications.
So today's SSDs are no longer about the theoretically possible speed, because the SATA3 interface with its maximum transfer rate of 6 Gb/sec already limits many SSDs of different manufacturers on paper.
All in all, the Samsung SSD 860 Evo is a good choice in normal client PC operation and the Samsung SSD 860 Pro series is a very good choice with continuously high writing performance for client PCs, workstations and NAS systems, which still achieves the maximum writing speed even when transferring large amounts of data.
It remains to be seen how the prices of the Samsung SSD 860 series published at our review day will develop and it is to be hoped that the firmware will be adapted to older systems after our review as well.
Discuss in our forum and share experiences about the Samsung SSD 860 series …
Here you can buy the Samsung SSD 860 EVO and PRO SSD for a low price …
Read on in the hardware test area with several hardware reviews …