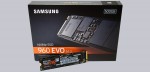 Result and general impression …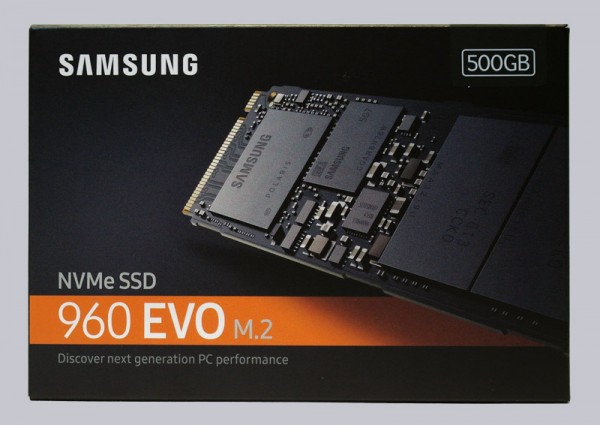 This new Samsung 960 Evo 500 GB M.2 NVMe SSD reached according to the most benchmark programs nearly the results of previously tested Samsung SSD 960 Pro 1TB M.2 NVMe SSD, but there is a peculiarity, which you should know.
The Samsung 960 Evo 500GB Solid State Drive comes with Samsung Polaris controller and Samsung 3D V-NAND 3-Bit MLC – so called TLC NAND – and SLC TurboWrite Cache. The Samsung 960 Evo achieved excellent results in almost all benchmarks. But as we have demonstrated with the good old HD Tach achieved TLC NAND significantly slower write values as the MLC (2-bit) or even SLC NAND (1-bit). What this means in practice for the user, we have extensively explained in the Windows practice test of the Crucial BX200 480GB SSD, where we have copied manually several different-sized files on a TLC SSD with SLC write cache.
Furthermore the Samsung 960 Evo 500 GB is provided only with 200 TBW (total/tera bytes written), representing 110 GB per day over a period of 5 years (warranty up to 3 years according to Samsung). The Samsung 960 EVO 1TB is 400 TBW and the upmarket Samsung 960 Pro 1 TB is designed for 800 TBW (warranty according to Samsung up to 5 years). This information is important not only for the warranty, but speaks for a relative high durability of the V-NAND cells. Who wants to know more about TBW, finds numerous data and formulas in the JEDEC SSD specifications.
Nevertheless, the Samsung 960 Evo supports like the Samsung 960 Pro all important features like TRIM, Garbage Collection, SMART and 256-bit AES Encryption, TCG Opal.
So, all in all the new Samsung SSD 960 Evo 500GB M.2 PCIe 3.0 x4 SSD is a reasonable priced alternative to the Samsung SSD 960 Pro 1TB M.2 PCIe 3.0 x4 SSD, as long as you do not regularly write larger amounts of data. Otherwise we recommend the 960 Pro counterpart. Anyway, for this price, the read speed is definitely a stunner!
Discuss in our forum and share your experiences about the Samsung 960 Evo …
Here you can buy the Samsung 960 Evo SSD …
Read on in the hardware test area with several hardware reviews …