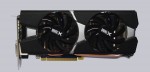 Power consumption …
The PC power consumption is of course also important and that is why we check the current for all graphics card tests, Motherboard reviews, power supply reviews and PC Reviews with or without overclocking for several years. At the latest when the electric bill obtained the receipt for a too careless PC planning, as our PC power cost calculator shows.
Hereby you can calculate the power consumption and energy costs: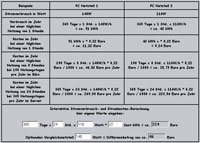 Interactive power consumption calculator
The Sapphire Radeon R9 280 Dual-X OC 3 GB gaming graphics card has a low power consumption of only 56.9 Watts in idle for the entire PC. The graphics card overclocked on 1100/1600 MHz has a power consumption of 68.5 Watts in idle for the entire PC. Our above listed test system along with the graphics card reached a maximum of 317.4 Watts with full load. Overclocked on 1100/1600 MHz, the PC required a maximum of 364.2 Watts under load.
Sapphire Radeon R9 280 Dual-X OC Edition Result and general impression …