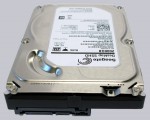 The Seagate 2TB SATA3 3.5″ SSHD ST2000DX001 achieved much better performance values, than the previously tested drives, but the reading and writing performance is significantly lower than the results of a fast SSD.
The SSHD is priced just slightly above a conventional hard drive, but offers in different scenarios clear advantages to a normal HDD. When comparing the SSHD with an SSD, the SSHD can keep up only under very specific conditions. The controller of the SSHD manages the strategically best combination of the small SSD and the large HDD without additional work. In addition to some other practical tests, of course we have also installed an operating system to this SSHD to measure the start of applications and the time for the boot process.
A Microsoft Windows 7 Ultimate boot procedure took only 10 seconds with the Seagate 2TB SSHD and the total boot time with BIOS post and Windows 7 start was about approx. 21 seconds. This is nearly identical with the boot time of a Crucial m4 256GB SSD and approx. 18 seconds faster than the boot process of a Hitachi Deskstar 7K1000.C 1TB 3.5″ HDD.
All in all is SSHD the Seagate 2 TB especially highly recommended when a high capacity is needed and no additional SSD for the OS will be integrated into the PC or Mac.
Discuss in our forum and exchange experiences …
Here you can buy the Seagate SSHD …
Read on in the hardware test area with several hardware reviews …