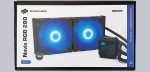 Result and general impression …
The SilentiumPC Navis RGB 280 Water cooling lives up to its name, because up to 1400 rpm the AIO can be classified as very quiet. It already delivers a surprisingly good cooling performance from 25% fan speed.
The installation proves to be problem-free and shouldn't be too challenging even for laymen.
You can safely overlook the small paint faults of the radiator fins, as these do not impair the function at all.
Since the cooler comes with its own RGB controller, you don't have to rely on a motherboard with integrated RGB control. However, the SilentiumPC Navis RGB 280 doesn't have addressable LEDs yet, so the effects are pretty, but they are limited.
The SilentiumPC Navis RGB 280 AIO not only has an amazingly low price, but also offers a very good cooling performance, is RGB illuminated as well as well processed and receives our OCinside.de Price Tip Award 06/2019.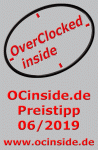 Discuss in our forum and share experiences about the SilentiumPC Navis RGB 280 …
Here you can buy the SilentiumPC Navis RGB 280 at a reasonable price.
Read on in the hardware test area with several hardware reviews …