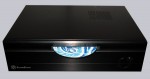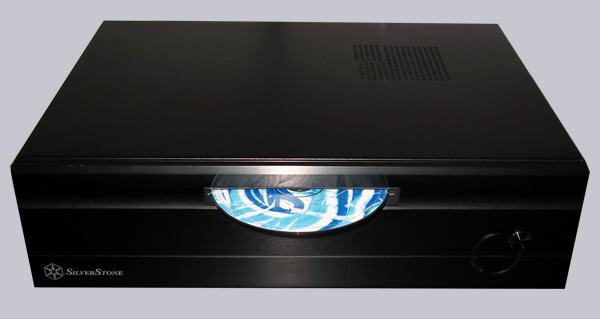 The technical data …
Form factor: The Silverstone La Scala SST LC02B HTPC case is designed for standard ATX or Micro ATX motherboards.
Dimensions: The height is 110 mm, the width is 380 mm and the depth is 292 mm.
Weight and material: The basic weight of the aluminum case is approx. 2.9 kg (shipping weight is approx. 4 kg).
Drive bays: In the front panel is 1x slim slot available for an optical Slimline DVD / CD drive. Inside of the case is a place for 1x 3.5 inch hard drive.
Slots: One PCI card can be installed with the supplied riser card (PCI-E riser card is optional). Overall, there are two slots at the back of the enclosure.
Cooling: The case has already one pre-assembled 60mm fan and the chassis offers space for an additional 60mm fan. This integrated Silverstone Everflow fan model F126025SL consume at 12 volts about 1.44 watts (0.12 A). It has an air flow of approx. 18 CFM (about 0.5 m3 per minute) at 3600 rpm and the noise level is according to manufacturer information approx. 24 dB.
PSU: The integrated Silverstone ENP-2824 240 Watt Active PFC PSU offers the following connectors: 1x 20/24 pin, 1x 4 pin ATX 12V, 2 x 5 pin SATA, 4x 4 pin Molex and 1x 4 pin floppy power. It offers at +3.3 V 18A, +5 V 19A, +12 V 16A, -12V 0.3A, +5VSB 2A and the combined 3.3 volt and 5 volt power is up to 105 watts. Inside of the power supply is also an additional 60 mm fan.
Miscellaneous: The enclosure offers at the front panel one power button and two blue LEDs for power and HDD. On the side are 2x 3.5 mm jacks for headphones and microphone, 2x USB 2.0 and one Firewire port.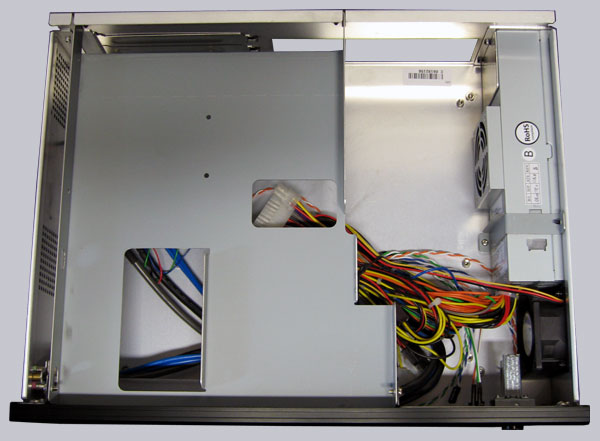 Layout, Design and Features of the Silverstone La Scala SST LC02B Case …