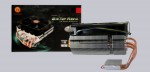 Many PC enthusiasts count on tower-cooler when it comes to CPU cooling, because they usually promise the most air-cooling performance. Thermaltake wants to show that also relatively low built coolers like their BigTyp Revo can handle bigger amount of excess heat. We will show in our review on OCinside.de if this big type can really hold up to its name.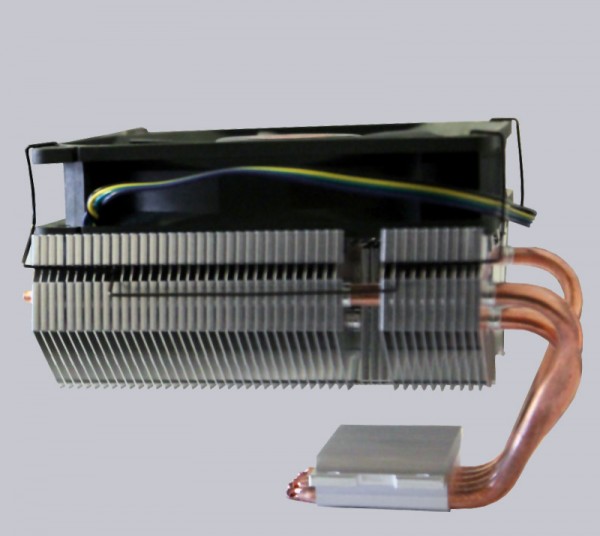 Thanks for the support …
Many thanks for the support of Hipp0campus and the manufacturer Thermaltake.
The Thermaltake BigTyp Revo has a price of approx. 40 Euro (12/2015), and is thus placed in the upper middle-class.
Here you can buy the Thermaltake BigTyp Revo. cooler.
The delivery of the Thermaltake BigTyp Revo …
This is the box the Thermaltake BigTyp Revo is shipped in. The packaging gives us some important information to begin with: Firstly a picture shows that it is a so called top-blow cooler, meaning the fan is mounted parallel to the CPU. There's also emphasis on the 5 heatpipes with a diameter of 6 mm each and the cooling capacity of 160W. But the background with a military helicopter and the slogan "The cooler strikes all" remind us more of a children's toy.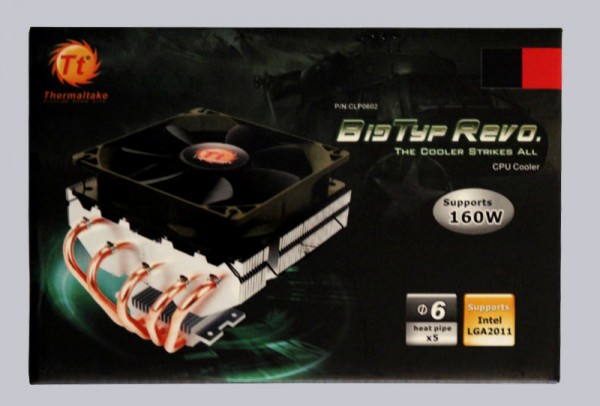 Accessories …
Because of the shape of the heatsink it is understandable that Thermaltake used a lot of padding to protect the heatpipes from bending. After removing the two big foam pads we can take a closer look at the accessories.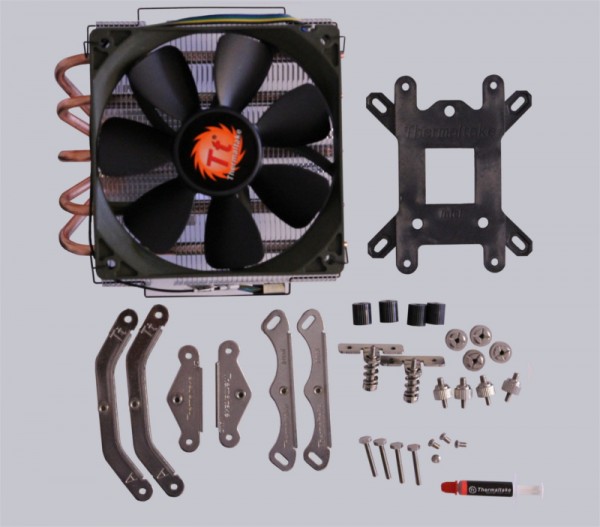 Thermaltake keeps the amount of accessories at a minimum. The biggest part is a plastic backplate which doesn't look very fancy, but leaves a robust and functional impression. Some screws and metal plates complete the mounting gear. A tube of thermal grease is mandatory of course, the thermal grease is not closer specified and bears only the name Thermaltake. The accessories are well made and a nice detail is the functionality as thumb screws to make it possible to fasten the screws by hand.
Thermaltake BigTyp Revo technical data …