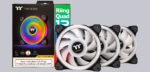 Test results …
We tested the Thermaltake Riing Quad 12 in a Corsair Crystal 680X White, because the fans can only be controlled by software anyway and due to the proprietary cable it was unfortunately not possible to extend the cables. The special thing about the Riing Quad 12 is that the fan has 4 LED rings. 2 each in the outer ring and 2 on the hub.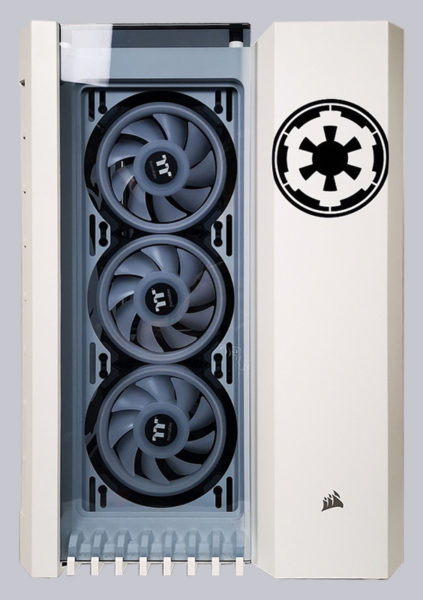 For the test we first installed the TT RGB Plus software.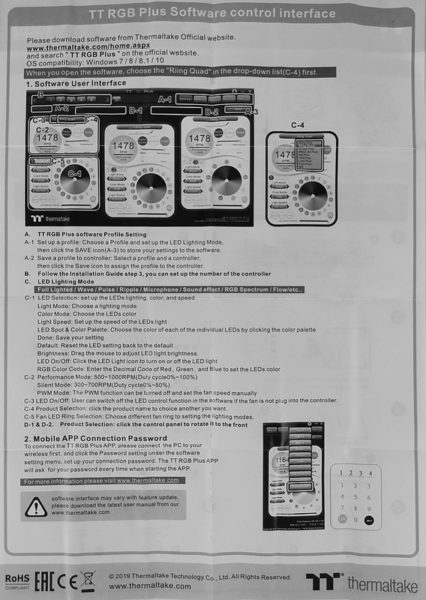 With this software the fans can be individually controlled and individually configured.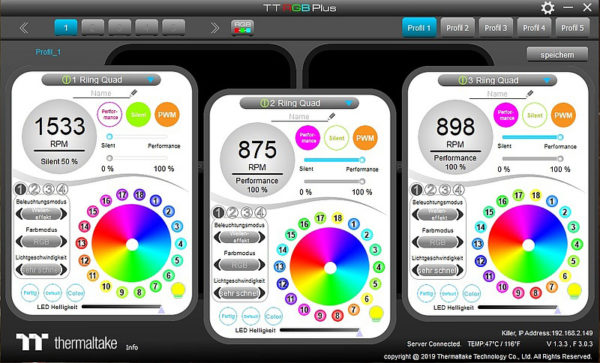 The whole operation is relatively simple, just select the fan and choose the desired functions via pulldown. You can also completely customize the lighting and select each of the 4 lighting rings individually. To do this, simply click on the ring number that you want to set via the pulldown menu. The rings are counted from outside to inside.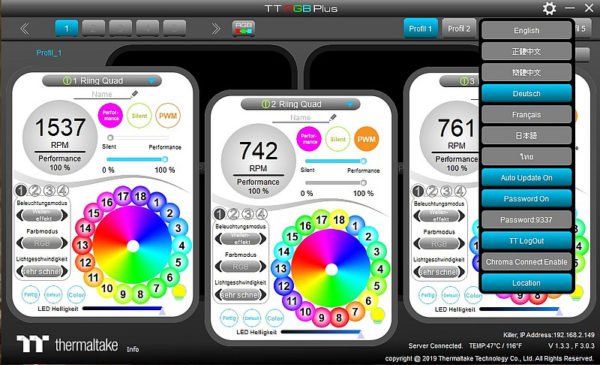 How this looks like, we show here in a small video.

In addition, each individual LED can be configured in the same way. Of course, the fan speeds can also be adjusted, but not temperature-controlled via the mainboard. Also, the fans cannot be synchronized via the TT RGB Riing software, so that currently each fan has to be set individually. As long as you use a predefined pattern, this is no problem. Only if you want to use your own pattern on the other fans, it gets a bit more complicated.
Fortunately there is also a smartphone app for controlling the Thermaltake Riing Quad 12 fans.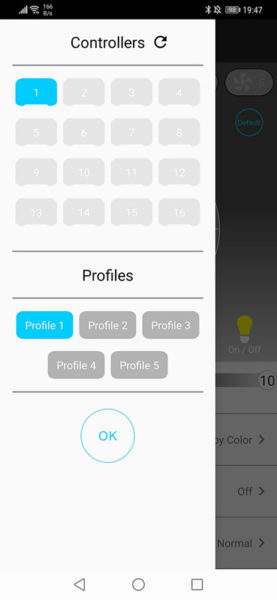 With this you can make all settings and it is even possible to adjust all fans of a controller at once. However, the app still lacks the possibility to control the fan speed. But Thermaltake will surely add the sync possibility of the individual fans in the TT RPG Plus PC software and the fan control in the app.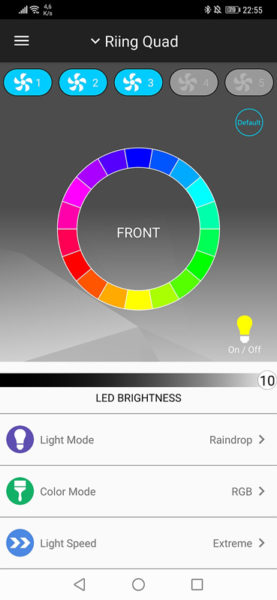 Here are a few sample pictures that show some possibilities.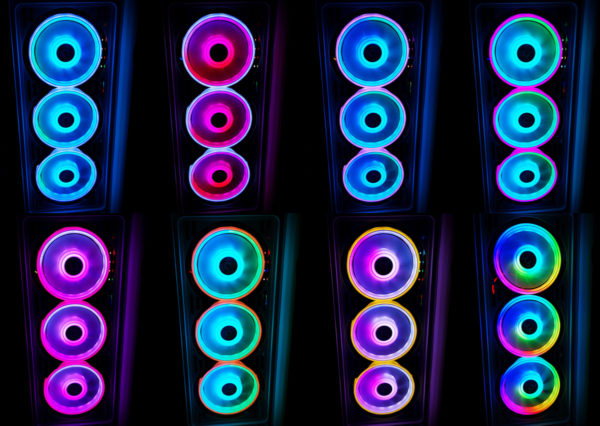 We also created a video in which we played the preset modes one after the other, skipping the Mobile_Moving, Mobile_Gaming and Mobile_Party (only via the app) and Temp modes.
One by one you can see in this video: Flow, RGB Spectrum, Radar, Blink, Pulse, Wave, Static, Cross, Voice, Shooting Star, Black Hole, Aurora, Raindrop, Heartbeat, Stack, Scan, Swirl.

Last but not least a word about the fan volume … Thermaltake specifies a maximum value of 25 dBA. This value is confirmed by the App Soundanalyser at a distance of 30cm. In "Silent" mode, the fans rotate at 550 rpm and are no longer audible from the closed case. For a better airflow you can easily switch the fans to PWM mode, in this case the fans rotate at about 1000 rpm and are almost inaudible from the case.
Thermaltake Riing Quad 12 Result and general impression …