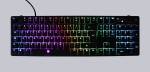 Result and general impression …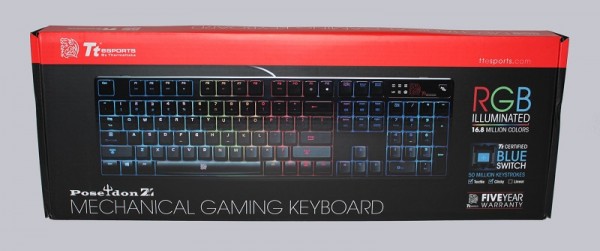 The Tt eSports Poseidon Z RGB gaming keyboard combines high quality and classic functionality with much bling bling and offers great effects for LAN parties, MMORPGs or other MMOs and gaming trade fairs.
Although we have shown in the Live-Demo Video that the RGB lighting of the Tt eSports Poseidon Z RGB gaming keyboard produces very great effects, we can see hardly any practical benefit, except the permanent lighting. On the contrary, in complete darkness the effects could be even annoying, and so the user probably has only a benefit using the permanent lighting.
Also, Thermaltake could add a wrist rest or a key cap puller to differentiate themselves from competitors, selling similar models at similar prices.
We can report only positive in terms of the keyboard quality and processing. By the way, according to Kailh the buttons have a lifespan of 50 million keystrokes, what should be sufficient for most gamers for many years.
Discuss in our forum and share experiences about the Tt eSports Poseidon Z …
Here you can buy the Tt eSports Poseidon Z RGB.
Read on in the hardware test area with several hardware reviews …