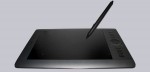 Layout, design and features …
First of all we look at this graphics tablet. In size M the tablet has a generous work space. The size S could turn out to be be too small for many users and the size L takes too much desk space.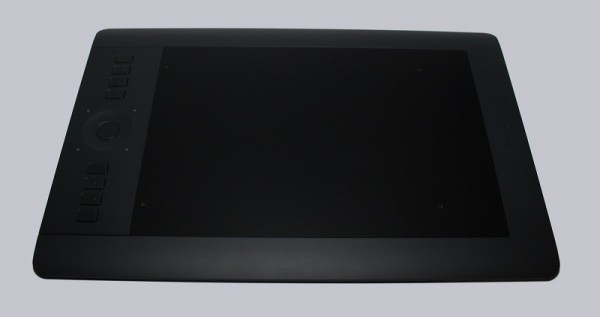 On the left side, there is the panel consisting of the eight Express Keys and the touch wheel.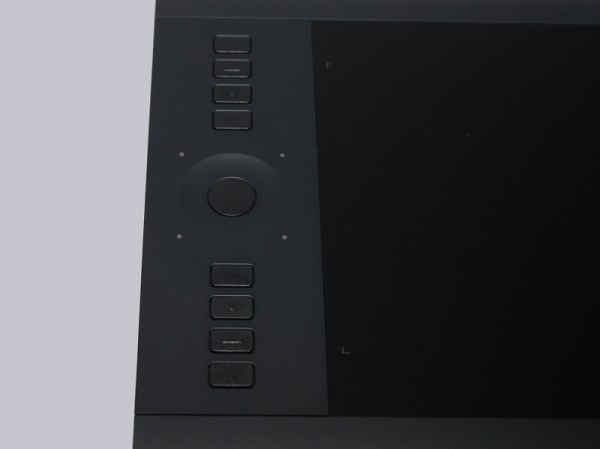 Thanks to the absence of labels, the tablet can be rotated 180° and is thus usable for left-handers. The four LEDs show the selected mode. Pressing the center button switches modes back and forth, which we would like to discuss later.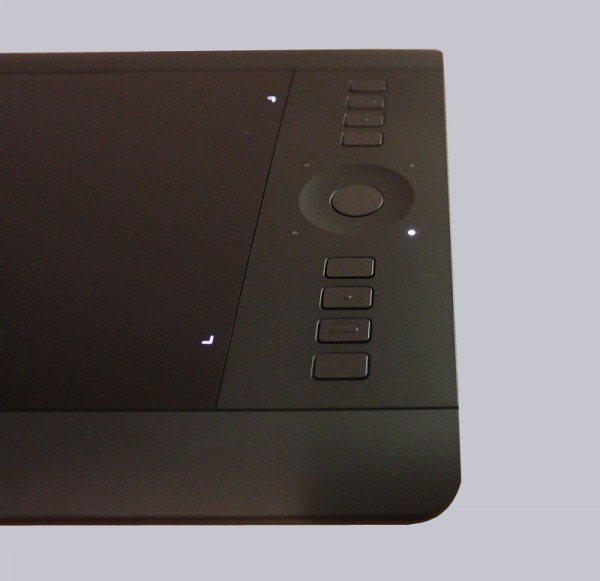 The touch- or workspace is generously and should even offer enough place for the most creative illustrators. Thus one does not stick with the pen in the outer edge, Wacom has slightly shifted the usable area inward, characterized by the four illuminated corners.
Unfortunately, the surface is slightly rough, whereby the head abrasion increases unnecessarily.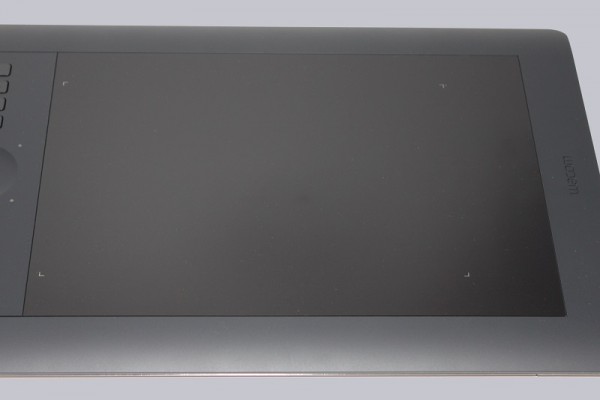 The side view shows the micro-USB port which is on the one hand used to recharge the Intuos Pro, on the other hand realizes the data link between tablet and PC, if no radio module is installed.


After removing the panel, the radio module can be installed without any problems. Conveniently, also the radio transmitter/receiver will find place next to it, can be transported and will not get lost. On the wireless module there is a button for turning on and an battery status LED.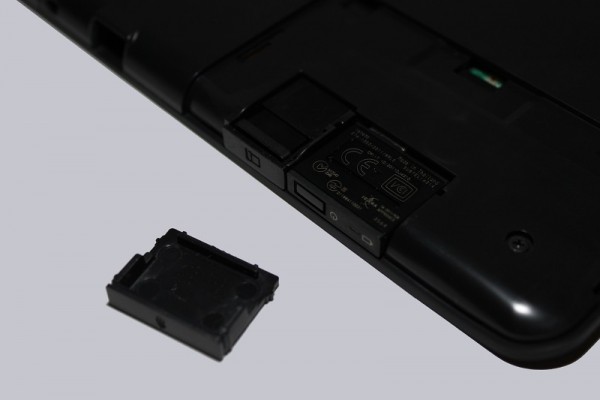 On the opposite side the battery can be inserted and sealed with a cover.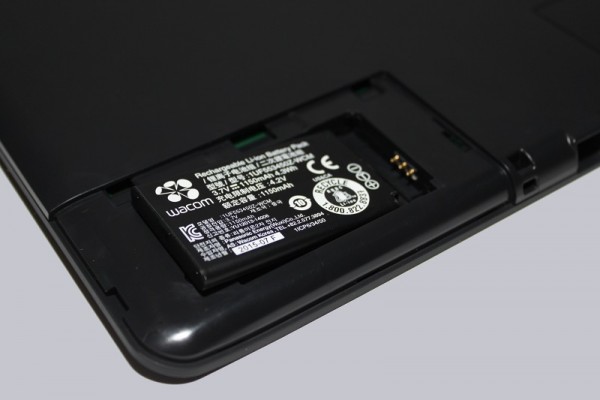 The bottom shows the four large rubber feet that give the Wacom Intuos Pro a firm stand. It would make sense, however, to add an additional rubber feet in the middle, because the pen-tablet easily bends when putting the hand on it. However this should not cause problems. Let us take a look at the penholder.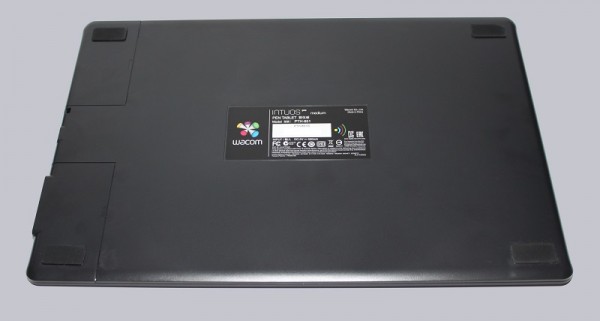 You can not only put the pen into the holder …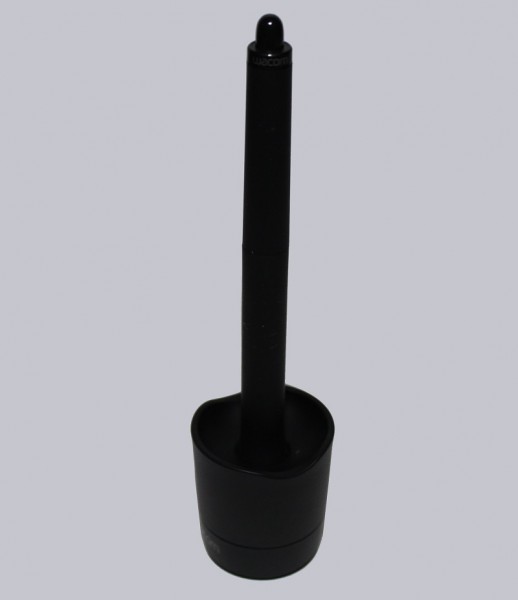 … but also lay it on top for a short break.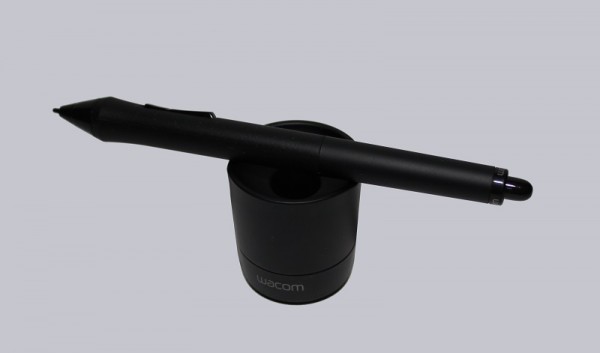 In addition, the holder also serves as a storage box for more tips that are already included.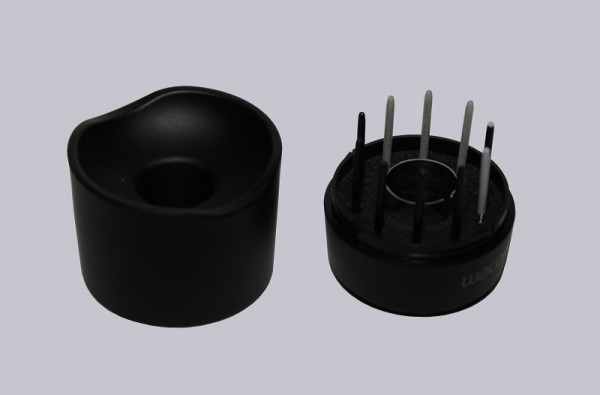 Also, the pen comes with small exchange rings that serve to personalize and are easily replaceable. On the back there is the virtual eraser, with which you can remove lines depending on the software. In addition, the pen lies very good in the hand and is not unpleasant even when drawing longer.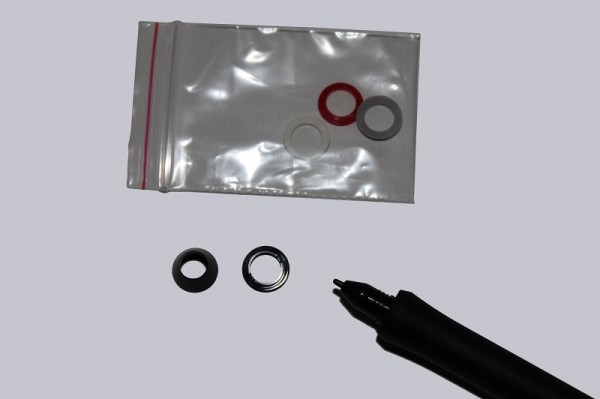 Whether the Wacom Intuos Pro graphics tablet also convinces in terms of performance, we will determine the practical test.
Wacom Intuos Pro graphics tablet Setup and test results …