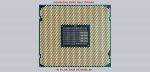 Many have certainly heard of the processor bug Meltdown and Spectre, because it has already been in the press for weeks. Not a bug is the Earth Hour shutdown, which will be integrated into AMD and Intel processors via microcode update in the future. To do its part in climate protection, the CPU is switched off once a year in April for one hour! It doesn't matter if you're in the middle of a gaming battle or making an online banking transfer. The PC shuts down for one hour! But we are here at OCinside.de and so you can use our new interactive Earth Hour Pinmod guide to modify the pins on current CPUs so that the Earth Hour Shutdown is deactivated! Edit 2 April 2018 – Yes, it was of course just an April fool.
The following CPUs are supported …
For the time being the interactive Earth Hour Pinmod guide is designed for AMD Ryzen (also AMD Ryzen 2000 APU support), AMD Ryzen Threadripper, Intel Kaby Lake, Intel Skylake, Skylake-X and Kabylake-X processors, where the Earth Hour shutdown will be integrated with the next microcode update.
This is how it's done …
The handling is very simple. This time the pins are not connected to each other, but simply painted over with a red wax crayon as indicated. For AMD of course it doesn't work with the red pen, the pen must be green. It is essential to work very precisely, otherwise the CPU may shutdown for more hours. We do not take over guarantee! Pinmod at your own risk!
Interactive Earth Hour Pinmod Guide …
For this interactive guide Javascript must be activated in your browser.
Discuss in our forum and share experiences about the interactive Earth Hour Pinmod guide …
More interesting guides which you should only read today …
Here you can order the latest CPUs at a reasonable price.
Edit 2 April 2018
Yes, it was just an April fool 😉