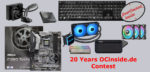 Ho, ho, hoo, today the lucky winners were drawn from our 20 Year OCinside.de Contest! We would like to take this opportunity to wish all our readers, reviewers, webmasters, news posters and of course our cooperation partners Merry Xmas and a prosperous New Year 2020! The daily Hardware News will also be published during holidays without Xmas break on OCinside.de and Hardwarespot.de and for sure we will also publish some reviews as well.
Congratulations to the lucky winner of the Motherboard, DDR4 RGB RAM, internal SSD, external USB SSD, 120 AIO cooler, 240 AIO cooler, 3x RGB fan set and a keyboard.

20 Jahre OCinside.de Gewinnspiel
Here we've drawn the 20 Year OCinside.de Anniversary Contest Winners.