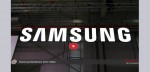 Today, on OCinside.de we have published a new video in German with English subtitles with highlights of the Samsung Roadshow 2017, which just begun in Cologne. We hope you enjoy watching the latest Samsung TVs, Smartphones, home appliances, IT products, and much more.
Included is e.g. the new Samsung Q9F 65-inch TV, Q7C, Q7F and Q8C 75-inch TV, Samsung MU9009, MU8009 and MU7009 Premium UHD TV, Samsung MU6509, MU6409 and MU6179 UHD TV, Samsung HW-K950 and HW-K850 Soundbar with Dolby Atmos support, Samsung HW-MS750, HW-MS6500 and HW-MS650 ONE Soundbar, Samsung POWERbot VR9300 and VR7000, Samsung CH711 WQHD Curved Monitor with Quantum Dot technology and the Samsung C34F791 34-inch Curved Monitor, as well as the Samsung 960 EVO and Samsung 960 Pro SSD we've already tested.
Note: Please allow our cookies first to see this external content!
Discuss in our forum about the Samsung Roadshow 2017 Video …
Here you can buy Samsung products.
Continue to the overview of all OCinside.de computer tradeshow reports …