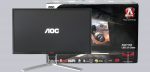 Installation and operation …
We have already released some monitor review and today we are testing the AOC AG271QX on an Intel Core i5 platform:
PC:
Intel Core i5-7600K @ 5 GHz
2x 8GB Crucial Ballistix Tactical DDR4-2666
ASRock Z270 Taichi Intel LGA1151 motherboard
MSI Radeon R9 280 Twin Frozr Gaming 3GB PCIe 3.0 graphics card
Crucial MX200 1TB SSD
Cooler Master CM 690 III case
Cooler Master Silent Pro Hybrid 1050W power supply
Operating system:
Windows 10 Professional 64 Bit and Windows 8.1 Enterprise 64 Bit8
Then the time has finally come! Now switch on the monitor by the right button and the LED lights up white.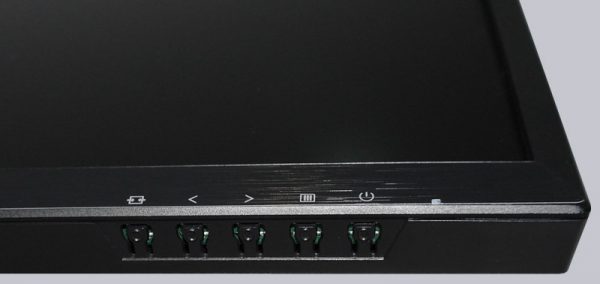 The monitor blends in well with the workplace and yet features numerous gaming elements with Iron Man charm that provides relaxed entertainment after work. But now continue with the text or screen, after switching on you will see an AOC logo.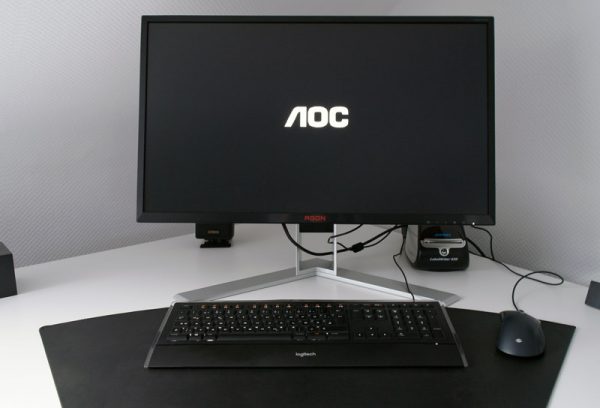 After that, the selected port is briefly displayed, of which this QHD or WQHD monitor offers some. Basically even all common connections: D-Sub, DVI, HDMI, MHL (smartphone via HDMI) or DP (Displayport) – more is nearly impossible!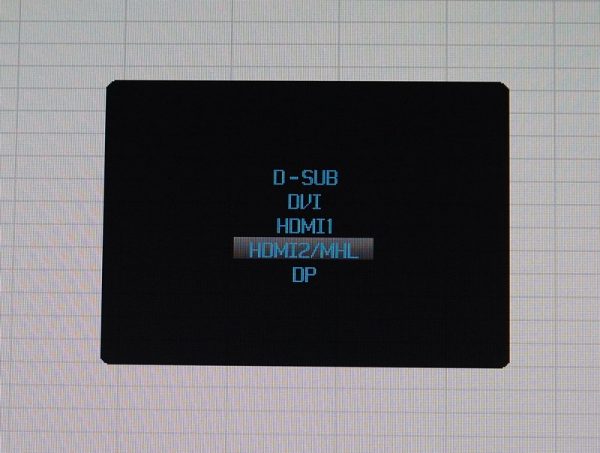 The menu is fairly intuitive to use, but they could still show some innovation. However, the OSD has worked well and allows all important settings.


Even a Break Reminder has been thought of, which can remind you of a break after an hour of work.


If you want, you can also manage all functions via the supplied AOC i-Menu software in Windows. The program is quickly installed and you don't have to think about the language 😉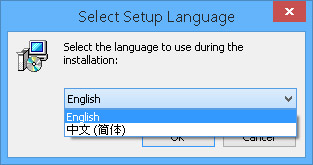 After the AOC i-Menu installation you can change the language to German and up to the pivot function everything can be controlled.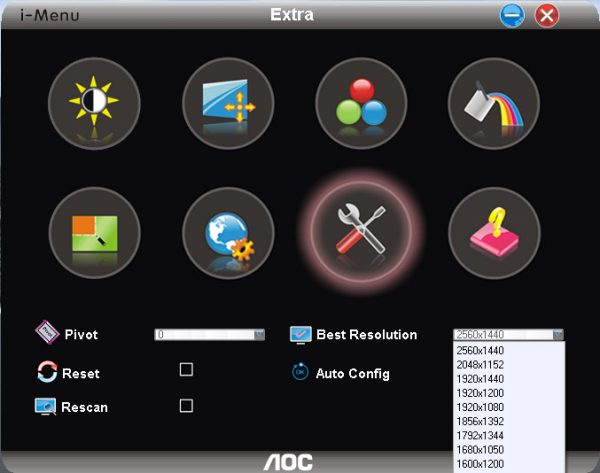 Tipp:
If the AOC i-Menu software does not work properly and brightness, color, etc. is not adjustable, you should select the standard PnP monitor driver in the device manager.
All functions of the AOC i-Menu software are listed and explained in the previous AOC G2460PQU/BR monitor review.
Another special feature is the optionally connectable external control panel, which allows you to operate the menu and store and recall several gaming settings. However, only the gaming settings really do, because the deactivation of the game modes is done in a complicated way by the menu.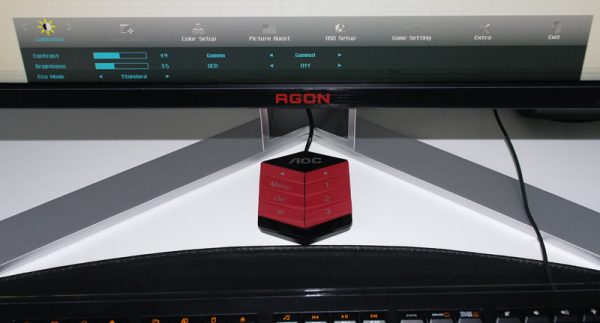 Speaking of gaming – the WQHD display offers by the HDMI1 connector W-QHD resolution of 2560×1440 at up to 144 Hz, DVI 2560×1440 at 60 Hz and 2560×1440 at 75 Hz over the HDMI2 connector. This is a good compromise in terms of gaming resolution, as the images look much sharper than with conventional FullHD resolution, but can usually still be displayed with mid-range graphics cards without jerking.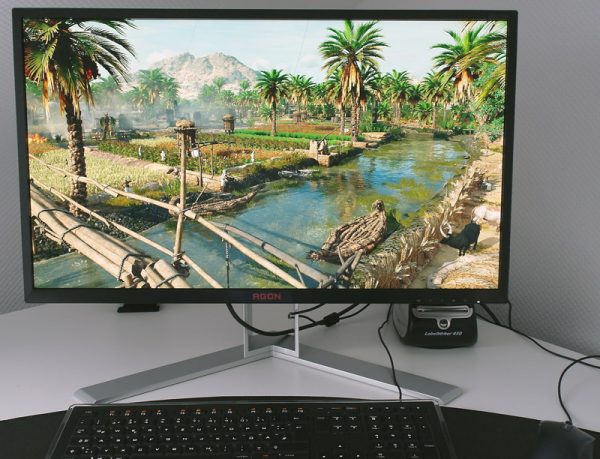 In our opinion, WQHD is currently a very useful resolution for 27″ monitors. Because the even finer 4K UHD resolution with 3840×2160 or 4096×2160 pixels with this monitor size would certainly force most users to zoom in Windows, since fonts, symbols, etc. would be displayed too small on a 27″ monitor. WQHD therefore offers a good average between UHD and FHD (Full HD 1920×1080 pixels).
Here again all important resolutions with 16:9 format are listed in a small table, so that you can compare the different resolutions for monitors and TV sets quickly:
16:9 HD monitor resolutions
Name
Short form
Description
Resolution
High Definition
HD
720p
1280×720 Pixel
Full High Definition
FullHD
2K / 1080p
1920×1080 Pixel
Wide Quad High Definition
WQHD
1440p
2560×1440 Pixel
Ultra High Definition
UHD / UHD-1
4K / 2160p
3840×2160 (4096×2160 4K2K)
Full Ultra High Definition
FUHD / UHD-2
8K / 4320p
7680×4320 Pixel
Quad Ultra High Definition
QUHD
16K / 8640p
15360×8640 Pixel
Tipp:
If the monitor image looks muddy, you should select the correct native 2560×1440 resolution (install the supplied monitor driver if necessary), deactivate the zoom in Windows, adjust the fonts in the display settings and adjust or deactivate ClearType Text settings. If you use the font size zoom, you may be able to use a tip from our forum. Right-click on the Program -> Properties -> Compatibility -> Deactivate scaling at high DPI value to get a clear font. Only when you get a really clear picture, everything is really optimized.
Incidentally, if there are image errors or even a black screen, it is often due to the length or quality of the HDMI cable. Cheaper HDMI cables with a length of 1.5 meters or longer can cause problems with the high resolutions, as they can no longer deliver the extremely high frequency properly. Fortunately, suitable cables are already included with this monitor and longer Displayport cables or HDMI cables can be ordered here
.
What should also be clear, however, is that the AOC AG271QX display is not an IPS panel, but a TFT monitor with a TN panel. The advantage of IPS (In Plane Switching) is the clear color and the larger viewing angle, the disadvantage is the higher price and the usually slower response time. With the TN (Twisted Nematic) panel used in the AOC AG271QX, the fast response time and of course the cheaper price is advantageous.
However, you should sit in front of a monitor with a TN panel (you should always 😉 ) and just look in 90 degree at the TN monitor panel, because otherwise for example a white panel looks yellow. All the more advantageous is the extensive adjustability of the monitor height, swivel and rotation.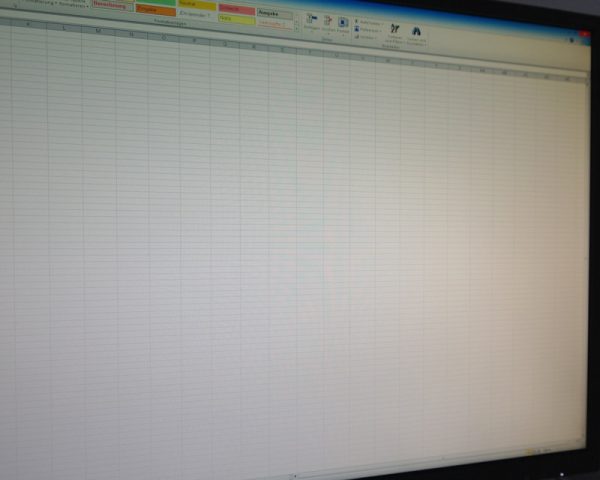 This AOC AG271QX monitor doesn't support nVidia G-Sync synchronization, like the previously tested AOC AG241QG G-Sync monitor, but the matching sync counterpart for AMD graphics cards. Adaptive-Sync is compatible with FreeSync and can be activated in the graphics driver of AMD graphics cards, such as the AMD Radeon R7 260, AMD Radeon R7 290, etc.. In simple terms, G-Sync and FreeSync adjust the frame rate of the graphics card to the refresh rate of the monitor to prevent visible cracks and image jumps. To put it even more simply, you see a better picture quality fast movements in games.
One thing in addition: This "Gaming Monitor" has integrated speakers, but the two 3 Watt speakers should not be called gaming capable 😉 For a short bing or similar system sounds the speakers are barely enough.
All in all, the display offers not only an optimally resolution, but also a good gaming synchronisation and almost no streaks or ghosting effects even with fast movements.
Let's now come to the conclusion of the AOC AG271QX review.
AOC AG271QX monitor Result and general impression …