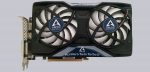 Test setup and results …
To get in the right mood for the practical test, there is now a picture of the built-in state.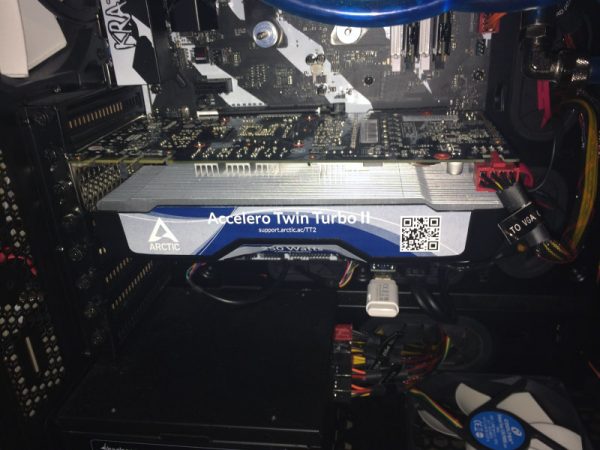 Our test system consists of the following components:
| | |
| --- | --- |
| Motherboard | MSI X370 KRAIT GAMING |
| CPU | AMD Ryzen 1600X |
| RAM | 16GB DDR4 |
| Graphics card | Palit 1070Ti Dual |
| Power supply | Sharkoon WPM700 |
| Case | Phanteks Enthoo Pro |
| System SSD | Samsung SSD 840 EVO 250GB (MZ-7TE250BW) |
| Data SSD | Mushkin Triactor 3DL 512GB (MKNSSDTR512GB-3DL) |
The Twin Turbo II makes a good figure. Since the card has become no longer, the installation goes well. The fans are connected directly to the PCB of the graphics card and are controlled by the drivers of Nvidia, so you also get the features like "0db tech". The whole thing works very well except for one small blemish. Unfortunately, the speed is not always read completely correctly. Sometimes it can be that a fan speed of 1250000 or more is displayed for a short time.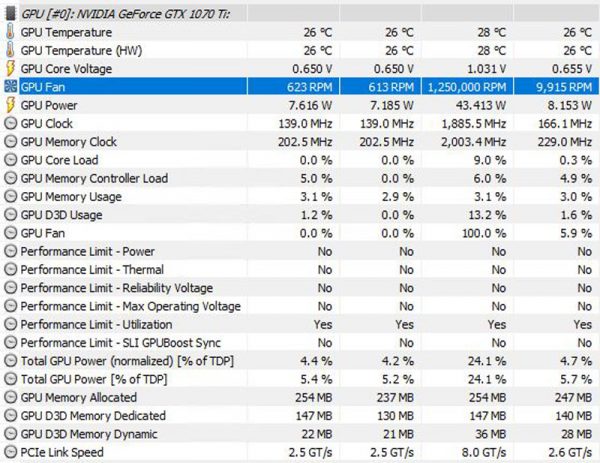 Alternatively, the fans can be connected directly to the power supply using the 12V/7V adapter supplied.
As the idle temps look good as expected, we put some load on the card.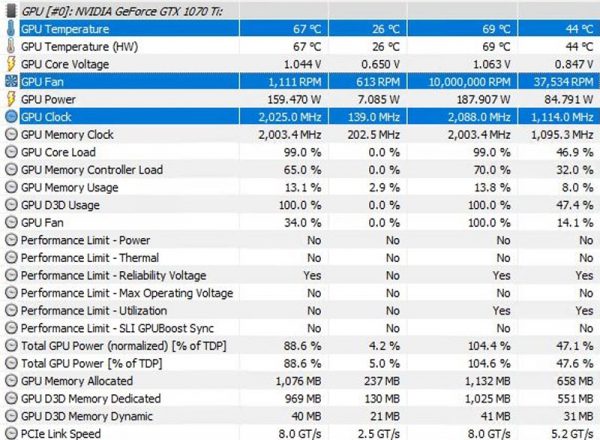 After one hour Unigine Heaven in FullHD and Maximum Settings the card reaches 69°C at its peak. Of course, the test was carried out practically in a closed case. With the factory cooler the card ran continuously at 80°C at the limit, the consequences were clock rates between 1920-1960 MHz and a clearly audible graphics card. With the same fan curve, it now clocks permanently at 2025 MHz, and is virtually inaudible.
As a little side information on the edge.
According to Palit, the maximum boost clock is the 1683MHz dictated by Nvidia. We can therefore confirm with a clear conscience that overclocking of the GTX 1070 Ti is also possible. Unfortunately, only a voltage increase of the GPU is not allowed on the driver and BIOS side. In addition, we found that our Palit GeForce 1070 Ti even clocked at 2100 MHz if the GPU temperature was below 60°C. It makes sense to optimize the cooling of the graphics cards.
Arctic Accelero Twin Turbo II Conclusion and overall impression …