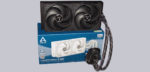 Layout, design and features …
First we would like to show the complete Arctic Liquid Freezer II 280 water cooling again.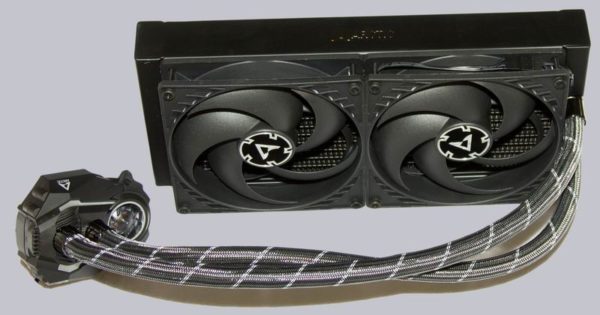 Let's now look at the pump of the AIO water cooling system. On the large case it not only carries the cooling plate with the ultra-fine fins, but also an additional 40mm fan, which is supposed to protect the voltage regulators (VRM) of the motherboard around the CPU from overheating in case of strong overclocking. We'll show whether this succeeds right away in the test results.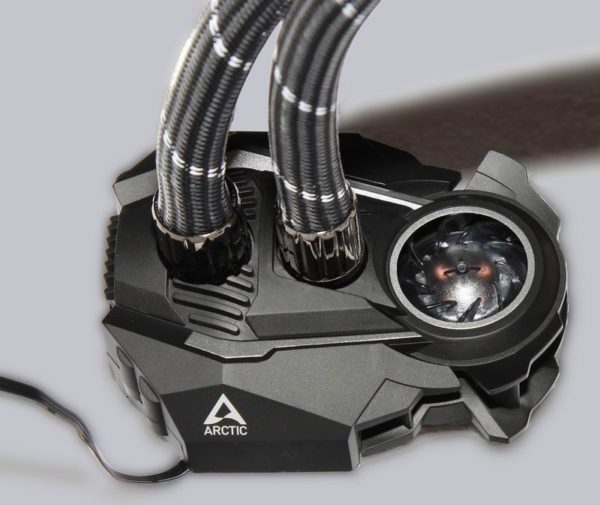 The VRM fan plug is located on the underside of the pump housing. If you want to deactivate the additional fan, you only have to remove this plug. The cooling plate is factory-fitted with a protective film, which must be removed before mounting the cooler.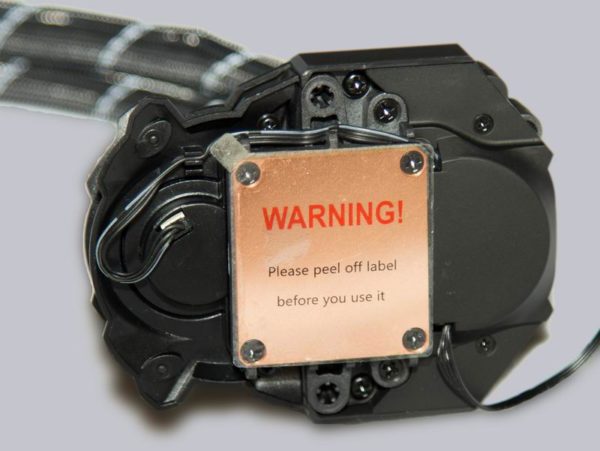 After removing the protective foil we see the 44x40mm large, absolutely flawlessly worked cooling plate.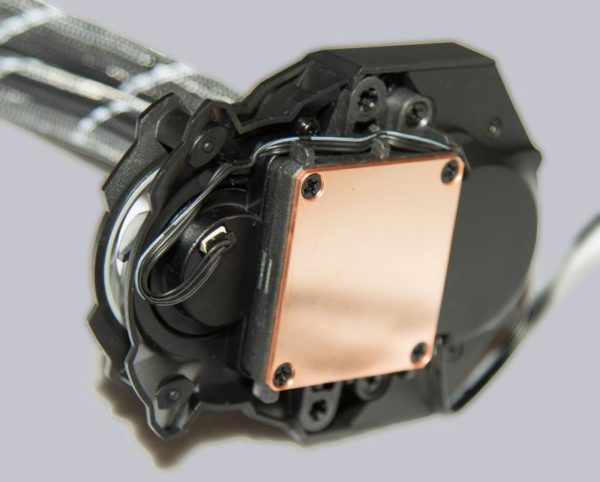 Although Arctic becomes "Multi Compatible All-In-One CPU Water Cooler", the compatibility is rather limited. Only the latest AMD socket and the Intel 115x socket are fully supported. The larger Intel sockets have limitations regarding compatibility.
The two 140mm large, pressure-optimised fans from our own house are already pre-assembled on the 38mm thick aluminium radiator of the Arctic AIO water cooling system. It is noticeable that the fans have no rubber coating to reduce vibrations. Arctic justifies this with the particularly magnetized motors of the fans, which generate far less vibration than conventional fan motors.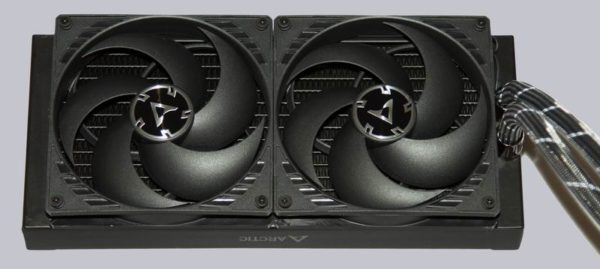 Another highlight of the Arctic Liquid Freezer II 280 is the fan cabling. This has been done very elegantly. On the one hand the two fans are already electrically connected ex works and on the other hand the fans of the radiator are supplied with power via the pump, whereby the connecting cable between pump and fan runs inside the radiator tube cover, whereby the cable becomes virtually invisible and the inner part of the PC case looks particularly tidy. But if you want to control the pump and fan separately, you only need to disconnect the connector on the radiator and connect the fans directly to the motherboard, which requires a separate fan connection cable, which is not included.
Here you can see how the cable exits the tube mantle.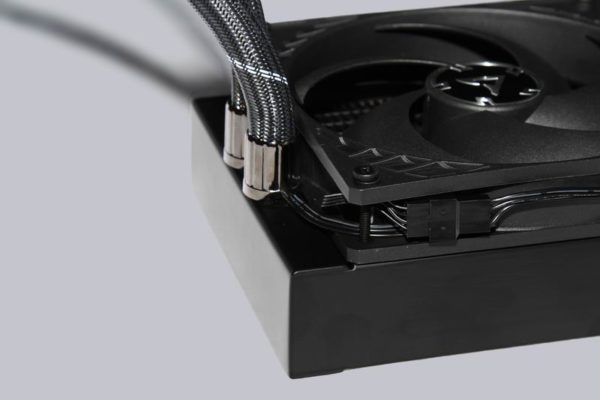 Compared to other AIO water coolers with their 14mm outer diameter, the hoses are quite large and therefore belong to the bulky type. With the 280mm aluminium radiator we like the straightforward, simple design and the exemplary even distribution of the cooling fins. The manufacturing quality doesn't need to shy away from any comparison with the competition. The fans can be mounted on both sides of the heat exchanger to increase flexibility and optimize airflow in the PC case.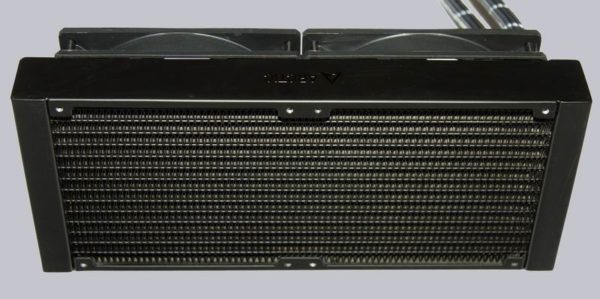 Now we come to the installation of the Arctic Liquid Freezer II 280 AIO water cooling system.
Arctic Liquid Freezer II 280 Installation …