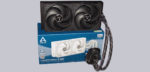 Result and general impression …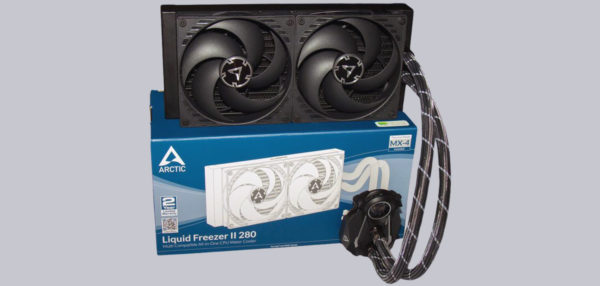 The Arctic Liquid Freezer II 280 AIO water cooling is designed for the latest Intel CPUs and AMD AM4 processors and offers excellent cooling performance with impeccable workmanship without any RGB bling and never presents itself too loud in operation.
A 6-core CPU cools it easily and would certainly also be sufficient for an overclocked 8-core CPU or more. One of the reasons for this is the 38mm thick radiator, which, however, doesn't fit into every case, so when planning a PC you should urgently make sure to use a sufficiently large case. The assembly was easy, only the tubes could be more flexible. The additional 40mm VRM fan behaved discreet in any view. Both in terms of noise and cooling. At least in our already well cooled PC system we couldn't see any real benefit, but it wasn't disturbing either. In any case, the cooler-fan-pump combination looks great and reminds us a bit of the Batmobil 😉
Apropos appearance – Arctic deserves great compliments for the wiring. The fan cables are factory-connected and the main cable runs through the tube sheathing, giving the whole PC system a clean, tidy look.
If you are looking for a powerful water cooling system without RGB Bling Bling but don't dare to build your own custom open loop system, the Arctic Liquid Freezer II 280 is the right choice.
With this good overall concept, the Arctic Liquid Freezer II 280 AIO Water Cooling receives our OCinside.de Purchase Tip Award 10/2019.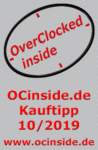 Discuss in our forum and share experiences about the Arctic Liquid Freezer II 280 AIO …
Here you can order the Arctic Liquid Freezer II 280 at a reasonable price.
Read on in the hardware test area with several hardware reviews …