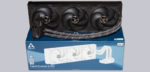 The technical data of the Arctic Liquid Freezer II 420 AIO …
Manufacturer
Arctic
Description
Liquid Freezer II 420
Product number
ACFRE00092A
Fan type
Arctic P14 PWM
Fan dimensions
140 x 140 x 27 mm (HxWxD)
Fan speed
200-1700 rpm
Air flow
max. 72,8 CFM / 123,76m³/h
Luftdruck
2,4 mmH2O at 1700 rpm
Fan volume
0,3 Sone at 1700 rpm
Fan bearing
Liquid slide bearings
Fan starting voltage
3.9 Volt min.
Fan power consumption
0.12 A max.
Fan connection type
4 Pin PWM
Dimensions VRM fan
Diameter 40mm
Connection type VRM fan
Connected to pump
Dimensions Radiator
458 x 138 x 38 mm (HxWxD)
Material Radiator
Aluminium
Pump speed
800-2000 rpm
Connection type pump
4 Pin PWM
power pump + VRM fan
1.0 – 2.7W total
Dimensions radiator block
98 x 78 x 53 mm (HxWxD)
Tube length
450 mm
Socket compatibility
Intel 115x / 1200
Intel 2011-3 + 2066 limited
AMD AM4 + AM3+
Compatible RGB Systems
no RGB functionality
Warranty
2 years
Very pleasing is the newly added compatibility with the AM3+ socket from AMD. The 1200 socket for the tenth Intel CPU generation is now also officially supported, but this did not require any structural changes to the cooler.
Besides some technical data, a sketch with the most important dimensions of the water cooling system is printed on the packaging.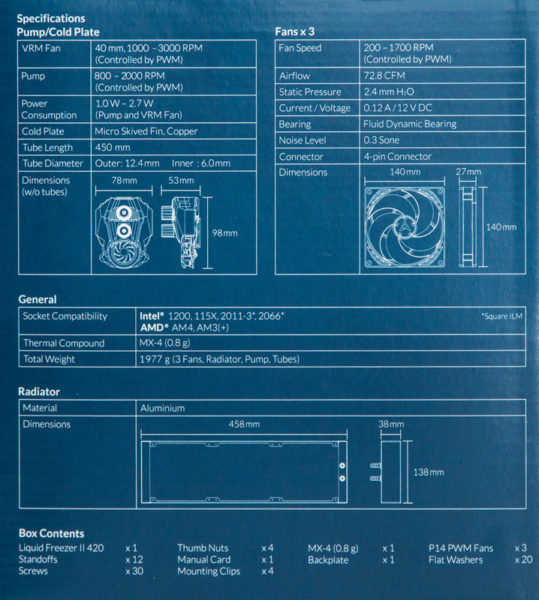 Next we will take a closer look at the individual components of the Liquid Freezer II 420.
Arctic Liquid Freezer II 420 AIO Wasserkühlung Layout, design and features …