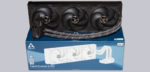 Result and general impression …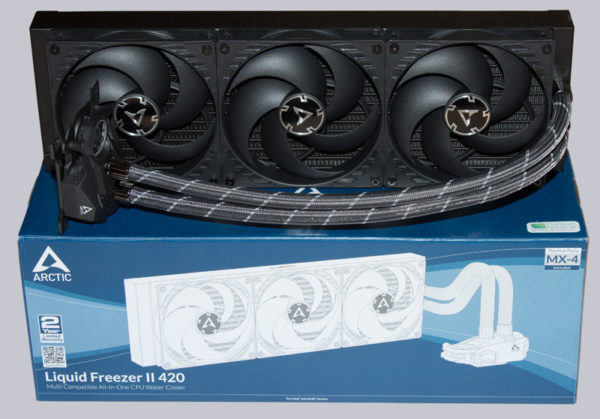 Arctic crowns the Liquid Freezer II series with the 420mm version!
Although the 280mm and 360mm versions have already performed superbly, the Swiss manufacturer goes one better and delivers an AIO that can compete with high-end custom watercooling systems!
With the Arctic Liquid Freezer II 420 Rev. 3 you can run gaming CPUs whisper quiet at full power or easily cool the most powerful desktop CPUs with high core count. Fans of RGB lighting won't get their money's worth with the Arctic cooler, though, where lighting the transparent VRM fan would almost impose itself. Maybe this will come with another update.
With this impeccable test result, the Liquid Freezer II 420 secures our OCinside.de Overclocking Dream Award 11/2020.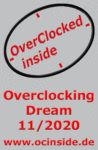 Tip: In the interactive Fit for Fan guide you can virtually fit coolers onto different motherboards and listen to many – the Arctic Liquid Freezer II 420 will be included in the next update.
For a comparison with other coolers, take a look at our CPU cooler chart 2018 on the Intel Core i5 PC and the CPU cooler chart 2018, tested on an AMD AM4 PC system. Here is also the CPU cooler chart 2016 on the Intel Core i5 PC and the CPU-cooler comparison 2016, tested on an Intel Core i7 PC. And here is the previous CPU cooler chart with CPU cooler before 2016. A direct comparison to our previously tested coolers is however not possible here, since the test system has changed fundamentally in the meantime.
Discuss in our forum and share experiences about the Liquid Freezer II 420 …
Here you can order the Arctic Liquid Freezer II 420 at a reasonable price.
Read on in the hardware test area with several hardware reviews …