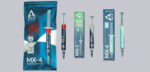 Layout, design and features …
Here you can see a comparison of all three test candidates.

Arctic MX-4 …
MX-4 is Arctic's standard thermal paste (see Heat Paste Comparison) and is available in many different sizes. The smallest tube contains 2 grams of thermal paste and the largest tube, with 45 grams of content, is aimed more at system builders than home users. If you use the paste very sparingly, 4 grams are enough for 5-10 applications depending on the CPU size. The particularly inexpensive 8 gram tube will probably last for several years, even if you regularly renew the thermal paste in your relatives or friends.


Arctic MX-5 …
MX-5 was first introduced to the market in 2021 as Hyper-Performance thermal paste by Arctic, but production has been discontinued in the meantime. However, since we still have a few tubes of it in stock, we still include the MX-5 paste in our comparison to check whether we might have a misunderstood treasure lying dormant in our drawers.


Arctic MX-6 …
MX-6 is the current top thermal compound from Arctic. It costs about twice as much as MX-4, but our following test will show whether the high price is justified by better performance.


Based on the technical data listed above, it can be seen that the composition of the three thermal pastes must be different, because the density, viscosity and color differ from each other. Presumably, the MX-5 paste contains more solid particles, since its density is the highest and its viscosity the lowest.
Basically, Arctic thermal pastes are suitable for all cases where thermal paste is needed. Arctic thermal paste can be used for processors, graphics cards, game consoles and laptops. This applies to new systems as well as old systems where the existing paste needs to be renewed. Arctic non-conductive thermal pastes can also be used for cooling electronic components such as MOSFETs.
Before we reveal our test results, we would like to pass on a few experiences that we have gathered in dealing with the test candidates.
Arctic thermal paste Handling and Workability …