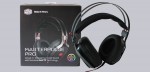 Result and general impression …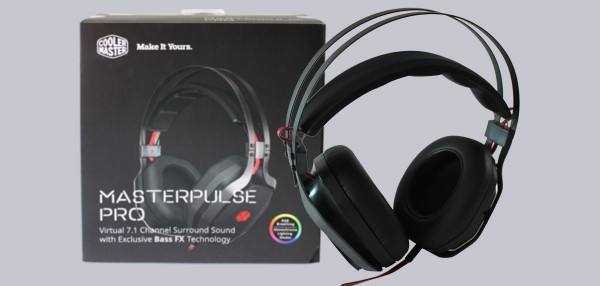 Measured on the purchase price, this Cooler Master MasterPulse Pro headset can clearly convince us. Even with virtual 7.1, which is no real surround sound, so it gives a certain increase in spatial for both music and games.
A nice gimmick are the illuminated speakers back. Despite the very good padding the high weight of the Cooler Master MasterPulse Pro Headset is noticeable during longer sessions. By the feeling of a combat helmet, it is however still far away, what is some ArmA 3 players now likely disappointing 😉
Regarding the cable, there is no criticism. Flexible and stable is the ribbon cable, but it looks not quite as elegant as a fabric-covered cable. Yet an additional jack or an adapter would have been desirable for this USB version, to connect the headset to a sound card, such as for example the recently tested Asus Xonar essence STX II 7.1.
The bass FX side panels, can be individualized thanks to 3D object download using 3D printer, significantly improve the bass response, and ensure sufficient atmosphere even in heavy battles. Only the microphone is somewhat quiet for our terms and can result in more frequently questioning during heated team speak sessions. But there is no more annoying microphone arm in front of the face and also no accidental breathing noises, if it is not properly set.
So who is looking for a good, solid headset, but do not want to spend a small fortune, is very well served with the Cooler Master MasterPulse Pro!
Discuss in our forum about the Cooler Master MasterPulse Pro Headset …
Here you can buy the Cooler Master MasterPulse Pro Headset.
Read on in the hardware test area with several hardware reviews …