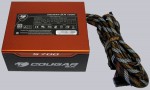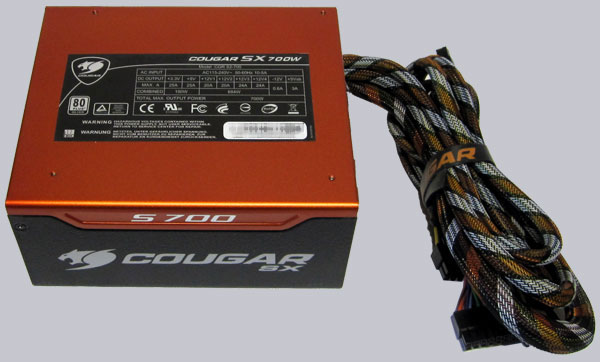 Who like to overclock the PC to get a better performance, should buy an recommendable OC motherboard, RAM, processor, heatsink, carefully selected enclosure and a suitable power supply. Because at least during a longer operation time on high power consumption an unsuitable PSU can get unstable. Not only Overclocker can profit from a well dimensioned power supply, but also all other users, who prefer a stable PC and also like to reduce the electricity bill. In this review the modular COUGAR SX-700 power supply is tested and without saying too much, this high-quality 700 Watt power supply earned the ocinside.de OverClocking Dream award 09/2010 award.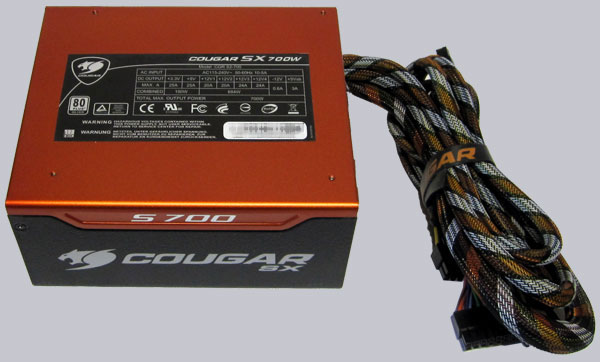 Thanks for the support …
Many thanks for the support with the SX-700 PSU CGR S2-700 by the manufacturer.
COUGAR is a premium brand of HEC COMPUCASE Enterprise Co. Ltd.

The SX-700 700W power supply has a price of approx. 138,90 Euro (09/2010) and is available at our sponsors.
Here you can buy the Cougar SX-700 Power Supply.
The supply of the Cougar 700 Watt PSU …
In this box is the Cougar power supply with accessories.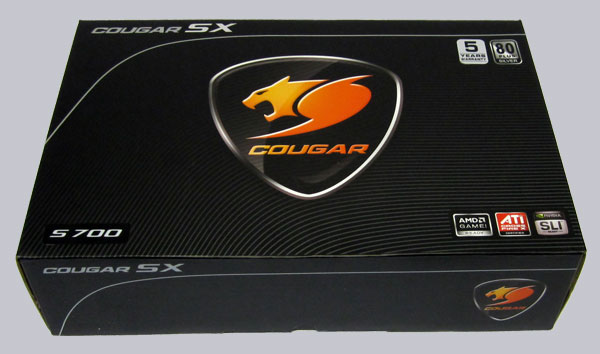 That is contained in the box …
In the following picture one can see the black and metallic orange 150x180x86mm power supply with the attached 60cm long 20-pole ATX and/or 24-Pol ATX 2.2 cable for the motherboard current supply, the attached 50cm long 8-pin 12V CPU cables, 2x 4-pin and 4-pin plugs and the two attached 50cm long PCI-E cables with 6-pin and 6+2-pin plugs. Modular power supplies are favourable to get more space inside of the PC and help thereby to get a better air flow. The attached 20/24-pin ATX cable make sense also with a modular power supply, since this cable is necessary in every PC to connect it with the motherboard. However several cables and plugs are attached, which are not needed in all PCs and for this reason should be also modular at this power supply.

In the scope of supply are a lot of cables and assembly material, as shown in the following picture: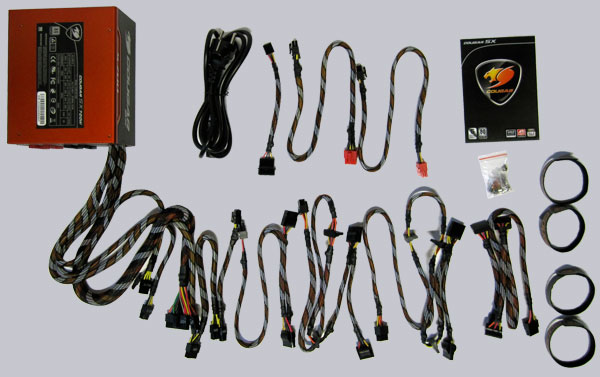 1x 65cm cable with 2 molex plugs (50+15cm), 1x 95cm cable with 2 SATA and 2 molex plugs (50+15+15+15cm), 1x 110cm cable with 3 SATA and 2 molex plugs (50+15++15+15+15cm), 1x 80cm cable with 3 SATA ports (50+15+15cm), 1x 50cm cable with a 6-Pin PCI Express connector, 1x 50cm cable with a 8-Pin (6+2 pin) PCI-E plug, an FDD adapter and 1x 220V cable.
Here one can see a picture with all cable lengths of the Cougar SX 700 power supply: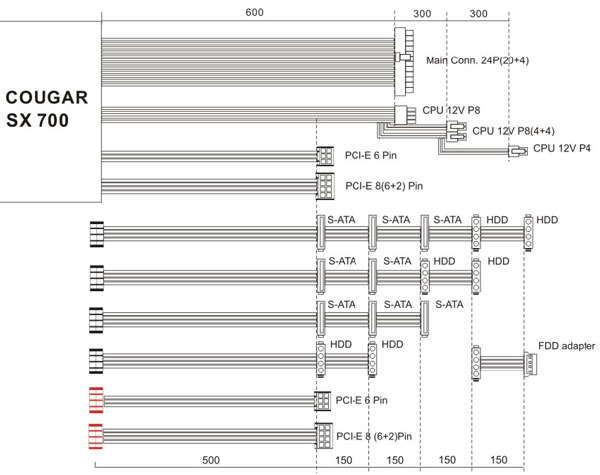 The cable lengths were checked in our test and were even clearly longer than described. All cables are exemplary finished, provided with labeled plugs and shows what Compucase like to offer with the Cougar power supply: As high quality as possible!
Furthermore some screws, high-quality Cougar cable straps and a folding sheet in German and English are contained, which contain a building instruction, warning references, warranty (2 years + extended 3 years) and the disposal references. Only the power supply pin allocations are not contained in the foldingsheet.
The technical data of the Cougar 700 Watt power supply unit …