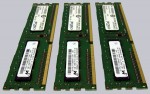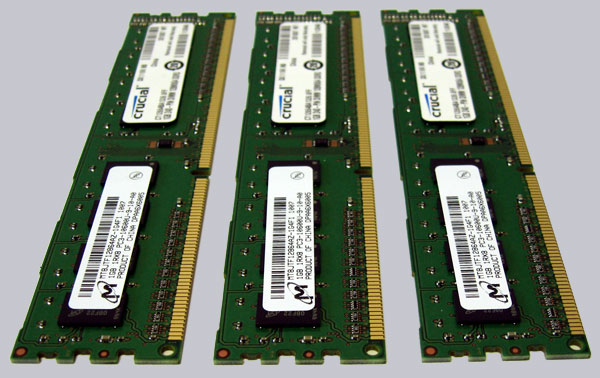 The Crucial PC3-10600 CL9 3GB RAM kit 1x CT3KIT12864BA1339 or 3x CT12864BA1339 is desgined as Triple Channel kit, for example for Intel Core i7 platforms and can be overclocked a bit, even without heat spreader.
But this Triple Channel DDR3 kit is also quite interesting on current AMD platforms. Because the three 1GB modules offers a good total size for 32bit operating systems and offers thereby an optimal cost-performance ratio. In the 2+2=3 article one can read more about possible memory capacities in 32-bit and 64-bit operating systems.
Memory kits without heatspreader are of course a little bit disadvantaged regarding the overclocking values, because the manufacturers (like also Crucial with this kit) only permits the official JEDEC DDR3 voltage of 1.5 V. You do not find XMP or EPP profiles on these modules, because the increased heat development of the higher memory voltage should be dissipated with active or passive heatsinks. Anyway, good results could be reached in the test with standard voltage, but do not expect too much on 1.5 Volt.
All in all this Triple Channel kit is thus not "just" for Intel Core i7-9xx systems, but also interesting for current AMD platforms. However, who like to use a 64-bit operating system with a Dual Channel platform, or who like to address the full RAM in Dual Channel mode, should spend a few more euros and buy e.g. a 2x 2GB kit.
Read on in the hardware test area with several hardware reviews …