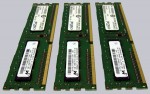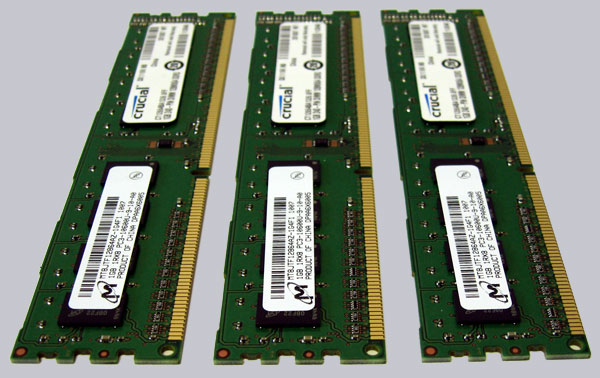 Triple Channel memory kits are a good investment for Intel Core i7 systems. However, the test system for DDR3 memory modules is based on an AMD Phenom II processor and supports only the Dual Channel mode. We have some nice Triple Channel kits for the 10 years ocinside.de April 2010 drawing, so it is obvious to test them on the AMD system with three modules, two modules and one module. Let us have a look, how high the Crucial 3GB PC3-10600 Triple Channel DDR3 kit can be overclocked and if a purchase of the inexpensive Crucial 3x 1GB DDR3-1333 kit can be worthwhile also for an AMD Dual Channel system.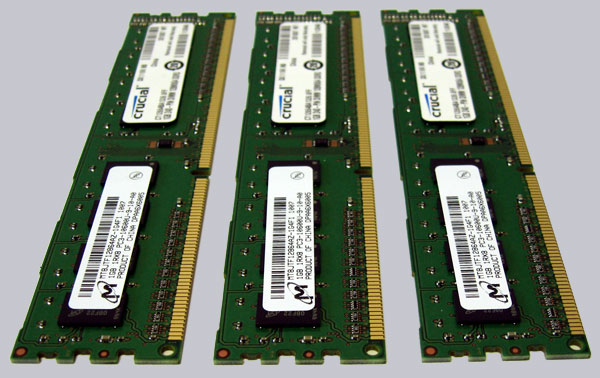 Thanks for the support …
Many thanks for the support with the CT3KIT12864BA1339 3GB PC3 10600 / DDR3 1333 CL9 kit by the manufacturer Crucial.
The Crucial CT3KIT12864BA1339 3 GB kit contains 3x 1024 MB 240-pin DIMM DDR3-1333 memory modules and has a price of approx. 85 Euro (04/2010). It is also available as Crucial CT2KIT12864BA1339 2 GB kit, which costs about 55 Euro at the review date (04/2010). Memory modules are available with the upper banner in the Crucial Shop and at our sponsors.
Here you can buy Crucial DDR3 RAM.
The supply of the three 1024MB PC3-10600 memory modules …
In this antistatic plastic packing the three well protected memory modules were supplied:

That is contained in the package …
This kit came without a manual, but usually Crucial delivers memory modules with a quick installation guide.
The plastic packing can be opened very easy, by pressing the back to the rear, to break the three predetermined breaking points and fold up its cover. This is an exemplary Blister packaging, which can be also closed again without any problems: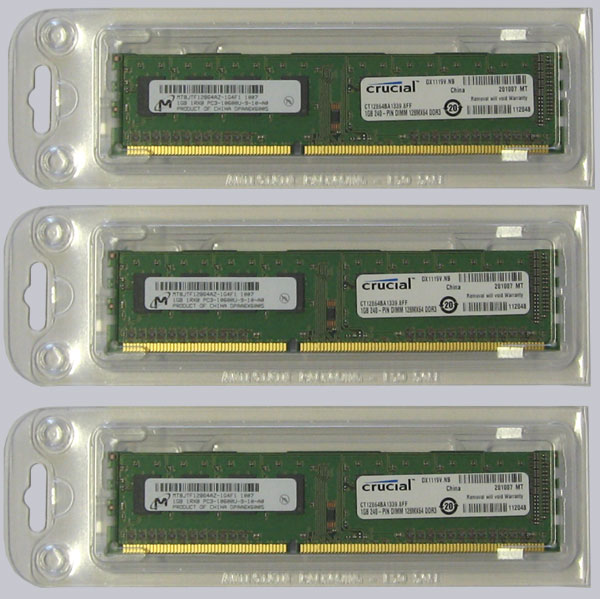 Here is a picture of the three 1 gigabyte CT12864BA1339.8FF modules without packing …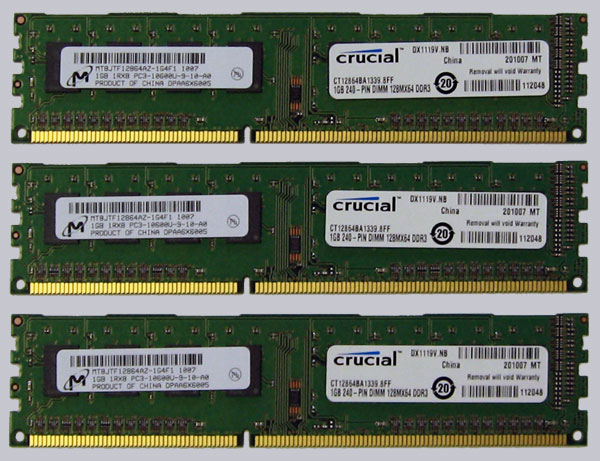 Here is a picture of the modules back side, they are single sided equipped …