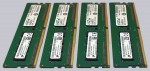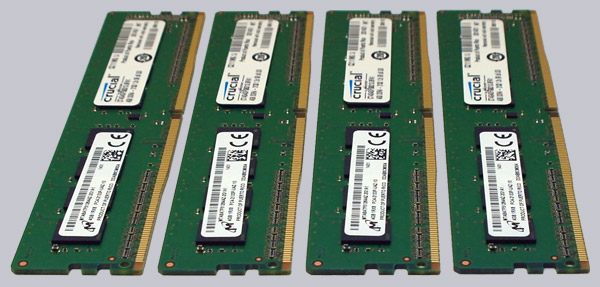 Today, we test some brand new DDR4 memory modules here at OCinside.de, which are supplied without heat spreaders, but reasonable priced. In this review, we have selected four Crucial 4 GB DDR4-2133 CL15 memory modules as 16 GB DDR4 Quad Channel Kit and tested on an Intel LGA 2011-3 system with ASRock X99 Extreme6 motherboard and Intel Core i7-5930K processor. Of course the DDR4 modules have been overclocked again to the limit and we have added a DDR4 comparison chart with all previously tested DDR4 modules.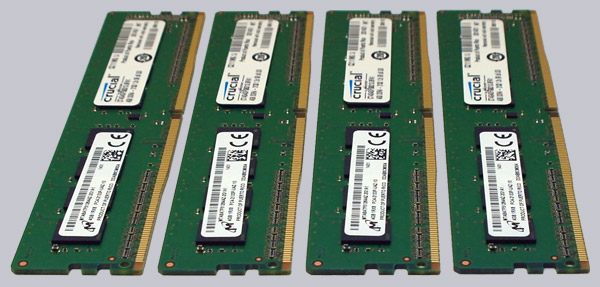 Thanks for the support …
Many thanks for the support with the four 4GB DDR4-2133 modules by the manufacturer Crucial.
We have tested 4x Crucial 4 GB 288-pin DIMM DDR4-2133 CT4G4DFS8213 as Quad Channel Kit, at review date it has a price of approx. 4x 49 Euro so altogether approx. 196 Euro.
Here you can buy the Crucial DDR4 DIMM
The supply of the four 4096MB PC4-17000 memory modules …
Crucial delivers this memory again in an exemplary blister packaging, which you can simply open and is still closed good enough for the supply or sale in the store. The plastic packaging can be opened easily by pressing the back backwards, to break the two break points and fold up the cover.
Here you can see the Crucial memory modules in the exemplary plastic packaging: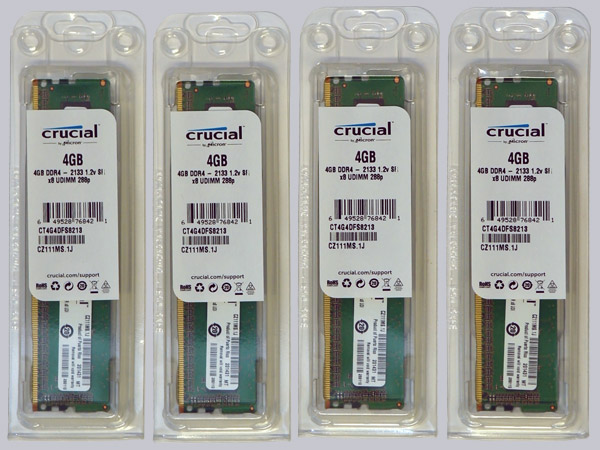 Here you can see the opened package which can be closed easily again: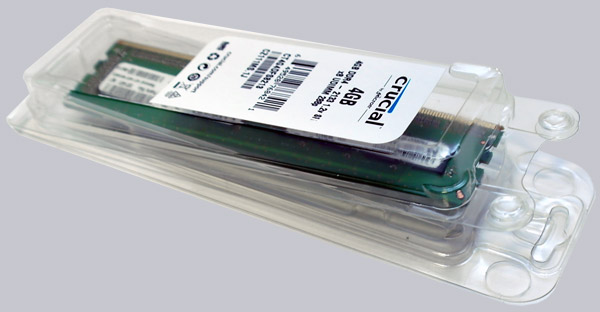 That is contained …
A DDR4 installation instructions was not in, but on the crucial Web site you will find detailed installation instructions and the latest warranty information.
Here you can see the front side of the 4x 4 GB DDR4 memory modules: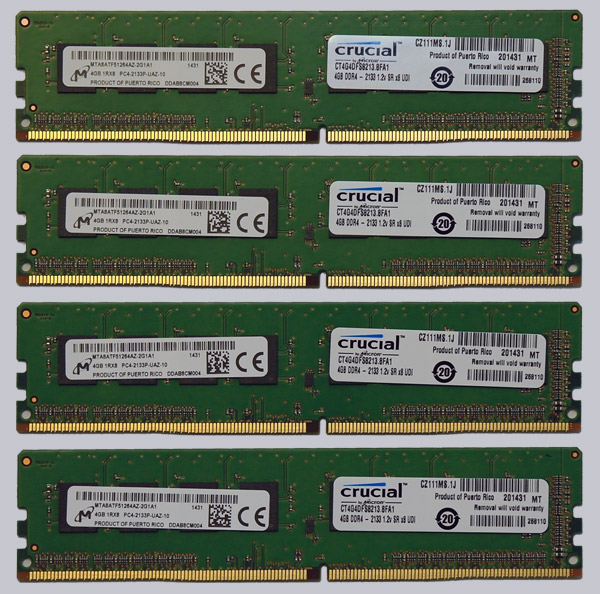 The 4 GB modules are in contrast to the Crucial 8 GB DDR4 modules CT8G4DFD8213 only one side equipped with 2x 8 GB modules as unbuffered 16 GB Kit CT2K8G4DFD8213 is available. Here you can see the empty back of the modules: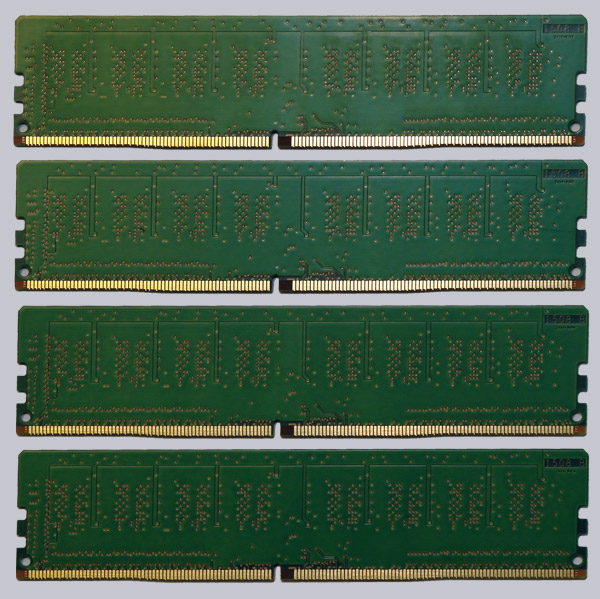 DDR4 vs DDR3 …
DDR4 offers speeds of 2133 to 4266 MT/s, DDR3 provides, only 800 to 2133 MT/s. So, DDR4 achieved with DDR4-2133 a bandwidth of 17 GB/s in contrast to DDR3-800 with 6.4 GB/s. Last but not least DDR4 modules have a higher capacity of currently up to 32 GB per DDR4 module (a 64GB DDR4 ECC Kit CT2K32G4LFQ4213 consisting of 2x 32GB DDR4 modules is available at Crucial) and that with lower DDR4 memory voltage of 1.20 Volt (1.05V – 1.35V) instead of 1.50V (1.35V – 1.65V) for DDR3 modules. Of course, that does not mean that all is gold that glitters, because like often, many other factors such as for example the latency is also very important.
If the extra charge is a worthwhile investment, is now there, but the development continues and new platforms such as e.g. the Haswell-E processors requires DDR4 modules.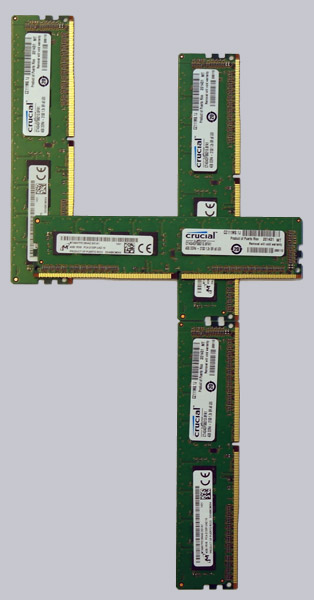 By the way, not only the number of pins, which have risen from 240-pin (DDR3) to 288-pin (DDR4), but also the DDR4 module design is new, because the bottom of the modules is no longer plane, but slightly flattened on both sides. In addition also the (voltage) notch is on another position, to avoid that one is accidentally installing DDR4 modules in a DDR3 socket or DDR3 modules in a DDR4 slot. DDR3 and DDR4 memory is not pin compatible.
Here you can see the difference between a DDR4 module (top) and DDR3 module (bottom):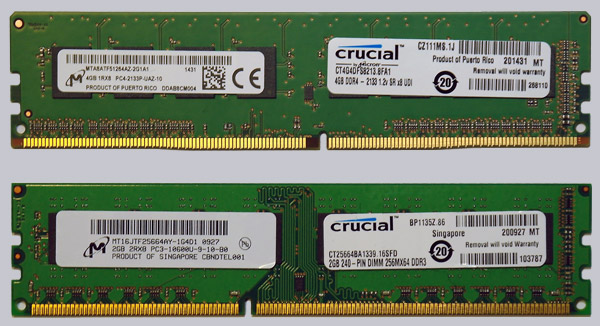 We have installed a total of four Crucial DDR4 memory modules in Quad Channel mode. Here you can see in front and in the back each two installed DDR4 memory modules on our LGA2011-3 X99 PC: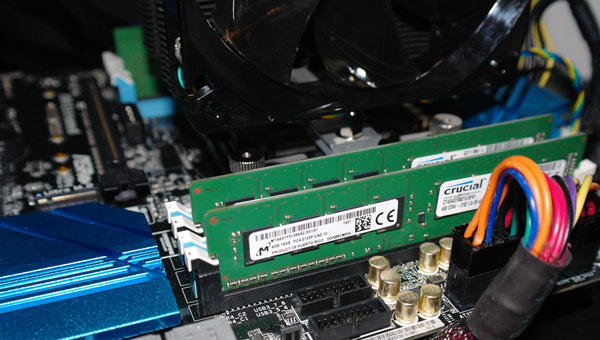 All modules have been recognized properly in the UEFI as DDR4-2133 modules and work in Quad-Channel mode: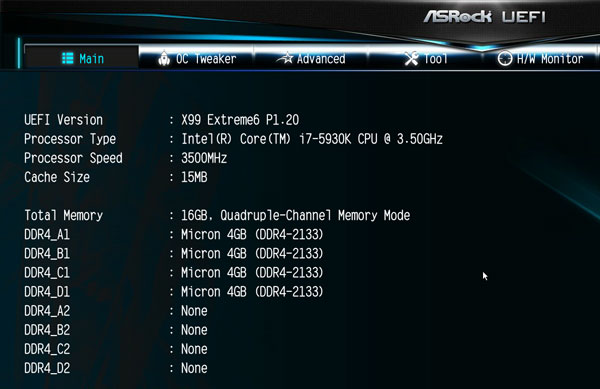 Crucial 16GB Kit 4x 4GB DDR4-2133 technical data …