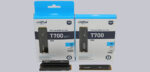 Layout, design and features …
Here you can see the front of the Crucial T700 without heatsink and the Crucial T700 2TB M.2 NVMe SSD with heatsink.


The backs of the T700 SSDs show the interface, voltages, serial number and pre-installed firmware, with both T700s shipping with the PACR5101. The Crucial T700s are loaded with Phison PS5026-E26 controllers, LPDDR4-4266 SLC cache and Micron 232 layer 3D TLC NAND devices. We have already explained the differences between QLC, TLC, SLC and MLC extensively in the Practical testing of the previous Crucial SSDs.


From above, the SSD with heatsink looks very similar to its SSD counterpart without heatsink, but from the side you can see the difference very clearly, because the passive SSD heatsink is about 20mm thick.


And from the front, you can nicely see the airy design of the cooling fins, which can easily use the airflow in the PC case.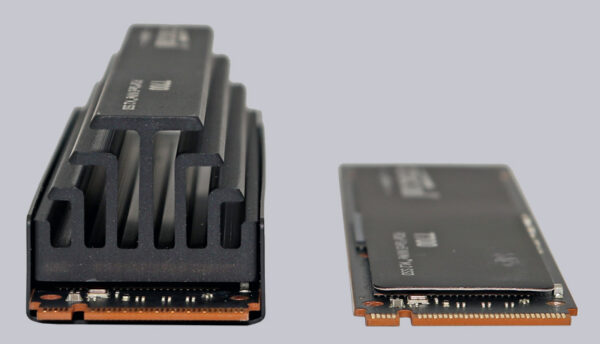 Since we would like to provide more information and practical experience with the M.2 NVMe SSDs, we have also included a Practical testing page.
Crucial T700 1TB vs T700 2TB M.2 NVMe SSD with heatsink Practical testing …