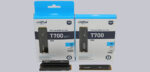 Result and general impression …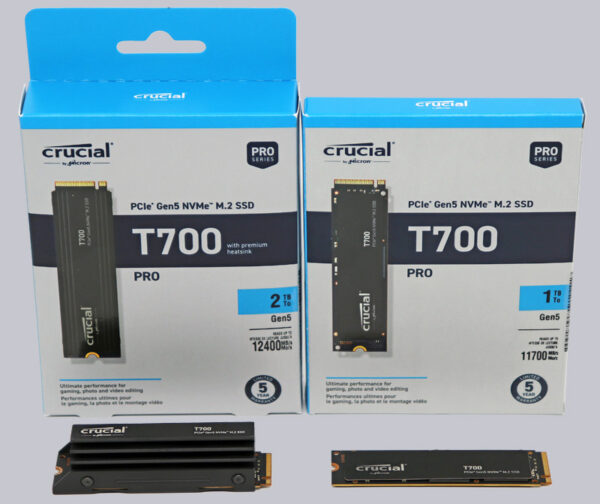 The Crucial T700 1TB without heatsink and Crucial T700 2TB with heatsink both deliver extremely high sequential read and write rates and consistently maintain high transfer rates even during large file transfers when well cooled.
However, good cooling is absolutely necessary for such PCIe 5.0 SSDs, since the M.2 SSDs first run into thermal throttle during longer file transfers without a heat sink and then deactivate. However, if something like that happens, it is sufficient to shut down the PC and turn it on again. Thus, those who use a motherboard without an SSD cooler should choose the T700 with a heat sink, and those who already have M.2 coolers can save the surcharge.
A direct comparison between the Crucial T700 and the Crucial P5 Plus shows that the faster PCIe Gen5 x4 connection of the Crucial T700 compared to the PCIe Gen4 x4 connection of the Crucial P5 Plus SSD really brings significant performance advantages and thanks to Micron 232 Layer TLC NAND together with a large LPDDR4 DRAM cache, this advantage can be maintained permanently via the Phison PS5026-E26 controller.
In addition, the Crucial T700 and the Crucial T700 with heatsink offer a power failure protection to increase data security and an adaptive temperature protection, which we could even check in the test without heatsink after large file transfers.
By the way, the Crucial T700 1TB SSD is specified with a high 600 TBW (total/tera bytes written) and the Crucial T700 2TB SSD is specified with a very high 1200TB TBW (total/tera bytes written). This corresponds to the Crucial P5 values and indicates about 658 GB per day over a period of 5 years. These specifications are not only important for the warranty (Crucial now gives a limited 5-year warranty here), but also speak for a high durability of the NAND cells. If you want to know more about TBW, you can find numerous data and formulas at Micron and in the JEDEC SSD specifications.
With this extremely good performance, the two Crucial T700 SSDs receive our OCinside.de Overclocking Dream Award!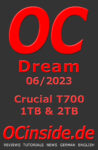 Discuss in our forum and share experiences about the Crucial T700 Pro SSD …
Here you can order the Crucial T700 and Crucial T700 SSD with heatsink …
Read on in the hardware test area with several hardware reviews …