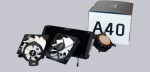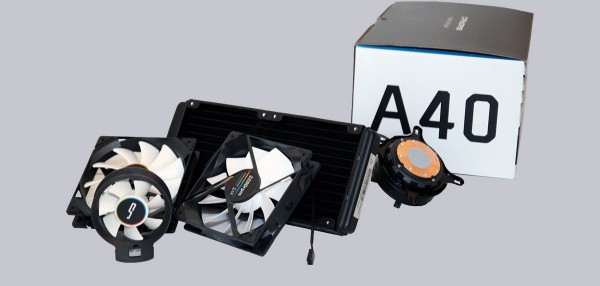 Result and general impression …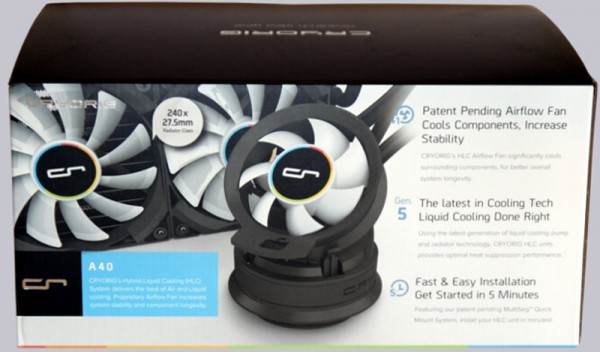 The Cryorig A40, like all all-in-one cooling solutions, gives inexperienced users the chance to access the field of water-cooling. But as long as you cannot control the pump separately, these systems are not for users who prefer a quiet system because you can permanently hear the pump. Especially overclockers can benefit from the additional fan because it actively cools voltage transformers, capacitors and RAM which often comes up short in watercooled systems. Cryorig uploaded an impressive video of this effect on their YouTube channel. If you never installed a radiator in you case, you should contemplate about where to put the radiator before buying it. By trying to fit in in tight corners you most likely will scratch the A40 radiator which might give you some problems if you need to return the cooler.
By chance the fans matched our test system perfectly, which makes this cooling solution also a style factor.
If the additional price in comparison to other all-in-one solutions is worth it for the innovative extra fan you have to decide for yourself in the end.
Hint: With our interactive Fit for Fan guide you can virtually fit the cooler onto different motherboards.
How the Cryorig A40 compares to other CPU coolers can be seen in our CPU Cooler Comparison 2016 Part 2
Discuss and share experiences about the Cryorig A40 in our forum …
Here you can buy the Cryorig A40.
Read on in the hardware test area with several hardware reviews …