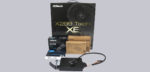 The technical data of the Icy Dock EZConvert MB705M2P-B …
Manufacturer
Icy Dock
Model number
MB705M2P-B
Supported SSDs
1 x M / B + M Key M.2 PCIe NVMe SSD 2230/2242/2260/2280
Compatible SSD type
NVMe M.2
Data interface
1 x SFF-8639
Hot-Swap compatible
yes
Material
Metal & ABS plastic
Product dimensions
9.5 x 70.0 x 101.0mm (HxWxD)
Product weight
67g net (99.5g incl. packaging)
conformity
CE, RoHS, REACH
Permissible air humidity
5 – 65% rel. air humidity
Permissible operating temperature
0 – 60°C
Warranty
3 years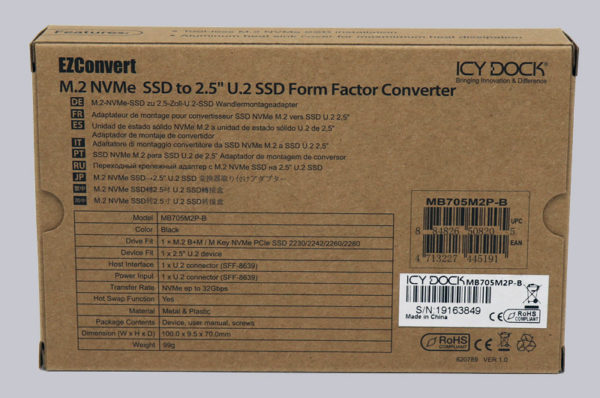 The technical data of the Icy Dock ToughArmor MB601VK-B …
Now let's have a look at the technical data of the Icy Dock ToughArmor MB601VK-B removable frame.
Manufacturer
Icy Dock
Model number
MB601VK-B
Supported drives
NVMe SSD or SAS / SATA SSD/HDD
NVMe U.2 Host is required to run NVMe, SAS or SATA drives
Recording in housing
1 x external 3.5″ mounting bay
Data interface
U.2 (SFF-8639)
Power connection
1x SATA 15pin power connector
Maximum transfer rate
NVMe up to 32Gb/s
Hot-Swap compatible
yes
HDD activity indicator
1x green LED
Material
metal
Product dimensions
25.4mm x 147 x 101.6 (HxWxD)
Product weight
390g net
Security
2-segment lock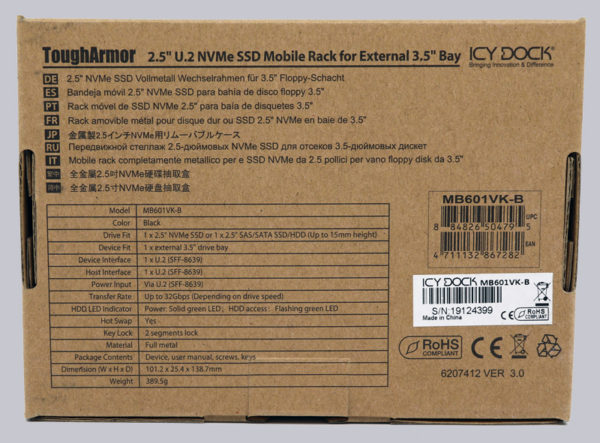 The technical data of the ASRock U.2 Kit …
Let's also have a look at the technical data of the ASRock U.2 kit.
Manufacturer
ASRock
Model number
U.2 Kit 90-CXG5A0-00UANZ
Connections
1 x Mini-SAS HD Connector (supports U.2 PCIe 3.0 x4 SSDs)
Interface
M.2 (NGFF) PCI Express x4 interface
Supports data transfer rates of up to Gen3 x4 (32 Gb/s)
Compatible with M.2 socket 2260
Operating system
Microsoft Windows 10 64-bit / Windows 8.1 64-bit / Windows 7 64-bit / Windows 7 32-bit
Product dimensions
59 mm x 22 mm (LxW)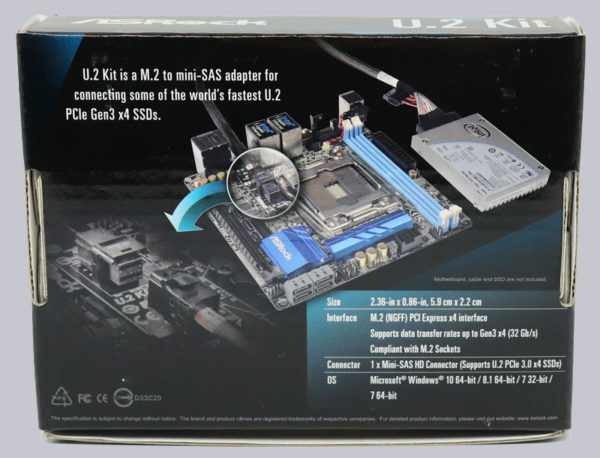 Now we come to the layout, design and features of the U.2 products.
Icy Dock MB601VK-B and MB705M2P-B and ASRock U.2 Kit Layout, design and features …