The Lamptron CM615 has an inverted LCD display. This means that the white backlight does nots is emitted over a large area by means of a slide like with normal LCD, but only the represented numbers, letters and symbols light up.

This gives the display a pleasant look and shines in the dark less, as a large-area lighting. In addition, the display consists of a touch screen, which eliminates the need for additional buttons or switches.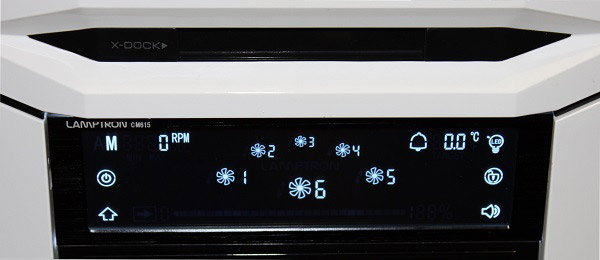 The anodized black front panel completes the elegant look.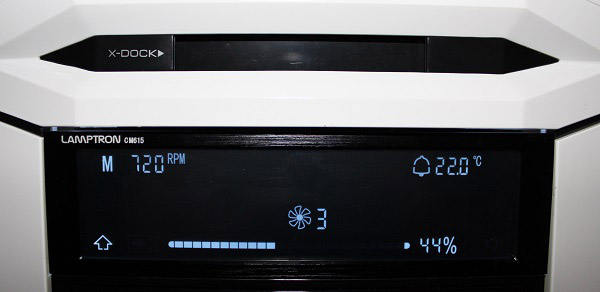 Let us take a look at the back of CM615 with the black PCB, which was painted with the overall concept.

A total of six 3-pin Molex connectors are available for the user, which of course can be expanded using Y-cable. Because of a maximum power of 15 watts per channel, each channel offers the use of more than just a fan.
A total of six 2-pin connectors are available to connect the supplied temperature sensors to the controller. Additionally a small piezo buzzer is located on the circuit board, to offer acoustic warning signals.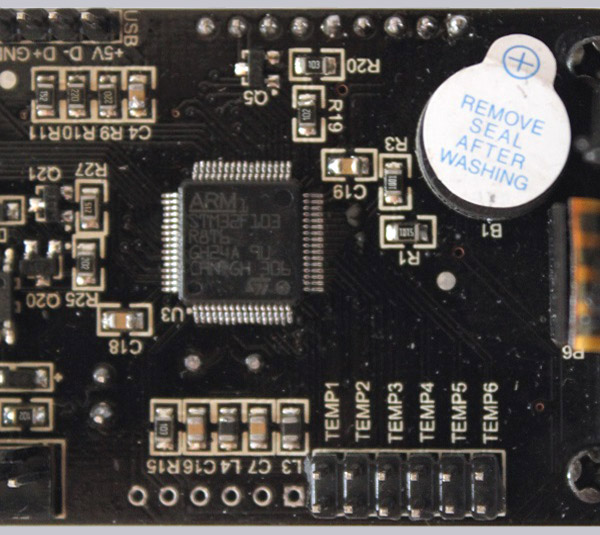 Funnily enough this is provided with a sticker stating only after washing to remove it. Before you now think about putting your fan controller into the washing machine to wash out voltage drop, we have to disappoint you. This is only an internal note after the PCB cleaning for the manufacturer, so release the board from soldering residues and flux, only to remove the protective seal to prevent cleaning liquid inside of the piezo summer.
In addition to the mentioned connectors we have a 4-pin standard Molex and a 2-pin connector to connect it to the motherboard or Start button of the case.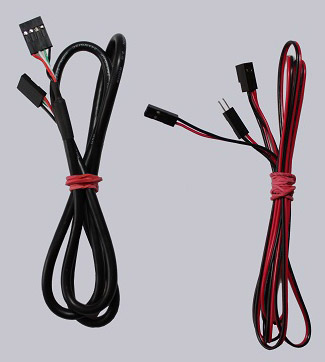 Lamptron CM615 Operation and Results …
Lamptron CM615 Tested