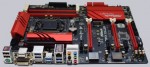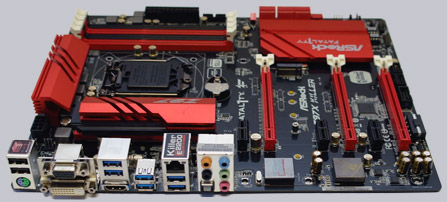 Result and general impression
++++ The ASRock Fatal1ty Z97X Killer/A/MEDIA has a price of approx. 129 Euro (09/2014) and is thus in the middle price segment of the Intel LGA 1150 Haswell motherboards.
Especially enthusiasts and gamers will be happy to read this review about the latest ASRock Fatal1ty Z97X Killer motherboard on OCinside.de. The Fatal1ty Z97X Killer motherboard based on the Intel Z97 chipset offers especially for gamers a great basic equipment with three PCIe 3.0 graphics cards slots, Qualcomm Atheros Killer E2200 Gigabit LAN port, Fatal1ty Mouse port, Purity Sound 2 with DTS Connect, digital sound output via optical S/PDIF output, XXL aluminum alloy heatsinks, three more PCIe 2.0 slots, up to eight USB 3.0 ports, six SATA3 ports, SATA express port, the new ASRock HDD Saver function, M.2 slot, DVI-D, HDMI output, and much more features, which will not only makes gamers happy. In this review, we take a look at these great features and overclock this LGA 1150 motherboard to the limit.
This cardboard box contains the ASRock Fatal1ty Z97X Killer Socket 1150 motherboard: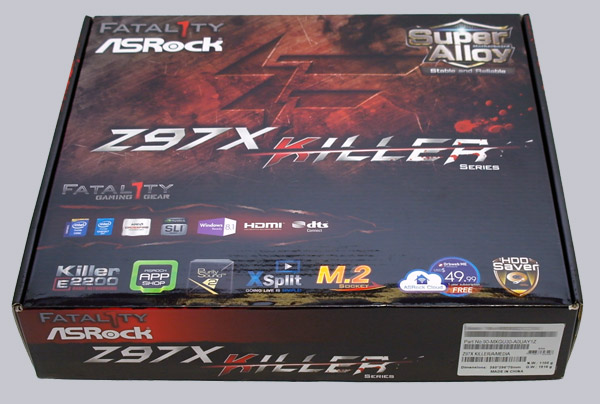 The back of the box gives a first impression about the comprehensive range of features: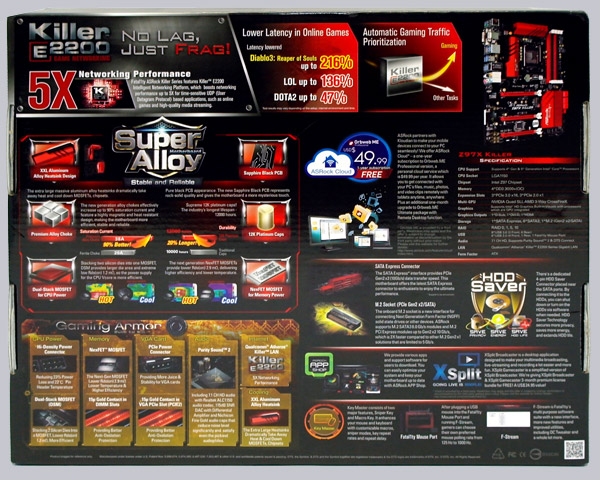 Here is a first look inside of the motherboard box: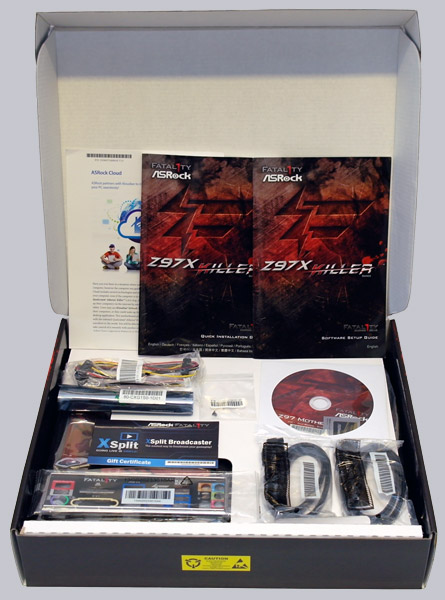 The board was carefully wrapped with foam and fastened with cable ties for safe delivery: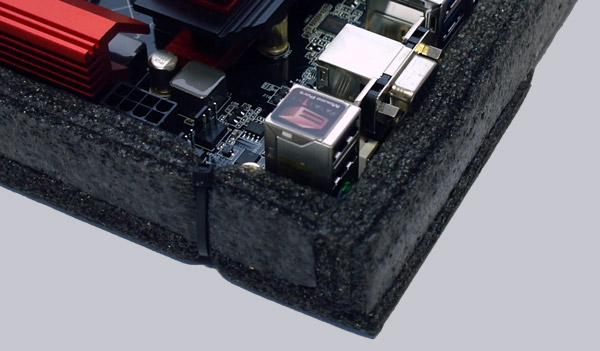 The ASRock Fatal1ty Z97X Killer motherboard is build with very durable Nichicon 12 K Platinum capacitors, offers Digi Power Design, 8 Power Phase Design and purity sound of 2 with the new Nichicon fine gold capacitors. Overall, it makes a very quality impression and looks thanks to the Sapphire Black PCB layout with the red heatsinks and red slots also very stylish: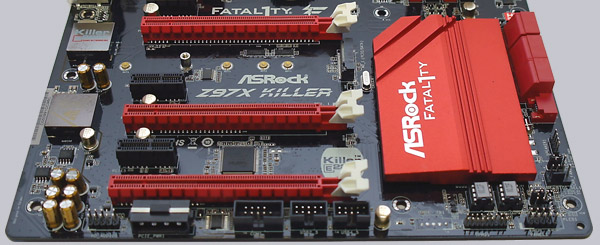 However, ASRock enthusiasts will have noticed it right away, that the Dr. Debug 7-segment LED postcode display and the two LED buttons for power and reset are missing. Anyway, there are two UEFI ICs that can be selected with a jumper. Also awesome is that many of the new ASRock motherboards are equipped with at least one M.2 slot to install M.2 SSDs or M.2 PCI Express modules (don't miss our M.2 PCIe SSD review). The Killer motherboard has a M.2 socket for PCIe Gen2 x2 modules, which can be connected with up to 10 Gb/s: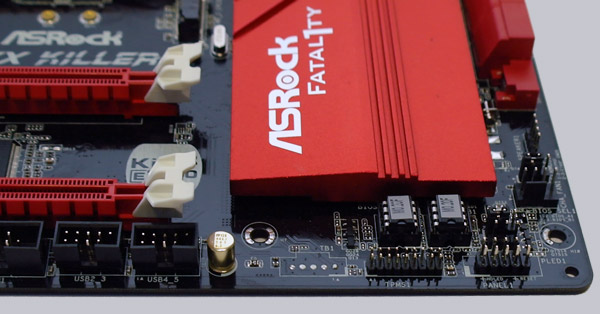 Here you can see already one "Killer" feature, that this Fatal1ty killer motherboard has to offer – the Qualcomm Atheros Killer E2200 LAN chip: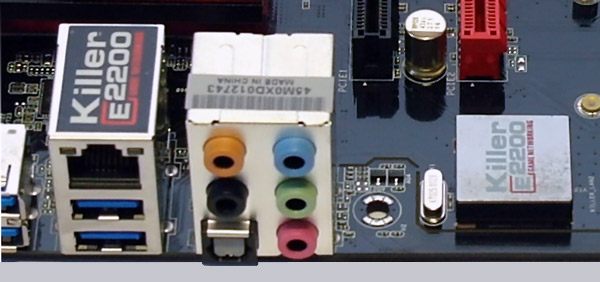 Here you can see already one difference at this board, where the X stands for, behind the Z97 – for the large XXL Aluminium Alloy heatsinks: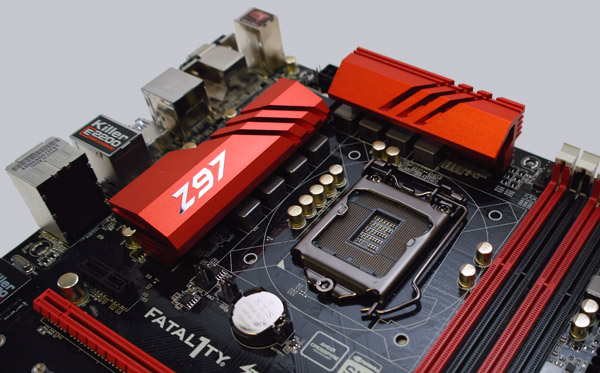 The large XXL aluminium alloy heatsinks were carefully placed with pads on the MOSFETs and the chipset:

New is the new HDD Saver power connector to switch off up to two data disks during operation via software. Here we can see the HDD Saver power connector on the left, in the middle you see the internal USB 3.0 header beneath the 24-pin ATX power connector and the high quality 12K Platinum capacitors and at the right you see the new Premium Alloy chokes:

Equipment and other features …
The ASRock Fatal1ty Z97X Killer motherboard came with a manual, a software setup guide, one DVD, four SATA data cables, a SLI bridge, a HDD Saver cable, screws for the M.2 socket and a ATX I/O shield. USB Slot brackets or the ASRock USB 3.0 frontpanel are optional available.
The ASRock Fatal1ty Z97X Killer offers numerous features like for example the ASRock F-Stream Tool, ASRock Instant Flash, ASRock Internet Flash, ASRock APP Charger, ASRock Fast Boot, ASRock Restart to UEFI, ASRock XFast LAN, ASRock XFast RAM, ASRock Crashless BIOS, ASRock Online Management Guard, ASRock UEFI System Browser, ASRock Dehumidifier Function, ASRock Easy RAID Installer, ASRock Easy Driver Installer, ASRock My Favorites in UEFI, ASRock UEFI Guide, ASRock Good Night LED, ASRock USB Key, ASRock Cloud, Purity Sound 2, Secure Backup UEFI, 8 Power Phase Design, ASRock FAN-Tastic Tuning, HDD Saver Technology and Killer Network Manager.
Expansion cards …
This motherboard offers three PCI Express 3.0 video card slots for AMD CrossFireX or nVidia SLI, whereby either one video card can operate with x16 band-width, or two with x8 lanes, or one with x8 and two with x4 lanes band-width. A CrossFire bridge is included in the motherboard cardboard box, another special SLI/XFire switch card is not necessary to get the optimal performance for single or CrossFireX operation. If one like only use one video card on the Fatal1ty Z97X Killer, one should insert the PCI Express video card into the PCIE2 slot, in order to get the fastest x16 bandwidth. In addition to the three PCI Express 3.0 slots, there are three more PCIe 2.0 x1 slots available. Who needs more conventional PCI slots, could buy the ASRock Fatal1ty Z97 Killer motherboard (without X after the Z97), which has two PCI slots.
Memory …
The ASRock Fatal1ty Z97X Killer can be equipped with up to four DDR3 modules and is expandable depending upon operating system used (see list) to maximally 32 GB memory.
Here is a picture of the four DDR3 memory slots with dual channel support (A2+B2/A1+B1):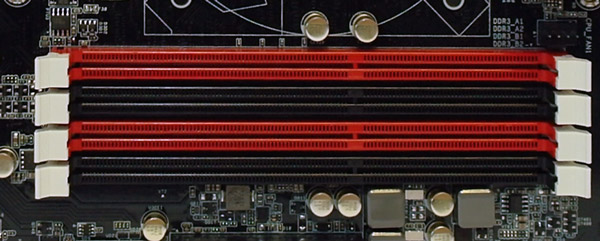 The Intel LGA1150 motherboard supports DDR3 memory modules and can be optimized in the BIOS for DDR3-1600 Dual Channel modules with an Intel Haswell processor. The UEFI also offers DDR3-1800, DDR3-1866, DDR3-2133, DDR3-2400, DDR3-2800, DDR3-2933, DDR3-3000, DDR3-3200, DDR3-3465, DDR3-3730, DDR3-4000 settings and higher clock-rates are possible with BCLK overclocking. Thanks to XMP support (Intel eXtreme Memory Profiles), XMP memory modules are set correctly with one mouse click in the UEFI. There are of course far more memory adjustments and even more OC-features, but more on that later. You can also check the officially supported modules at ASRock's memory support page.
Storage connectors …
The ASRock Fatal1ty Z97X Killer offers six bended SATA3 connectors (6 Gb/s) and one SATA Express port.
Here you can see the shared SATA Express connection on the left and the six SATA3 ports on the right, where you should connect the boot device to SATA3_0: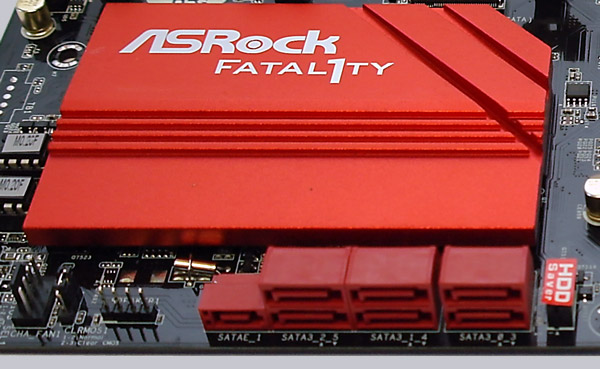 The Intel Z97 SATA3 ports are supporting RAID 0, RAID 1, RAID 5, RAID 10, Intel Rapid Storage Technology 13 and Intel Smart Response Technology, NCQ, AHCI and the Hot Plug function in AHCI mode (AHCI stands for Advanced Host Controller Interface and can be selected in the UEFI). Thanks to UEFI BIOS also drives with more than 2 TB for the installation of Windows 8, Windows 7 x64 or Vista x64 can be used.
32-Bit and 64-Bit drivers for Windows 8 and Windows 7 can be installed over the Easy Driver Installer or Easy RAID Installer point in UEFI and are provided on the DVD and can be downloaded at the ASRock support page.
Another interesting feature is the HDD Saver function At the HDD saver connector can be operate up to two data drives in AHCI mode, which can be power on or off over the BIOS or in Windows. This not only saves electricity, but allows e.g. the independent operation of a backup HDD, which can be protected also with a password. The HDD saver function can be called over the supplied ASRock F stream tool or by using the key combination CTRL + ALT + S.
USB and Firewire …
The board has nothing less than six USB 3.0 connectors and one USB 2.0 port at the ATX-panel, one internal USB 3.0 plug for up to two optional USB3.0 ports and two internal USB 2.0 plugs for up to four optional USB ports. The 20-pin connector can be connected either to an optional USB3.0 front panel or to an enclosure with USB3.0 ports.
Additionally, this Fatal1ty Killer motherboard offers an USB 2.0 Fatal1ty mouse port, which you can configure by the supplied F-stream software, to set the mouse sample rate between 125 Hz up to 1000 Hz.
Network …
The ASRock Fatal1ty Z97X Killer motherboard comes with the Qualcomm Atheros Killer E2200 chip on the PCB to provide the 10/100/1000 network port at the ATX Panel. The LAN connection is WoL capable, offers LAN cable detection, supports Qualcomm Atheros Security Wake On Internet Technology, PXE and energy efficient 802.3az ethernet. The Qualcomm-Atheros Killer E2200 series also has a very low latency and allows traffic prioritization by the supplied killer network manager.
Serial and parallel port …
This motherboard does not provide a parallel port. The serial port is available as internal connector on the motherboard.
Sound …
The ASRock Fatal1ty Z97X Killer motherboard is equipped with the ALC1150 audio codec with content protection, 115dB SNR DAC, TI NE5532 Premium Headset Amplifier and Purity Sound 2, which supports 7.1 surround sound for example analog over 5x 3.5mm connectors on the ATX panel or over an internal frontpanel audio connector. Furthermore, there is an optical digital SPDIF output, THX TruStudio support and premium Blu-Ray audio support. So most users do not need to buy an additional sound card with digital outputs.
Graphics …
The new Intel Z97 chipset offers in combination with an Intel Haswell processor a full integrated Graphics Technology (GT) graphics solution with DX11.1 support. Depending upon processor used, there is a graphics unit available, whereby the Intel Core i5-4670K CPU used in this test is equipped with the HD Graphics 4600.
Over UEFI setup, the graphics unit can be overclocked from 1200 to 3000 MHz, but the Intel HD Graphics 4600 GPU has even without overclocking a good performance. So the GPU of the Intel Core i5-4670K CPU achieved in Windows 7 with 3DMark 52182 Ice Storm points and with 3DMark06 7832 3DMarks !
In contrast, here are a few more 3DMark06 are benchmark results: AMD Athlon 5350 AM1 APU (Radeon R3) auf ASRock AM1H-ITX 3250 3DMarks AMD A10-7850K FM2+ APU (Radeon R7) on ASRock FM2A88X+ Killer Fatal1ty 7976 3DMarks AMD A10-6800K FM2 APU (HD8670D) on ASRock FM2A88X+ Killer Fatal1ty 7833 3DMarks AMD A10-5800K FM2 APU (HD7660D) on ASRock FM2A88X+ Killer Fatal1ty 7695 3DMarks AMD A8-3870K FM1 APU (HD6550D) on ASRock A75 Pro4 6181 3DMarks Intel Core i5-4670K APU (Intel HD Graphics 4600) on ASRock Z87 Extreme4 7762 3DMarks Intel Core i5-4670K APU (Intel HD Graphics 4600) on ASRock Z97 Extreme6 7892 3DMarks Intel Core i5-2500K APU (Intel HD Graphics 3000) on ASRock H77 Pro4/MVP 4310 3DMarks Intel Celeron J1900 APU (Intel HD Graphics) on ASRock Q1900M 2452 3DMarks AMD E350 Dual Core CPU (AMD HD6310) on Sapphire IPC-E350M1 2299 3DMarks AMD Phenom II 710 X3 CPU on ASRock 890GX Extreme4 (ATI HD4290 IGP) 2204 3DMarks. Intel Atom 330 CPU on ASRock AMCP7AION-HT (nVidia ION DX10) 1694 3DMarks.
Furthermore the integrated video processor supports DirectX 11, HDCP, Full HD 1080p, 4K and offers thanks to its onBoard HDMI connector and the low power consumption optimal conditions for an overclocked Gaming PC.
ATX backpanel connectors …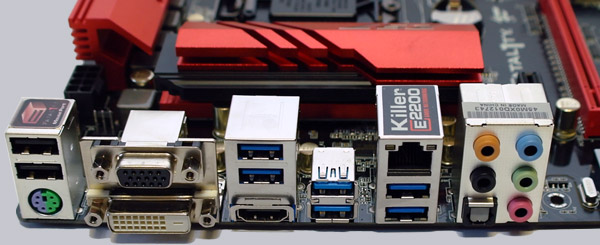 From left to right, one can see 1x USB 2.0 Fatal1ty Mouse Port, 1x USB 2.0 and 1x PS/2 connector for PS/2 keyboard or PS/2 mouse, 15-pol Sub-D VGA and DVI-D VGA, 2x USB 3.0 and HDMI Output, 2x USB 3.0, RJ45 Gigabit Killer E2200 LAN and 2x USB 3.0, optical SPDIF out and 5x 3.5mm jacks for analog sound.
BIOS and Overclocking …
Let us continue with BIOS / UEFI Setup options and the UEFI overclocking. By pressing F2 or Del during the PC boot, you get access to the UEFI Setup.
The ASRock UEFI BIOS of the Fatal1ty Z97X Killer offers a graphical surface for an intuitive operation with a mouse or with a keyboard, depending upon desire.
New is a selection to view the UEFI in FullHD and furthermore there is a UEFI guide for beginners: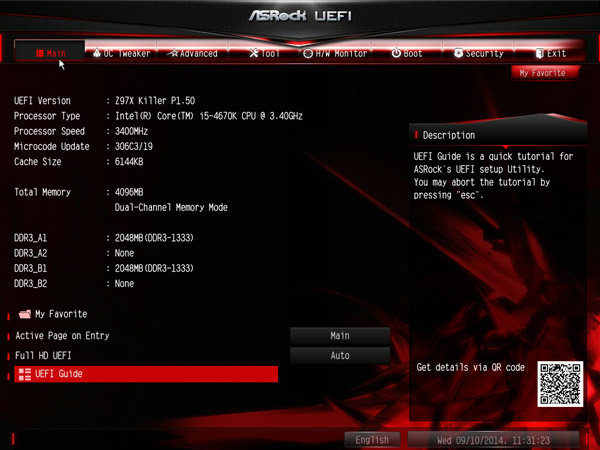 In addition now there is a my favorite menu item on the homepage: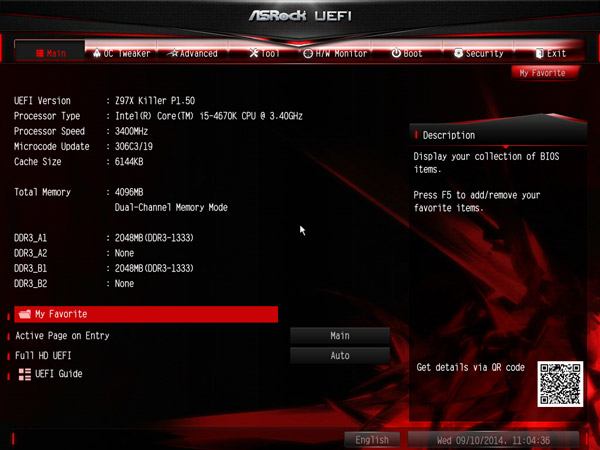 The My Favorite feature is very useful because you can put here often-needed menu items, by simply selecting the respective button, then press F5 and the feature is added to the my favorite overview page: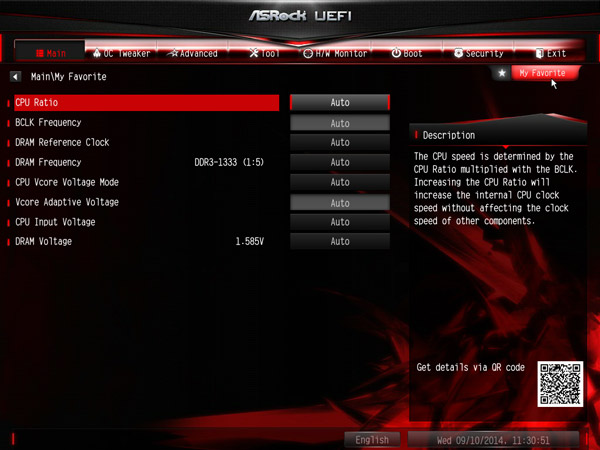 Another feature is the "Active Page on Entry" selection, where you can decide which UEFI page you want to see, when you enter the UEFI Setup. This is very helpful mainly for overclocking since one have to enter the second OC Tweaker menu very often to find the best OC settings. Or you add all necessary points to the My Favorite overview and start directly with this My Favorite overview page.
Here you can see the active page on entry menu of the Fatal1ty Z97X Killer UEFI surface: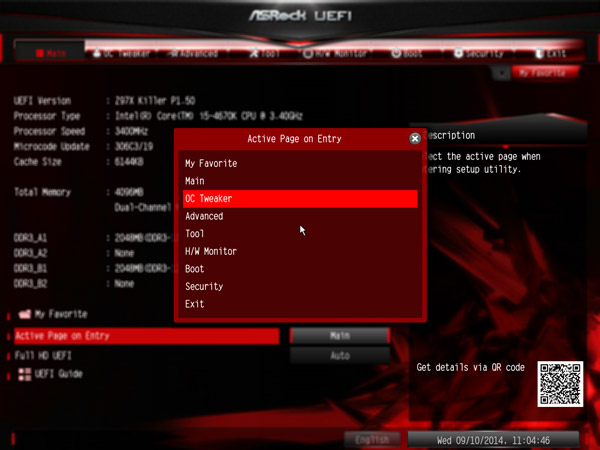 UEFI BIOS Update …
First of all we update the UEFI BIOS to the latest version. ASRock offers several ways to update the BIOS, e.g. the very easy Instant Flash or ASRock Internet Flash with direct access to the internet.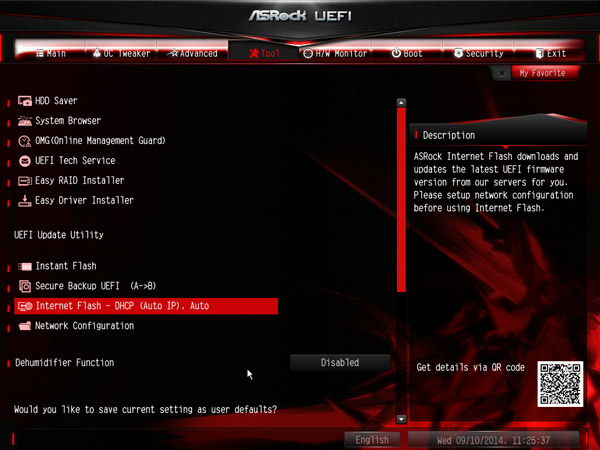 One can enter the ASRock Instant Flash utility in the Advanced Screen or by pressing F6 during the PC start. Hereby one can upgrade a downloaded ASRock BIOS without further boot CD, USB boot stick, etc. very easily. Just start the ASRock Instant Flash utility and select a BIOS Flash ROM from the device like an USB Stick to flash the BIOS without an additional boot medium. If you need technical help about the UEFI, you can contact the ASRock over the UEFI Setup and LAN connection. Furthermore, this motherboard is equipped with a backup BIOS and by the "Secure Backup UEFI" option one can transfer a working BIOS from the other BIOS EEPROM and select the preferred BIOS chip at any time over the BIOS selection jumper. By the way, on the tool page you can find a graphical system browser view, where you can immediately see which components are installed in the PC.
The motherboard came with BIOS M0.20F. At review date, the UEFI BIOS Version P1.50 was the latest version for download: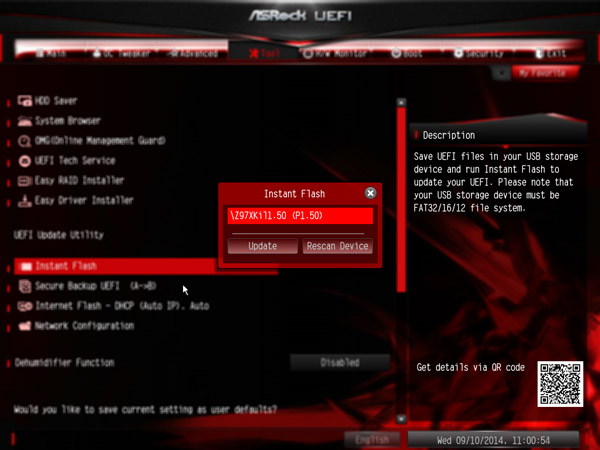 ASRock Fatal1ty Z97X Killer Overclocking …
The Fatal1ty Z97X Killer UEFI Setup offers versatile OC-settings for easy overclocking.
For CPU and iGPU overclocking, ASRock offers a clearly arranged OC Tweaker menu in the UEFI Setup.
The BCLK/PCIE frequency can be set in a range from 90 MHz to 300 MHz. This frequency is very important for a lot of frequency values with Intel Haswell processors as well as already known from Sandy Bridge and Ivy Bridge processors, which can get quickly too high. For this reason, you should carefully increase the BCLK host clock and also adjust the BCLK ratio, to increase it to 125 MHz, 167 MHz or even higher.
In our tests the motherboard could be stable overclocked to 170 MHz BCLK !
Buyers of an Intel "K" CPU have an unlocked multiplier and may want overclock the CPU frequency very extensively over the CPU multiplier. With a 4670K CPU (default clock 3400 MHz with a CPU ratio of 34x), the ASRock Fatal1ty Z97X Killer motherboard offered a multiplier range from 8x to 120x.
Here you can see the upper part of the OC Tweaker settings. There is also the CPU OC fixed mode, which you can Enable to find the highest overclocking values by deactivating the Turbo and the SpeedStep features: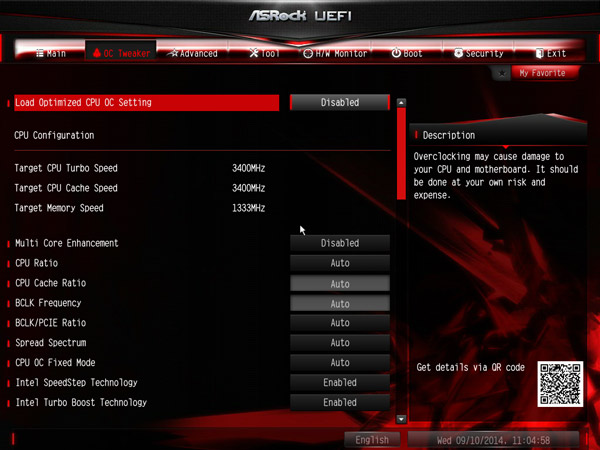 The GPU clock of the integrated graphic unit can be adjusted by the way between 1200 MHz and 3000 MHz, the menu items are only visible when a CPU with GPU is installed and used. Otherwise, the GPU settings are hidden and are no more visible in the OC Tweaker menu: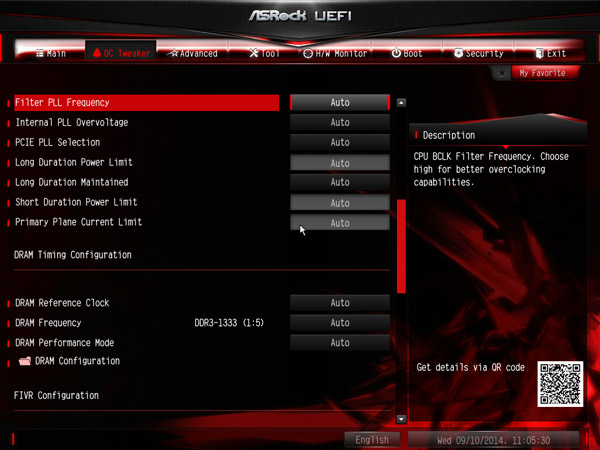 For the DDR3 memory settings, you can set e.g. the DRAM frequency from DDR3-1066 over DDR3-1333, DDR3-1600 and DDR3-1866, DDR3-2133 up to DDR3-4000. You can adjust the DDR3 reference clock for 100 or 133 MHz or just leave it on Auto.
Here you can see the DDR3 frequency selection, where even higher memory clocks are possible with BCLK boost: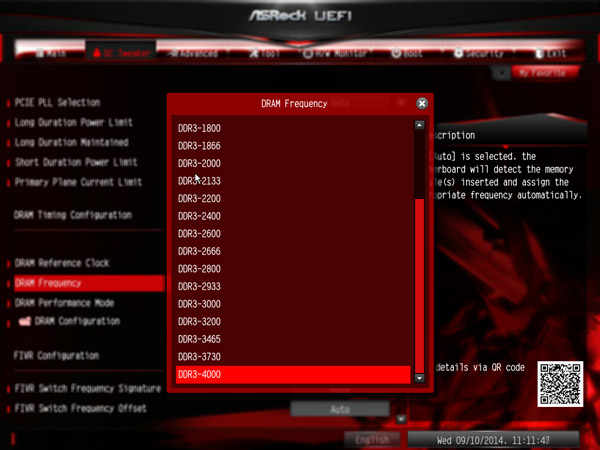 The frequency of all memory modules is calculated and displayed after changing the reference clock to make it much easier adjusting to the right RAM frequency. Up to DDR3-4000 can be selected in the BIOS and higher DDR3 frequencies above DDR3-4000 are possible with manual overclocking by BCLK. Thanks to the XMP support, XMP memory modules ca be set correctly with one mouse click in the UEFI, selecting the desired profile in the DRAM configuration. But this Z97 Fatal1ty offers much more, e.g. the DRAM Tweaker menu – an overview of all the values to choose from.
Now we come to the different voltage settings that can be set also very extensively. The board has a lot of voltage settings like for example a Vcore selection with the Intel Core i5-4670K Test CPU of 0.800 up to 2.000 Volt and -1,000 to +1.000 offset, a GPU voltage setting between 0.800 and 2.000 Volt and GT Voltage Offset +0.001 to +1.000 Volt, PCH 1.05V Chipset voltage from 0.977 to 1.322 Volt, PCH 1.5V I/O voltage from 1.366 to 1.696 Volt, System Agent Spannung Offset -1.000 to +1.000 Volt, CPU Cache Voltage from 0.800 Volt to 2.000 Volt and -1.000 bis +1.000 Offset, CPU Analog IO Voltage Offset -1.000 to +1.000V, CPU Digital IO Voltage Offset -1.000 to +1.000V, Primary Plane Current Limit, Short Duration Power Limit, Long Duration Power Limit, Internal PLL Overvoltage, PCIE PLL Selection, CPU Load Line Calibration and more boost options that offers more room for overclocking in detail. The DDR3 voltage could be increased in the BIOS between 1.165 and 1.800 Volt, which should be enough voltage for most DDR3 OC modules.
Here you can already see a part of the voltage values which can be set in the OC Tweaker: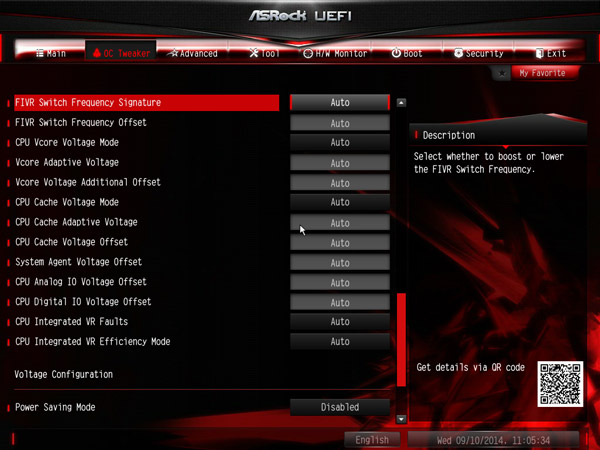 There are more important voltage settings such as the CPU input voltage and the two PCH voltage values for 1.05V and 1.5V at the bottom: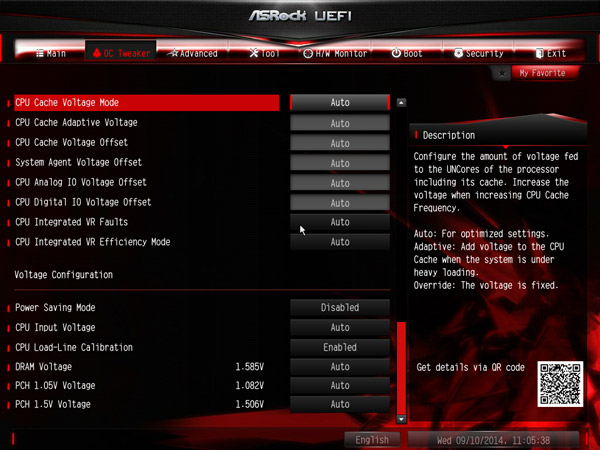 Some values can be clicked by the way also with the mouse to get a huge slider: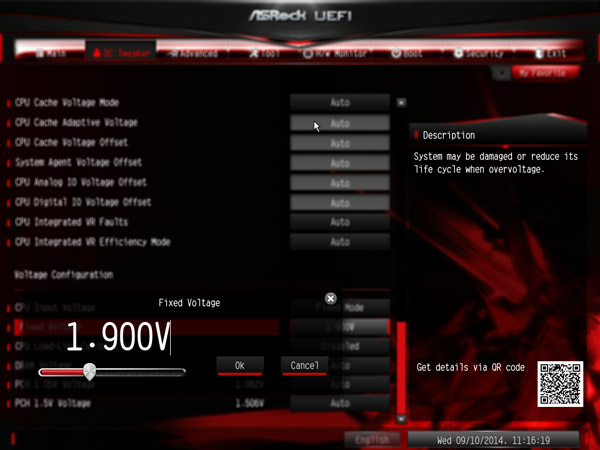 If these are too many values for you or if you do not like to get deeper inside of overclocking, one can also Load Optimized CPU OC Settings, to try overclocking with predefined OC settings. They can increase the system performance automatically by overclocking in different Turbo steps – at least with some luck and if it is possible with your components. Simply select the desired boost setting, then some components and the CPU are overclocked, e.g. to a desired value of Turbo 4.0 GHz, 4.2 GHz, 4.4 GHz, 4.6 GHz or Turbo 4.8 GHz. Then, if in use, you might also Load Optimized GPU OC Setting for the iGPU to 1500 MHz, 1600 MHz or 1700 MHz – overclocking could not be easier !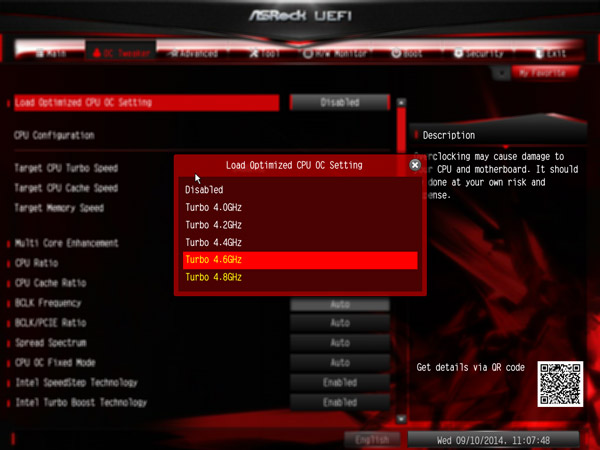 However, you should set each value manually, to be able to adjust all values in detail for the respective hardware, we will help you overclocking in our Intel OC Forum.
When you have found the right values for your system, you can store up to three different BIOS settings with a desired name. Thus one can save for example balanced BIOS settings, overclocking settings and underclocking settings in a user profile of the UEFI to load them very quickly at any time.
Here is a screenshot of the user profiles: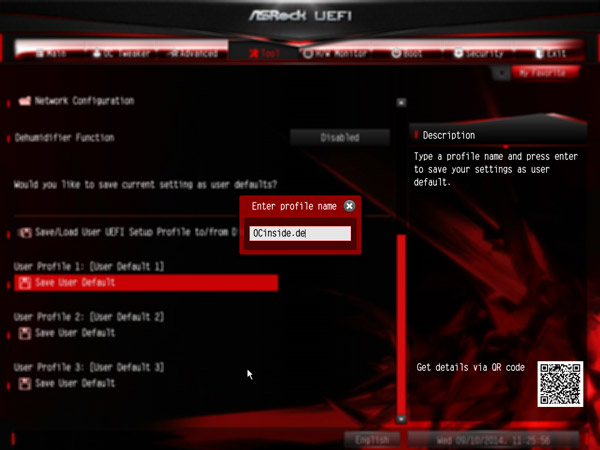 The boot failure guard was also examined in the test and could start the PC even at high Übertaktungswerten without CMOS clear with standard frequencies. ASRock leaves the user with the "Boot Failure Guard Count" Option which will boot choice, how often the board should boot with fault settings before it automatically reduces the frequencies. If it accidentally succeeds that the PC fails to boot, you can also set the CMOS clear button, the stored values in the profile fortunately remain and can be loaded very fast.
BIOS Undervolting …
The downclocking or underclocking was also tested in this review. It was possible to lower the Intel Core i5-4670K CPU multiplier over the BIOS to 8x and the processor can be underclocked in such a way with 95 MHz BCLK to approx. 760 MHz.
Underclocking is like OverClocking outside of the manufacturers specification, so it is necessary to have a bit luck, but ASRock gives several options for easy PC underclocking / downclocking.
The UEFI Setup of the passive cooled Fatal1ty Z97X Killer motherboard offers a CPU Quiet Fan option (temperature fan control) for a 4-pin or 3-pin CPU fan and the 4-pin chassis fan 1, the 3-pin chassis fans 2 and 3.
You have the choice between standard, performance, customize, silent and full speed mode.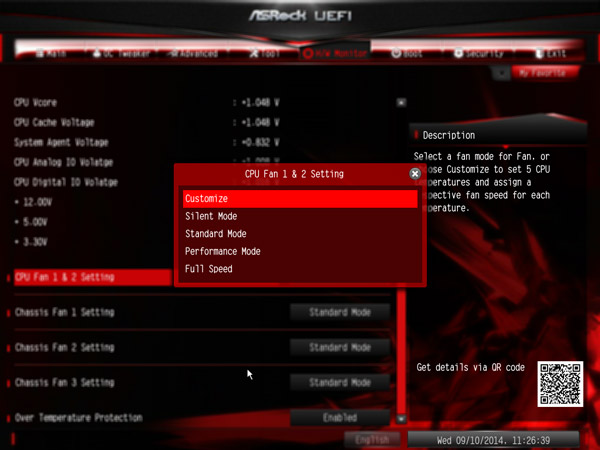 In customize mode, there are several temperature steps, where you can assign the desired fan speed.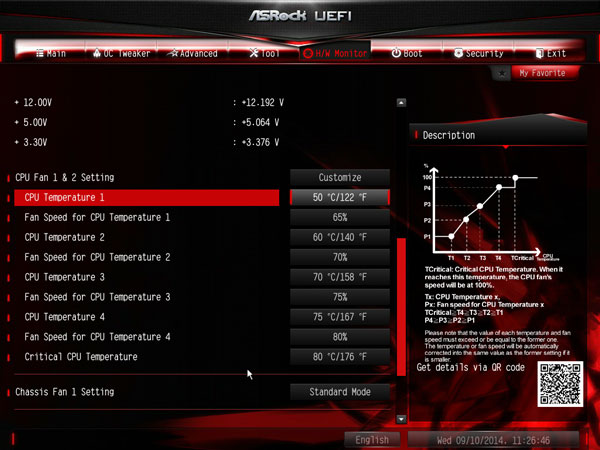 Thanks to this extensive fan control, in most cases one can save the money for an expensive fan controller.
The fan control can be also easily set using the supplied ASRock F-Stream Tool. First of all you start the fan test to determine all possible speeds and then you can adjust the temperature curve depending upon desired. The ASRock F-Stream tuning software provides some additional tools, such as the temperature monitoring and some OC settings in the OC Tweaker menu.
Power consumption …
The power consumption will vary depending upon the hardware and upon the PC load. The current consumption of the test PC with Intel Core i5-4670K CPU, 4GB DDR3-1333 memory, hard disk drive and Cooler Master Silent Pro M 600W test PSU was without overclocking depending upon load:
– With the new MSI Radeon R9 280 video card the power consumption was between 52.5W idle and 270.7W load. – With Sapphire HD6870 the power consumption was between 55.5W idle and 211.7W load. – With onBoard Intel HD Graphics 4600 GPU the toptal PC power consumption was between 33.2 Watt idle and 92.9 Watt full load. The power consumption was just a little bit above the low consumption values of the previously tested ASRock Z97 Extreme6 mainboard.
An ASRock Fatal1ty FM2A88X+ Killer AMD Socket FM2+ motherboard with an AMD A10-7850K Kaveri APU had the following PC energy consumption: – With Sapphire HD6870 between 56.3W idle and 233.5 Watt full load. – With internal AMD Radeon R7 GPU between 30.2W idle and 118.8 Watt full load.
An ASRock FM2A85X-ITX AMD Socket FM2 motherboard with an AMD A10-5800K Trinity APU had the following power consumption: – With Sapphire HD6870 graphics card from 52.9W to 221.0 Watts. – With internal AMD Radeon HD7660D GPU 29.4W idle and 120.4 Watt full load.
Result …
The ASRock Fatal1ty Z97X Killer LGA1150 DDR3 motherboard offers an interesting mixture of gaming features, OC features and great basic equipment at a reasonable price.
The basic equipment of this Fatal1ty Z97X Killer motherboard provides six PCI Express slots, six SATA3 ports, a SATA Express port, HDD saver function, a M.2 slot with 10 GB/s, up to eight possible USB 3.0 ports, a low latency Gigabit LAN port, 7.1 Purity Sound 2 with DTS connect support, analog sound output by five jacks, digital sound output by an optical S/PDIF and dependig on the processor, it offers graphics output over HDMI, 15-pol Sub-D or DVI-D.
All in all this ASRock Fatal1ty Z97X Killer motherboard is an absolute recommendable gaming motherboard that is designed for current LGA 1150 processors and offers special features such as the Killer LAN port and the Fatal1ty mouse port in addition to the great basic equipment.
Here you can buy the ASRock Fatal1ty Z97X Killer motherboard.
Special thanks to ASRock for their support.
Picture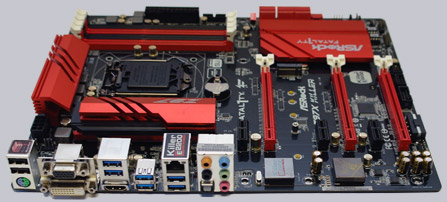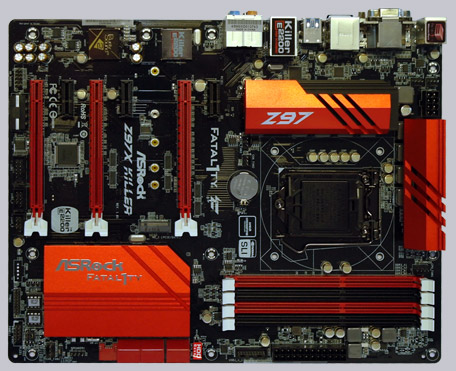 * All LGA 1150 motherboard reviews since 01.07.2014 are based on an Intel Core i5-4670K CPU, MSI Radeon R9 280 Twin Frozr Gaming 3GB PCI Express 3.0 Grafikkarte

Sapphire HD6870 1024MB ATI Radeon HD6870 PCI Express 2.0 video card, 2x 2048MB Crucial DDR3-1333/PC3-10600 memory modules, Cooler Master Silent Pro M 600W power supply unit and the following software configuration: Microsoft Windows 7 Ultimate, SiSoftware Sandra 2013, Futuremark 3DMark and 3DMark06 (OC software is available in the Links & Downloads section). All benchmark results only offer a comparison among themselves for a rough motherboard performance comparison.
Back to the motherboard comparison with all AMD and Intel motherboard reviews !