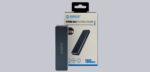 Result and general impression …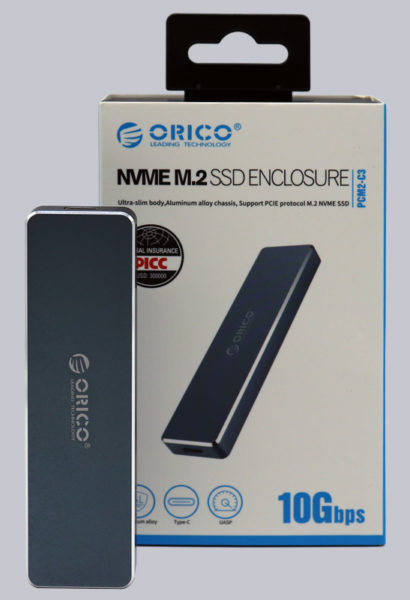 The Orico PCM2-C3-GY USB 3.1 Gen2 case with the Crucial P1 1TB M.2 NVMe SSD delivers extremely high read and write performance, which under optimal conditions can outperform internal SATA3 SSDs and keep up with the level of M.2 PCIe.
The external Orico PCM2-C3-GY USB 3.1 Gen2 aluminium case can be equipped with NVMe SSDs, whereby we decided in the test for the newest Crucial P1 3D QLC Solid State Drive, which can keep up with the maximum possible 10 Gb/s of the fast USB 3.1 Gen2 and thus optimally utilizes the case.
Based on the benchmark test series you can see very well that the maximum possible performance of the USB 3.1 Gen2 SC interface of this Orico PCM2-C3 is fully utilized in some benchmarks, so Orico decided on the right technology. Only the maximum performance of the handy USB 3.1 Gen2 case could not be achieved on our Windows 7 test system, but in Windows 10 our expectations were even exceeded. In Orico PCM2-C3 practical testing we give some tips for NVMe USB 3.1 Gen2 installation.
The heat dissipation of the Crucial P1 1TB M.2 SSD is no problem in the high-quality Orico PCM2-C3 aluminum case, as we were able to show by means of the thermal images. However, there are still possibilities to optimize the power consumption in idle mode.
All in all, we are very convinced of both the Crucial P1 1TB M.2 SSD and the Orico PCM2-C3 USB case and can absolutely recommend the handy USB SSD for both mobile and stationary use!
With this enormously good result at an amazingly low price, both the Orico PCM2-C3 and the Crucial P1 1TB M.2 SSD have received our OCinside.de Purchase Tip Award 08/2019.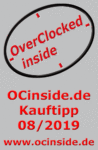 Discuss in our forum and share experiences about the Orico PCM2-C3 with Crucial P1 1TB …
Here you can order the Orico PCM2-C3-GY case
and here you can order the Crucial P1 1TB NVMe SSD.
Read on in the hardware test area with several hardware reviews …