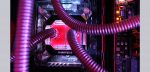 Optics…
In the second part of the practical test, we will focus on the optics of the Phanteks Glacier C350i. As announced in the Mayhem Aurora test, we also use the red Aurora coolant again. Unfortunately, the Aurora effect in the Glacier C350i can not develop properly, we find the red-bubbling look still pretty cool. In addition, it shows that the Glacier C350i can be excellently staged not only by the RGB illumination, but also by the use of colored liquid.
In addition, the functional principle of the Glacier C350i is particularly clearly visible: Two split chambers with center bar, so that the liquid in the central area is passed through the milled cooling fins.
But enough of the nice words and have fun with our Phanteks Glacier C350i video on our OCinside YouTube channel.
Note: Please allow our cookies first to see this content!
Phanteks Glacier C350i Result and general impression …