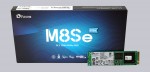 Result and general impression …

The current Plextor M8SeGN 512GB M.2 NVMe SSD PX-512M8SeGN provides for a TLC NVMe SSD good overall read and write rates, but can not quite keep up with the top.
The Plextor M8SeGN 512GB M.2 NVMe TLC Solid State Drive module is equipped with Marvell 88SS1093 controller and Toshiba 15nm TLC NAND.
You can see again how important the benchmark diversity is for an overall performance evaluation. While one benchmark tool shows top values, the values break into in another tool. This is mainly because some of the newer tested SSDs have a SLC NAND buffer aside the TLC NAND which ensures very high transfer rates for small amounts of data, but clearly drops at larger write transfers.
Additionally this Plextor M8SeGN 512GB PCIe Gen 3 x4 M.2 NVMe SSD has still a another problem that we could uncover in the Plextor M8SeGN NVMe practice test very well based on the thermal images and this is the enormous heat generation of the controller IC. This can lower the performance and may be in long term with heavy usage also reduce the controller durability.
BTW. the Plextor M.2 NVMe with 525 GB is specified with 320 TBW (total/tera bytes written), representing 174 GB per day over a period of 5 years. These point is important not only for the warranty, but underline the very high durability of the NAND cells. Who like to know more about TBW, finds numerous data and formulas at Micron and in the JEDEC SSD specifications.
All in all we are excited about the read performance, however we would advise clearly to buy a Plextor M8Se with heatsink. May be the Plextor M8SeY PCIe card or the Plextor M8SeG with heat sink. Alternatively, you can of course also install a passive or active M.2 cooler from other manufacturers. Because our results should not be distorted, we have represented only benchmarks out-of-the-box without heat sink in this review. But our unofficial tests with KyroM.2 heatsink were significantly better, but not included in our result.
As so often, of course the price plays an important role, and often significantly decides about success or failure. With other missing features (E.g. missing AES encryption), we can not recommend this tested Plextor M8SeGN at least during the officially scheduled price and would clearly prefer other NVMe SSDs. The ultimate market price and an optimized firmware can of course change this assessment.
Discuss in our forum and share experiences about the Plextor SSD …
Here you can buy the Plextor M.2 NVMe SSD …
Read on in the hardware test area with several hardware reviews …