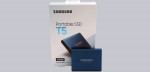 Praxistest …
Let's start with the installation of the USB 3.1 SSD.
USB 3.1 Gen 2 SSD installation …
After installation on a free USB 3.1 port, the USB 3.1 Gen2 SSD was detected on the ASRock Z270 Taichi Intel LGA1151 test system, on an ASRock X370 Taichi AMD Ryzen test system and on two other systems without any problems.


However, in order to run an USB 3.1 Gen2 SSD at maximum speed, some fine tuning is often required. You should first update your BIOS, install the latest drivers for the USB 3.1 chipset and choose the correct drivers for it. Windows 10 officially supports USB 3.1 Gen2 with UASP, Windows 7 requires USB 3.1 UASP drivers, which should be provided by the motherboard manufacturer.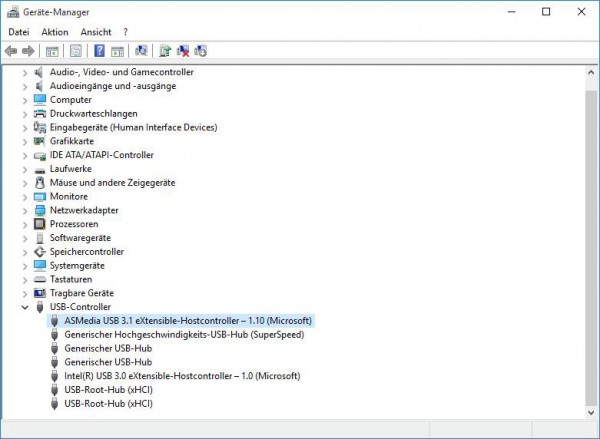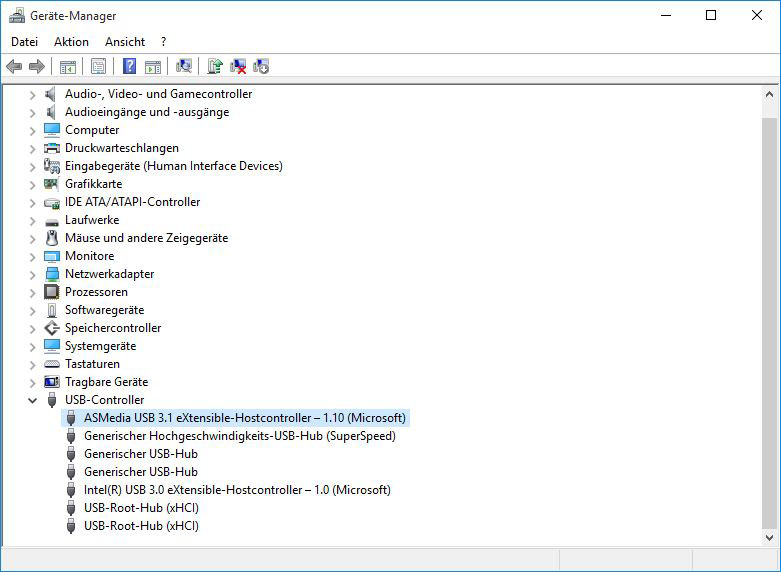 SSD firmware update …
The Samsung Portable T5 is shipped with firmware version 1.00. No newer firmware was provided at the date of review at Samsung.
USB 3.1 Gen2 SSD in practice …
Since the USB 3.1 Gen 2 interface is still relatively new, we would like to give you some hints and tips for the USB 3.1 Gen2 SSD installation.
An USB 3.1 Gen 2 SSD requires a high bandwidth for fast 10 Gbps performance. If the Samsung Portable T5 or any other USB-C SSD is too slow despite USB 3.1 Gen 2 support, it may be due to incorrect settings in the BIOS or UEFI. If you use USB 3.1 cables other than the supplied USB 3.1 cables, the quality or length of the USB cables may be inappropriate. But maybe the drivers in Windows are not installed correctly or not up to date.
USB 3.1 Gen 2 support in Windows 7 …
We had some difficulties with the drivers for the new ASMedia ASM2142 chipset, because with our ASRock Z270 Taichi test system it was not possible to achieve the full performance under Windows 7.
USB 3.1 Gen 2 support in Windows 10 …
In Windows 10, the USB xHCI compatible host controller driver worked better with the ASMedian USB 3.1 eXtensible host controller driver than the ASMedian USB 3.1 eXtensible host controller driver from ASMedia. Which USB driver is the fastest should be measured individually and then choose the best driver.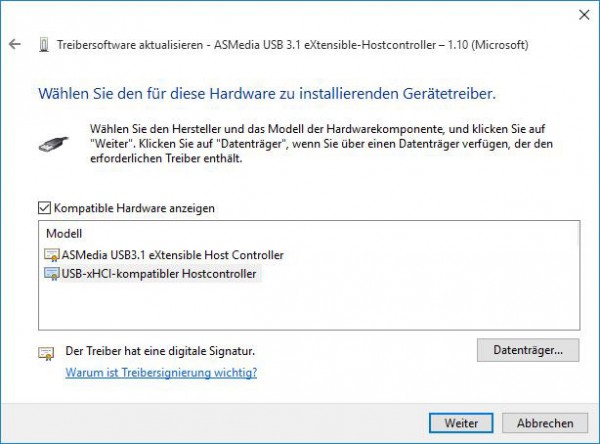 We have continued to create the official test series with our Windows 7 test system. Unofficially, we have also tested the USB xHCI compatible host controller driver in Windows 10.
If the USB 3.1 port does not work at all after the ASMedia driver installation, you should remove the USB hub of the the USB host controller once in the device manager (with a right click on the USB port, then uninstall with the delete key, but do not uninstall the drivers!) and can be reinstalled by means of an update. If you accidentally hit the wrong USB hub and the USB keyboard and mouse doesn't work anymore, you can shut down the PC by pressing the power button. The next time you turn on the power, the USB hub driver will be automatically reinstalled.
If you now still have an USB 3.1 speed that is too slow or if USB 3.1 is not recognized at all, we will be happy to help you in the Hardware Forum. Just write a new post, which motherboard is used and which USB 3.1 device is connected. If no external SSD has been purchased yet, our community will also be happy to provide you with SSD purchase advice.
USB 3.1 speed …
Here's a small listing of the USB speeds:
USB 3.1 Gen 2 SuperSpeedPlus 10 Gb/s reaches approx. 900 MB/s
USB 3.1 Gen 1 SuperSpeed (formerly USB 3.0) 5 Gb/s reaches approx. 480 MB/s
USB 2.0 HighSpeed 480MBit/s reaches approx. 40 MB/s
All specifications are maximum values without protocol overhead. The Samsung Portable T5 requires USB 3.1 Gen 2 for the highest performance. The Samsung T5 current consumption was idle at almost 0 mA and 237 mA under load.
The Samsung Portable T5 is not (yet?) supported in the Samsung Magician software, but you can check the UASP support for example.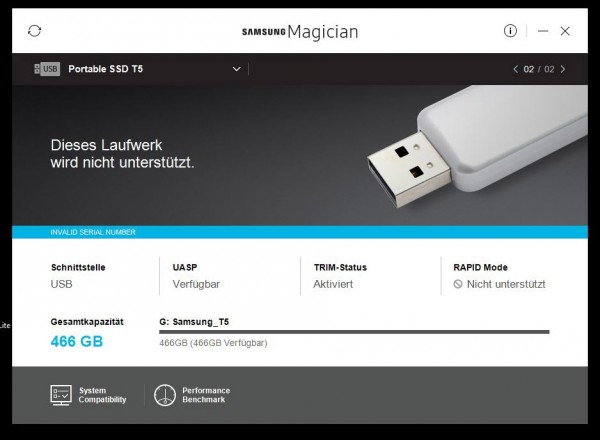 SSD heat …
Before we will come to the benchmark results, we want to show something very special on OCinside.de and that is the heat distribution and temperature of the external SSD with an infrared thermal imaging camera, which also supports image overlay and results in an interesting mixture of the infrared image and real image.
Here is a thermal image of the Samsung T5, where you can see that the Portable T5 SSD remains pleasantly cool even after a few benchmarks.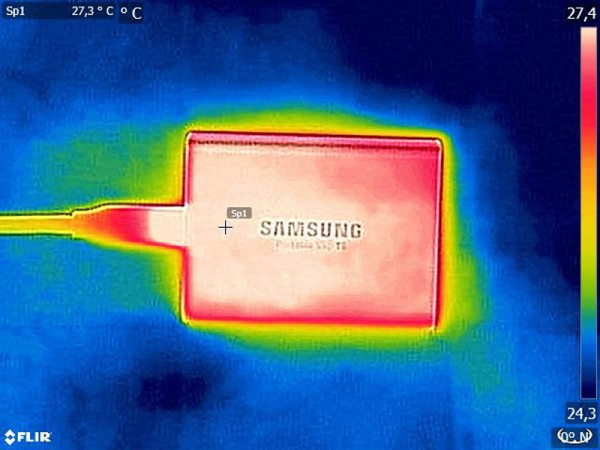 After all this information, let's finally come to the Samsung Portable T5 benchmarks.
Samsung T5 500GB Portable USB 3.1 Gen2 Benchmark values and test results …