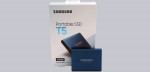 On OCinside.de we have an external Samsung T5 Portable 500GB USB 3.1 SSD in the test, today. The special feature of this external USB SSD is that it supports USB 3.1 Gen2 at up to Gb/s and can reach or even exceed speeds of an internal SATA3 SSD. The matching USB 3.1 Type-C cable and USB-C to USB 3.1 Type-A cable are included in the delivery. In the following Samsung Portable SSD T5 review we will clarify if the performance in practice succeeds and we also explain what you can do if the USB 3.1 port is too slow. Of course we compare the external USB 3.1 SSD with dozens of SSD benchmarks and show infrared thermal images of the new Samsung T5 SSD as well.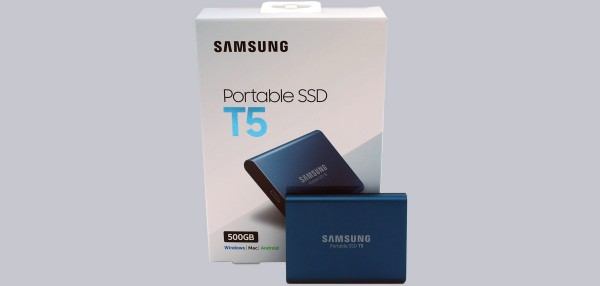 Thanks for the support …
Many thanks for the support with the Samsung T5 500 GB Portable USB 3.1 SSD by the manufacturer Samsung.
The Samsung T5 500 GB Portable USB 3.1 SSD PA500B has at review date a price of approx. 250 Euro.
The Samsung M8Se SSD series includes the following models:
Samsung Portable T5 250GB USB-C 3.1 MU-PA250B
Samsung Portable T5 500GB USB-C 3.1 MU-PA500B
Samsung Portable T5 1TB USB-C 3.1 MU-PA1T0B
Samsung Portable T5 2TB USB-C 3.1 MU-PA2T0B
Here you can buy the Samsung Portable T5 SSD.
The delivery of Samsung MU-PA500B/EU 500 GB SSD …
In this package, the Samsung T5 500GB Portable USB 3.1 SSD is included.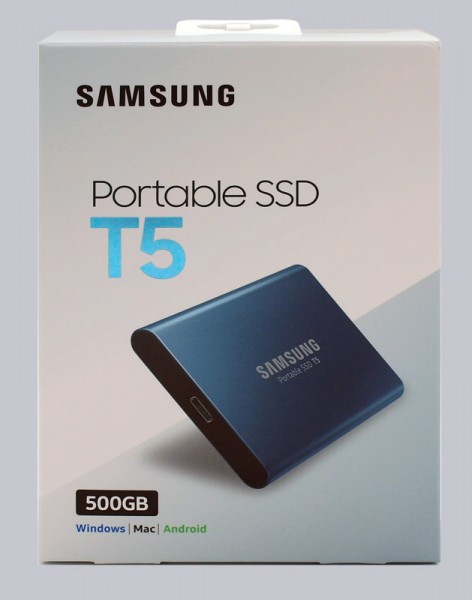 On the back of the packaging Samsung already shows some technical data and possible benchmark results.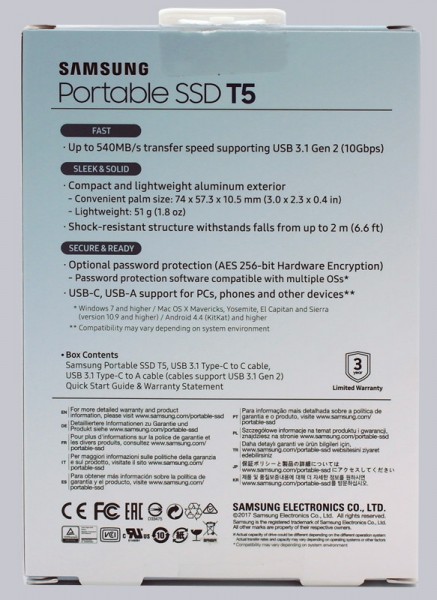 The box contains a multi-layered plastic packaging.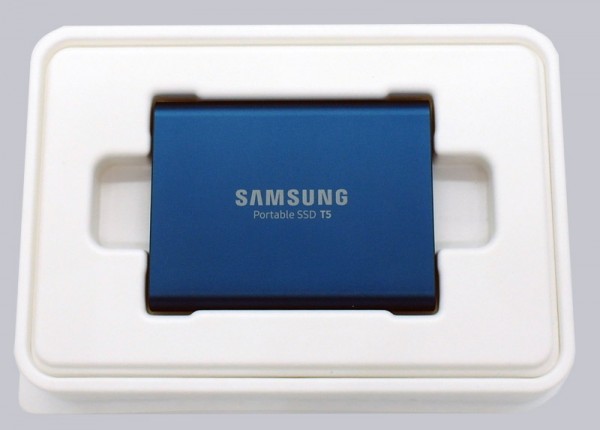 This is included …
The Samsung T5 USB-C SSD MU-PA500B is supplied with a manual, an USB-C to USB-C cable and an USB Type-C to USB Type-A cable. The cables are each approx. 39 cm short. The T5 SSD supports AES 256-bit hardware encryption and the T5 SSD usually contains software to password-protect the SSD's data. There was no software on our sample, but after the release, the T5 software for Windows and Mac OS on Samsung and Android in the Google Play Store.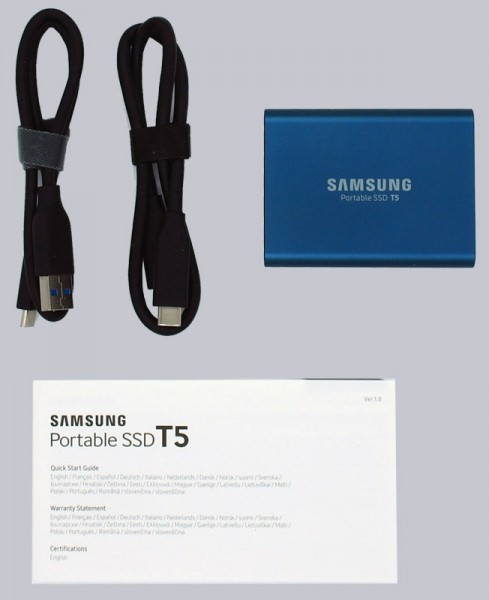 Samsung T5 500GB Portable USB 3.1 Gen2 technical data …