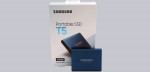 Result and general impression …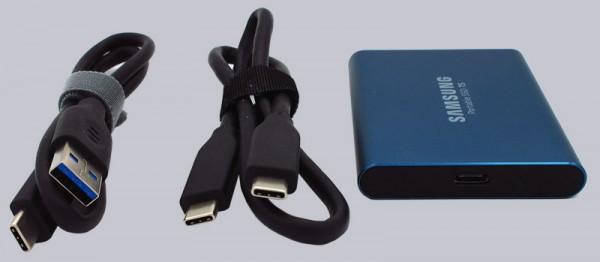 The latest Samsung Portable T5 500GB USB 3.1 SSD MU-PA500B provides very high read and write rates for an external SSD, which can easily compete with internal SATA3 SSDs under optimal conditions.
The external Samsung T5 500GB Portable USB 3.1 Gen2 TLC Solid State Drive is equipped with the fourth generation V-NAND TLC in 64 layers.
The benchmark test series once again clearly show the differences between the individual benchmark tools, because the benchmark diversity is very important for the evaluation of an overall performance. Nevertheless, despite TLC NAND, there are no values that break down as we know them from previous generations of TLC-NAND SSDs. Only the maximum performance of the handy USB 3.1 Gen2 SSD could not be achieved on our Windows 7 test system, but in Windows 10 at least Crystal Disk Mark and ATTO reached the fast manufacturer's specifications. In the Samsung T5 field test there are some tips for USB SSD installation.
The heat development of the external Samsung Portable T5 SSD in a high-quality metal housing is also no problem, as we were able to show in the Samsung T5 field test on the basis of the thermal images.
Furthermore, the Samsung Portable T5 SSD offers an integrated 256-bit AES hardware encryption with optional password protection for MacOS, Windows and the Android smartphone.
All in all, we are positively surprised by the Samsung Portable T5 performance and can absolutely recommend the handy SSD for mobile use. Hopefully, the price will drop slightly after the official market launch to make even the larger Samsung T5 SSDs with 1TB or 2TB affordable for fast data protection.
Such a small, handy external USB 3.1 Gen 2 SSD with this high performance is worth an Innovation Award even for us, after dozens of SATA3, mSATA, M.2 and PCIe SSD tests. The Samsung Portable T5 SSD thus receives the OCinside.de Innovation Award 08/2017.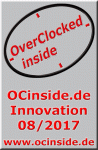 Discuss in our forum and share experiences about the Samsung SSD …
Here you can buy the Samsung T5 Portable USB 3.1 SSD …
Read on in the hardware test area with several hardware reviews …