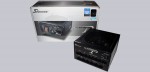 Practical test …
The Seasonic Platinum 760W Series power supply has been tested on the following system:
PC:
Intel Core i7 6700K @ 4 GHz
4x 4 GB DDR4 RAM
ASRock Z170 Extreme6+
Asus Strix Nvidia GeForce 980ti
Samsung Pro 840 Pro 256 GB SSD
CM Storm Stryker case
Operating system:
Windows 10 Professional 64 Bit
Furmark
Prime95
Voltmeter:
Uni-T TRMS UT71A
As expected, the installation of the power supply went smoothly.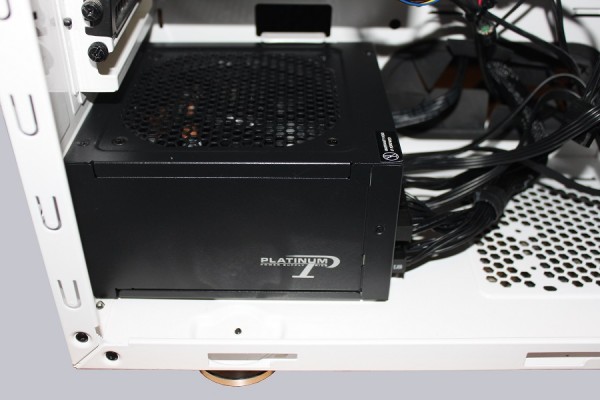 The holes fit exactly to those of our test case.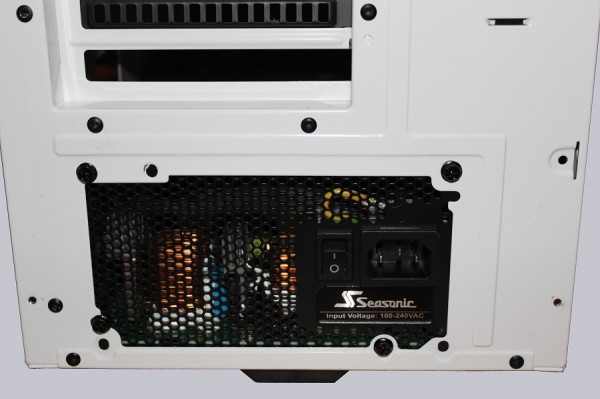 The cable lengths are also sufficient to reach all important connections in our test system. Only the additional CPU connection caused some problems, which was due to the already mounted CPU cooler and not the cable length.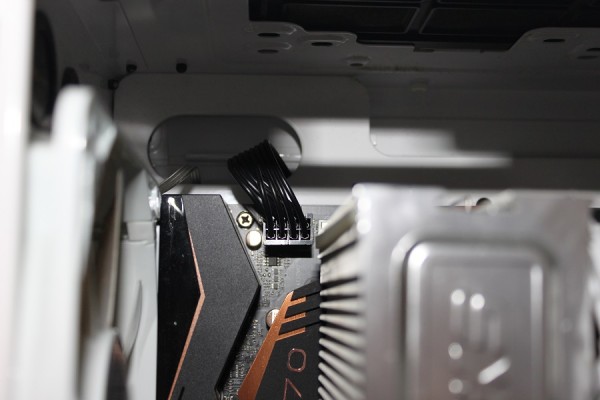 We also liked the possibility to choose between two control modes. If the power supply is operated in normal mode, the fan runs at a continuous speed, which works very quietly and can't be heard next to the graphics card and the CPU cooler. If you switch the controller to hybrid mode, the user's heart could stop for a short moment. The fan simply stops after a short turn on. With our just over 50% utilization, we were not able to heat up the power supply significantly, nor could we get the fan to cool the cooled components or further.


The voltages also remained stable, which affected operation in idle mode (approx. 60 watts) and under heavy load (approx. 420 watts). The table below provides an overview.
Voltage measurement
Voltage
Idle
Load
3.3 Volt
3.302 V
3.300 V
5 Volt
5.045 V
5.055 V
12 Volt
12.012 V
12.000 V
We can also report only positive things about the contact with customer service. Very friendly, English speaking support, who will help you with many practical tips to help you narrow down your problems. If a detailed inspection should become necessary, the user is not forced to send the power supply unit abroad even after the expiry of the legal warranty.
Seasonic cooperates with a German company, which carries out a technical inspection and, if necessary, replacement of the power supply units.
Furthermore, we would like to inform you about a special feature regarding the assignment of the connectors. As many users probably know, it is necessary to start a power supply without a mainboard, to connect the green and a black line (blue marking) for a short time.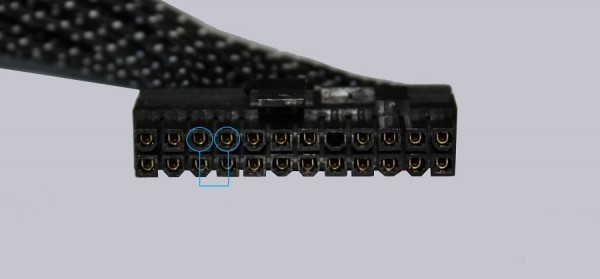 In this case, however, it is only possible to start the power supply via the two specified pins (red marking).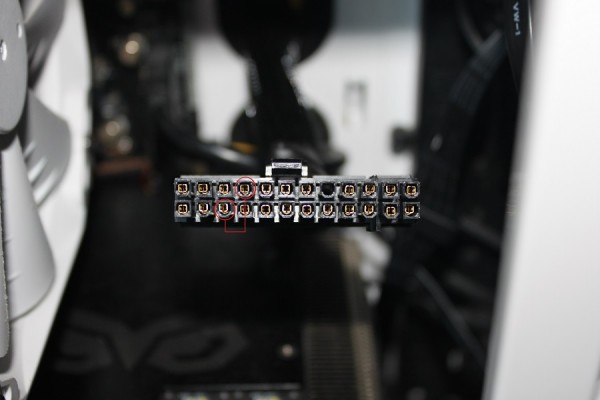 However, if you accidentally use the usual pins, there is no risk of damage… the power supply unit does not start. But please do not forget to connect a base load in the form of a fan or a hard disk to the power supply to be started.
This would have brought us to the end of our practical test. Finally, we would like to draw the conclusion from the test report.
Seasonic Platinum 760 W power supply Result and overall impression …