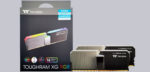 We test the brand new Thermaltake Toughram XG RGB modules with an AMD Ryzen 7 2700X and an AMD Ryzen 5 5600X system on OCinside.de and compare the DDR4-3600 CL18 RAM with a DDR4-3200 CL16 kit. Of course, you can also watch a video with the extraordinary RGB effects on our OCinside YouTube channel!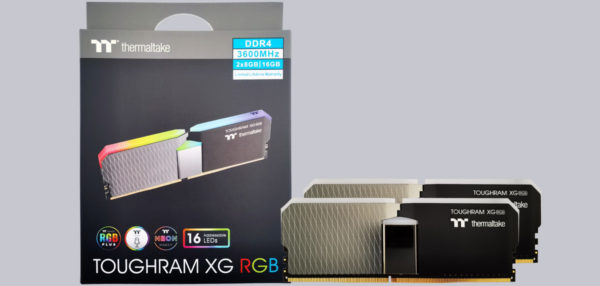 Thanks for the support …
Thanks for the support to Berserkus and the manufacturer Thermaltake.
Tested were 2x Thermaltake Toughram XG RGB 8GB 288-pin DIMM DDR4-3600 R016D408GX2-3600C18A modules from the kit. The price for the kit is currently not yet fixed, as they were only officially released today (03/2021).
Here you can order the Thermaltake Toughram XG RGB RAM.
The delivery of the Thermaltake Toughram XG RGB modules …
Thermaltake delivers the memory modules in a high-quality looking, black printed cardboard box, on which a module as well as the compatibility with the various RGB software has been printed.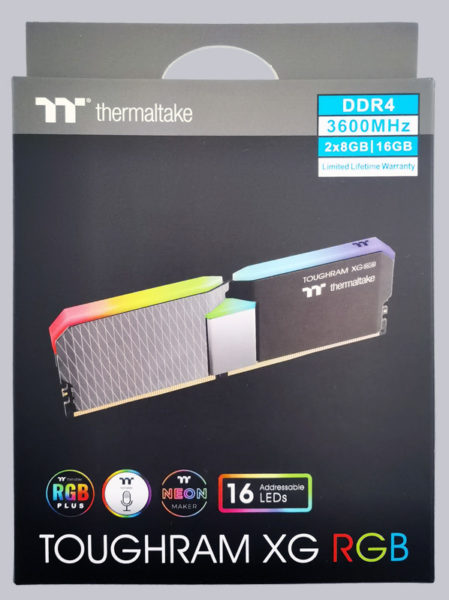 The back briefly lists the features and the full RGB software provider compatibility list, as well as the product and serial number. Inside the box is a blister pack that protects the contents from static electricity.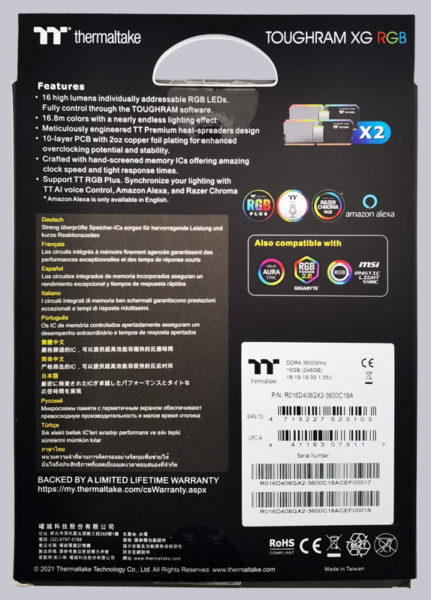 Let's continue with the technical data.
Thermaltake Toughram XG RGB 2x 8GB DDR4 3600MHz technical specifications …