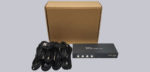 Affordable 4 port keyboard, mouse, monitor switch and well usable with the tips! Today we test on OCinside.de the inexpensive GHT PW-S7403H 4-port KVM switch with HDMI and USB as well as two USB 2.0 connection for shared USB stick or USB printer use. All in all, this USB/HDMI KVM switch can be used to connect up to four PCs to one monitor and switch between them using direct buttons or the keyboard. Whether this works in practice as well as on paper, we show in the following review.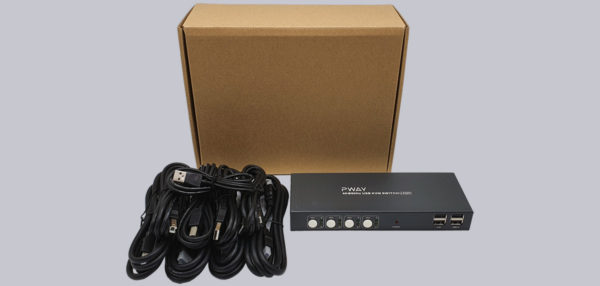 Thanks for the support …
Thanks for the support to GreatHTek / Pinwei Technology.
The PWAY PW-S7403H or GHT-S7403H USB HDMI 4 Port KVM Switch currently has a price of approx. 80 Euro (03/2021).
The KVM Switch is available in different versions like SH0401B-1, GHT-S7402H or as GHT-S7201H2 with 2 PCs to 2 monitors.
Here you can order the GHT PW-S7403H KVM Switch at a reasonable price.
The delivery of the GHT PW-S7403H …
The GHT 4 port KVM switch was delivered in this plain cardboard box, which looked a bit battered.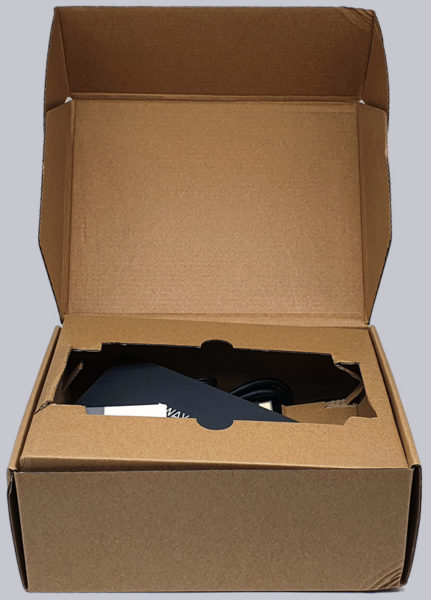 It probably wasn't the inventor's intention to have all the components just flying around in the box, but fortunately everything survived shipping.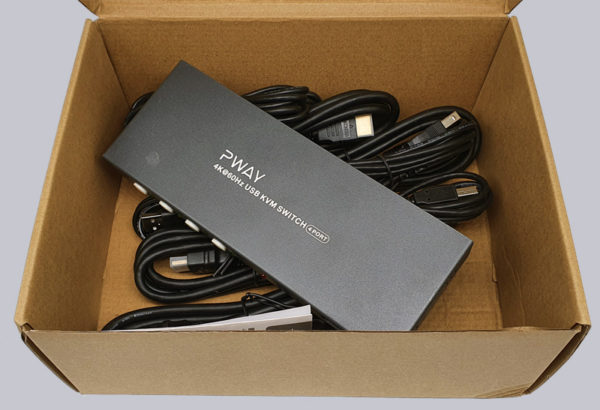 And this is what all the included accessories look like. Included are four HDMI cables approx. 145cm, four USB Type-A to Type-B cables approx. 145cm and an approx. 117cm long Micro USB cable for power supply as well as an English quick start guide, warranty card, four rubber feet to stick on and of course the KVM Switch.

GHT PW-S7403H technical data …