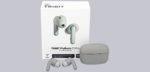 Tribit has a range of affordable in-ear solutions and portable speakers, with a clear focus on replacing the usual cable tangle by Bluetooth transmission. Equipped with ANC, long-life batteries with battery status indicator and numerous setting options in the Audiodo app, the Tribit FlyBuds C1 Pro BTHA2 should be a loyal companion for the busy traveler. On OCinside.de, we test among others how the in-ears sounds under real-life conditions.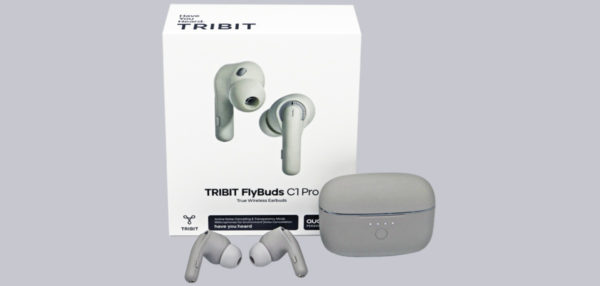 The supplier Tribit promises the user of the new FlyBuds C1 Pro a whole range of benefits, such as a barely executed True Sound Technology for next-level listening, apparently an increase in authenticity in terms of acoustic presentation. Hybrid ANC adds the usual sonic isolation from the outside world, with a more permeable transparency mode added to this feature. Furthermore, the Audiodo application allows the right and left sides to be individualized according to one's own listening sensibilities, and the battery status can be checked. The question remains how the model sounds under real-life conditions.
In practical testing, we had the test subject compete against a classic wired model, which led to some revealing results.
Thanks for the support …
Thanks for the support to MartinK and the manufacturer Tribit.
The Tribit FlyBuds C1 Pro BTHA2 currently change hands for just under 100 Euro (10/2022).
Tribit FlyBuds C1 Pro BTHA2 can be ordered here.
The scope of delivery of the Tribit FlyBuds …
After "skinning" the first layer of packaging, a sleek and compact inner package emerges. Even without a separate way to stow them, the FlyBuds including accessories would easily fit into the travel suitcase or briefcase; much to the advantage of the travel enthusiasts and field workers.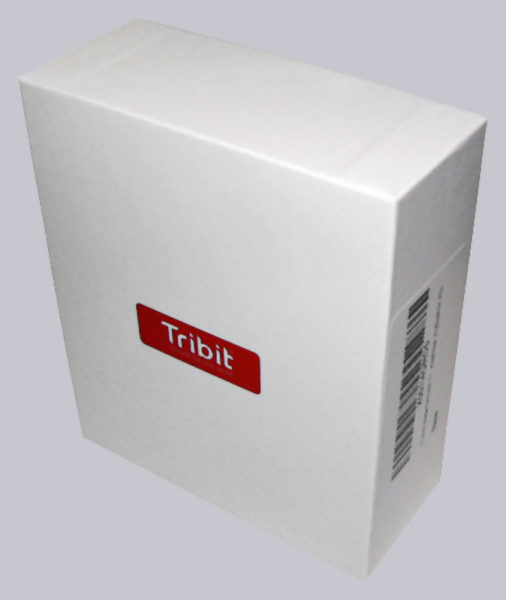 The interior is a bit more colorful, and we first found a multilingual user manual here. This "explains" to the user to turn on the in-ears as such and Bluetooth before first use. Apart from that, the manual also contains some less obvious information, for example about the meanings of the differently flashing red and white indicator lights on the in-ears.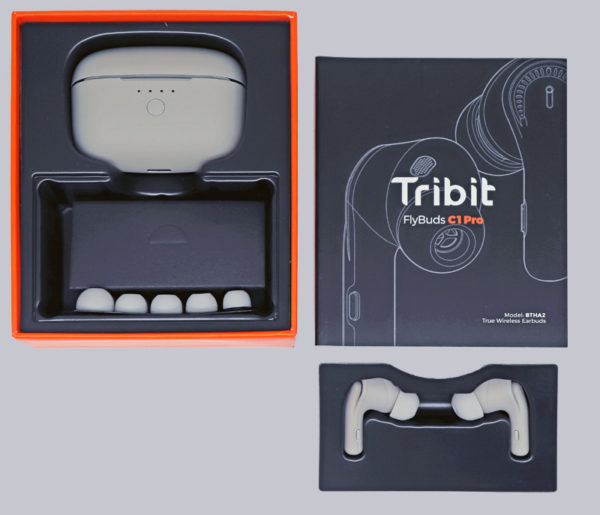 Furthermore, a short USB charging cable and earplugs from XS to XL are in the package, whereby the size L is attached by default. We do not quite understand why only the size M is included twice. Apparently, the manufacturer assumes a more frequent use of this size, which would correspondingly increase the probability of loss. Last but not least, the earpieces can be stored in a small charging box, which will be discussed in more detail on the following pages.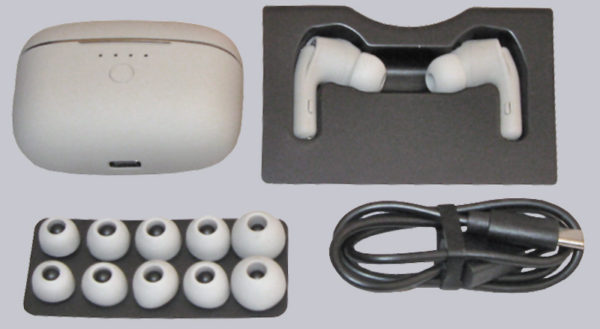 Tribit FlyBuds C1 Pro BTHA2 technical specifications …